Review: The Year of the Rooster by Capital T Theatre
by Michael Meigs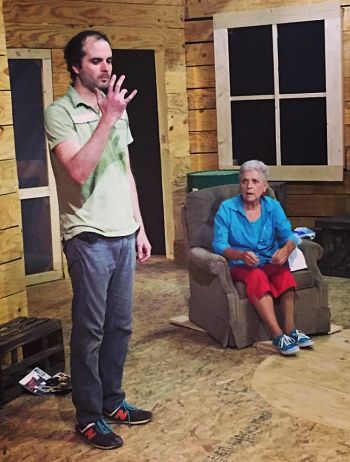 You generally have a pretty good idea of what you're going to see at a Capital T production at the Hyde Park Theatre. Strong emotion, blighted lives, poverty or else poverty of spirit amidst mindless materialism, misfits in an America-through-the-looking-glass. The Year of the Rooster fits that template and gives you ample reason to shiver and hug yourself and be thankful for what you've got. But -- as so often with Mark Pickell's band of mischief makers -- it's a lot more than that.
A play about cockfighting fits snugly into the intimate confines of the L-shaped space that's the Hyde Park Theatre. Pickell's set is convincing, multi-purpose, and littered with detail. With a swing of a panel it establishes itself as a run-down McDonald's; a blackout and a quick change make it the ample but ramshackle living room of Lou Pepper, a querelous older woman whose no-count son Gil is an epic failure to launch in rural Oklahoma, having served five years of serf work at the counter of that same McDonald's.
No, there is no way out for these folks except through fantasy, and in this world Gil's fantasy consists of deluded dreams of victory in the cock-fighting ring.
The Year of the Rooster offers audiences the guilty delights of familiar actors doing the characters they do so well and have done so many times. Kenneth Wayne Bradley is back once more as a gnarly pitiless macho son-of-a-bitch, this time as the literally black-hatted villain Dickie Thimble, backwoods sausage maker, proprietor of the cockfighting locale and breeder of the birds that fight and die there. Lana Dieterich is once again the batty old lady, loquacious and demanding, looking as if butter wouldn't melt in her mouth and ruling her own barren roost. New face Julia Bauer from UT is a familiar ingénue type, saucy, bossy, stupid and ambitious.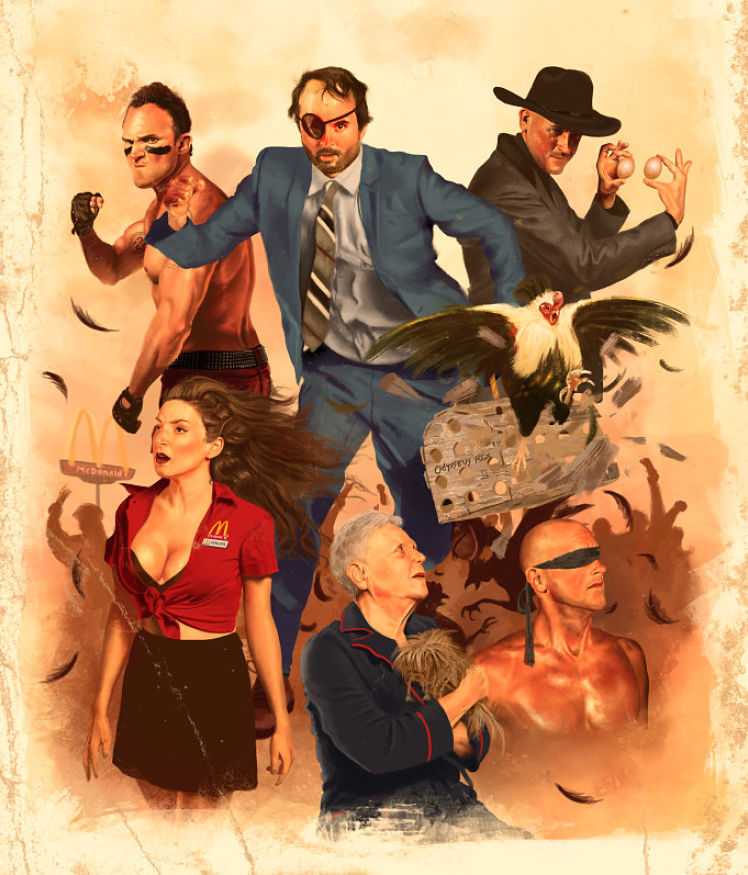 But have they got a couple of treats for you: Jason Newman as Gil, the hopeless and hope-infused son, and Jason Liebrecht in the title role.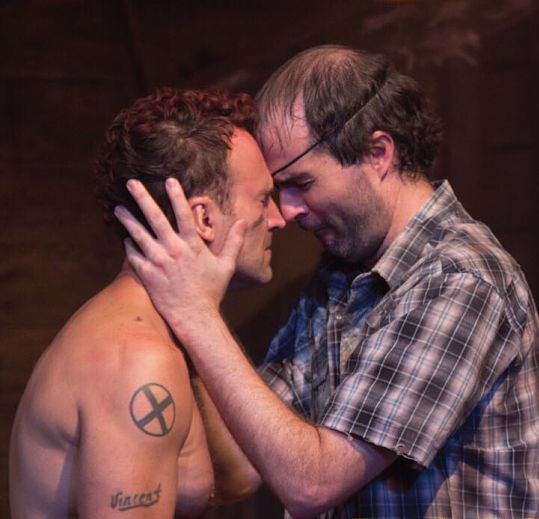 That's right: Liebrecht is the rooster, the fighting cock Odysseus Rex, nicknamed 'Odie' by his adoring owner. And this is a performance not to be missed. Playwright Eric Dufault sinks down into the wild dim mind of a bantam rooster bred for combat and hopped up on steroids, enraged and obsessed with the glare of the sun; Liebrecht incarnates the bird with ferocious sinewy movement and stacatto speech. A triumph of imagination meets a kinetic fury of physical prowess and precisely defined characterization.
Rare it is to see an animal so vividly portrayed, particularly onstage. Forget Wilbur 'Some Pig' of Charlotte's Web or Sylvia the frisky canine interloper of A.R. Gurney's comedy of that name. Liebrecht's Odi makes the entire crew of Orwell's Animal Farm look like a bunch of sissies.
By making us privy to Odi's raging little mind, the playwright gives us an ironic two-level perspective with two protagonists. We in the audience watch Gil the loser striving to become a mythic 'winner' in a game heavily loaded against him, in a society that offers him nothing; and Odi the bantam is single-mindedly engaged in seeking undefinable victory through aggression over opponents he can't understand, in a closed world that offers him nothing but that combat. And each reaches out confusedly for love -- toward females, each cleverly played by Julia Bauer.
The first-act climax transforms the cockpit space of the HPT into an imagined cock pit. Odi's match is against the reigning champion, a blind ancient veteran who's cocksure of victory. Travis Dean's fight choreography will keep you on the edge of your seat, and the experience is intensified by the red wash of Patrick Anthony's lighting design and Lowell Bartholomee's sound design.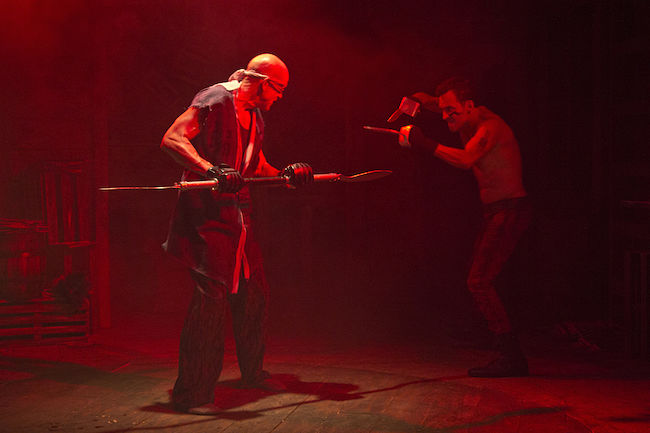 Jason Newman as the human co-protagonist achieves a characterization that plays superbly against that of Liebrecht as his animal counterpart. Newman transforms his conventional good looks into a sloppy one-eyed mess, he speaks with a flat and unexpressive voice, and he holds himself in such shambling humility that one is tempted to grab him by the scruff of the neck and slap him into attention (a child-rearing tactic that might well have reduced him to his current pathetic state).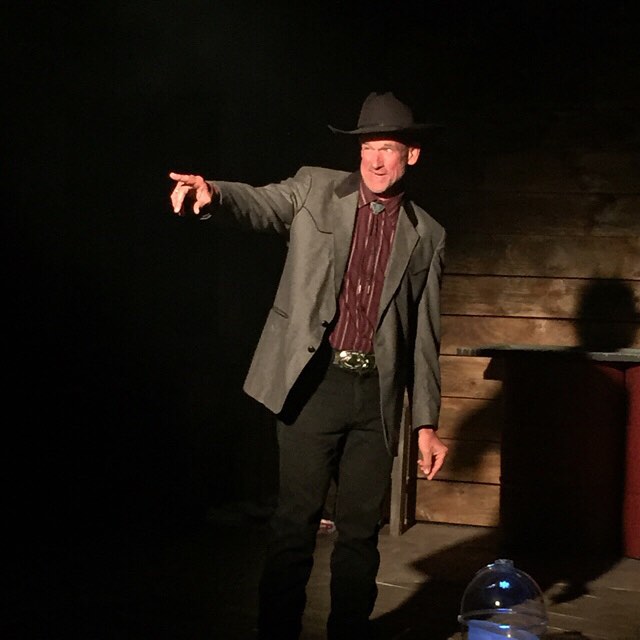 Pickell's directing and the vigor of this cast make Year of the Rooster as intense as the cockfights that it evokes. Thrice over the course of the evening KWB in his black hat stands there in the middle of the circle admonishing us as the audience in the darkness and casting out salty observations to the familiar hometown crowd like salted peanuts.
Through it all playwright Dufault steers the plot through some unexpected twists and disasters both tragic and comic, and he brings us back to hapless Gil Pepper there in the magic circle, defeated but eagerly dabbing his cheekbones with lampblack in anticipation of the next round.
EXTRA
Click to view the program for Capital T Theatre's Year of the Rooster
---
The Year of the Rooster
by Eric Dufault
Capital T Theatre
Thursdays-Saturdays,
August 20 - September 19, 2015
Thursday – Saturday at 8pm