Aug. 20 - Sep. 19, 2015
Thursdays-Saturdays
One day he will destroy the sun… Gil Pepper is a loser. Odysseus Rex is winner. Against all odds Gil and his rooster will prove to his narcissistic mother, his teenage boss, local tycoon Dickie Thimble and the rest of the goddamn world that this is their year. In the vein of KILLER JOE and LIEUTENANT OF INISHMORE Capital T Theatre is proud to present the Austin Premiere of this mythical baddass black comedy about love, underdogs, and cockighting.
YEAR OF THE ROOSTER's All-Star cast includes Jason Newman (Gruesome Playground Injuries) as the hapless Gil Pepper, Julia Bauer (DNA) as his foul mouthed teenage boss, Lana Dieterich (The Pain and the Itch) as Gil's narcissistic mother, Kenneth Wayne Bradley (Killer Joe, Hunter Gatherers) as beef jerky tycoon and rooster enthusiast Dickie Thimble, and Jason Liebrecht as Odysseus Rex, the angriest and most vicious rooster the sun ever rose upon.
Running Time: 2 hours with intermission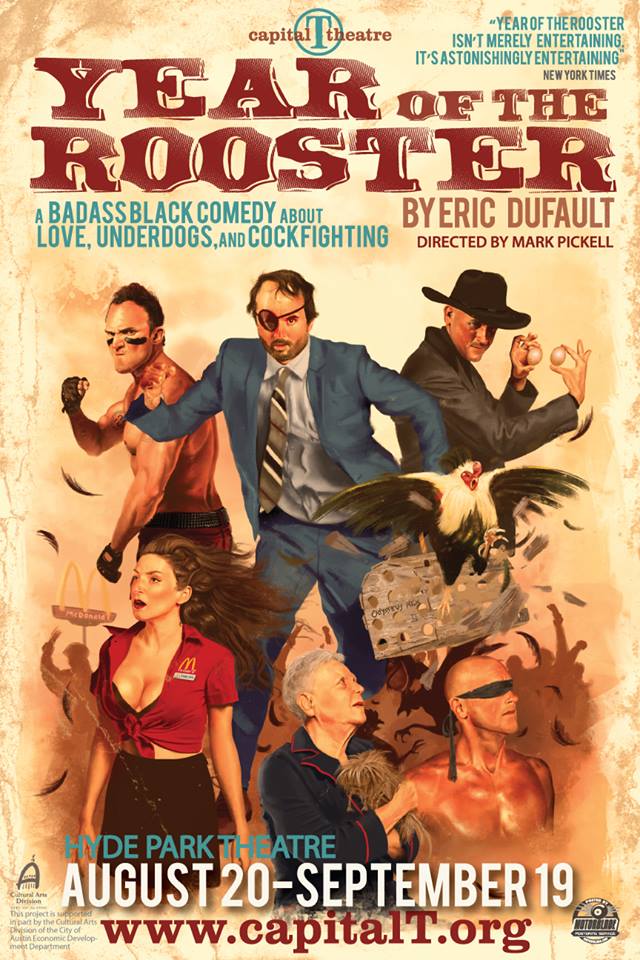 Cast
Odysseus Rex – Jason Liebrecht
Dickie Thimble – Kenneth Wayne Bradley
Gil Pepper – Jason Newman
Lou – Lana Dieterich
Philipa – Julia Bauer
---
The Year of the Rooster
by Eric Dufault
Capital T Theatre
Thursdays-Saturdays,
August 20 - September 19, 2015
Thursday – Saturday at 8pm