Review: One Man, Two Guvnors by Vexler Theatre
by Michael Meigs
This is sure-fire comic material. If you're puzzled by the slangy English title, you need only note that One Man, Two Guvnors is playing now at The Vexler Theatre in San Antonio and opens next week at the Zach Theatre in Austin. Richard Bean's cheeky adaptation of The Servant of Two Masters by Goldoni has flashed from its 2011 London opening to multiple UK tours to Broadway to our eager colonial hinterland in just five years.

The script is boffo squared -- boffo2 -- because Bean takes the absurd clowning of Goldoni's 1743 commedia dell'arte staple with stock characters and multiplies it by British panto, the broad vaudeville style that persists to this day although mostly in Christmas farces and television sketches like those of Benny Hill. And maybe you can raise it another power, to boffo3, with his addition of the four happily fast and loose crowd-pleasing musicians dubbed The Krazee Geezers. Strapped in braces imprinted with the Union Jack, the Geezers warm up the audience and set expectations. This one's going to be interactive Cockney craziness, folks, and you'd best be prepared to clap, laugh, sing along and get hauled up into the playing area if chosen. Philippoussis Tench does lead vocals but percussionist Ron Krays is out there strutting, courting and charming the crowd, washboard in hand.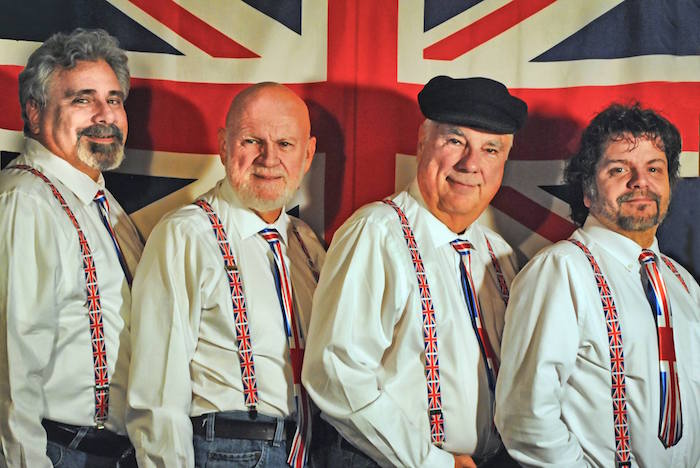 The playing area is relatively dark as the band begins its own warm-up and that of the audience, and the set seems primitive: painted white rectangles form a cityscape of sorts. The opening scene throws a lot of characters at you, speaking variants of British dialect, some more credibly than others, and you may experience some dismay. The pugnacious little guy with the bald head and braces is Charlie (Lawrence Coop), evidently a petty crime boss, and there's talk about a murder in prison; Charlie's got a lawyer, a voluptuous female bookkeeper, and a similarly luscious daughter courted by an absurd thespian. You don't really get these relations all sorted out before Joshua Goldberg erupts onstage as the talkative, ravenously hungry larger-than-life Francis Henshall. Once Goldberg's got your attention, you're carried off by his exuberance and lies as, like Truffaldino in the 1743 original, he manages to get employed by two masters.
That stark set explains itself quickly: it's one big cartoon that comes apart and reconfigures. For set changes the Geezers parade in and company members grab pieces of the set, trundle stair units and send the portrait of the Queen whizzing alongst a wire at the back of the stage.
Bean sets the action in the seaside holiday town of Brighton in the mid-1960s. That suggests a cheery wink, for these musicians might well have been starting out their careers busking somewhere just about that time, athough not on an English pier.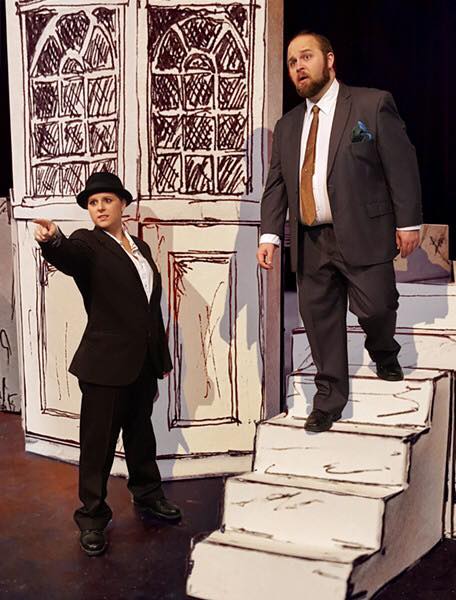 The plot's a paragon of inversimilitude, as it has been for the past 270 years. Erin Polewski as Rachel Crabbe is disguised as her twin brother, the fellow who wound up on the wrong end of a knife in prison, and she's looking for her beloved, Stanley Stubbers (Ben Scharff), the white-collar criminal who did 'im in. Rachel and Stanley wind up as Francis's two masters but for most of the play they don't know of each other's existence. Their instructions to big Francis inevitably run at cross purposes, sending deliveries and schemes careering off track, for their boisterous manservant cares only for his consistently frustrated appetite. The climax of Act I has those masters secluded in separate rooms at the hotel. Francis scrambles to serve both them and himself as a succession of tempting dishes is ceremoniously delivered from the kitchen.
Director Ken Frazier keeps them all scrambling. Goldberg has the happy egotism of a four-year-old set loose from kindergarten, and his Cockney patter is non-stop. Cast and musicians happily punch holes in stage conventions. At one point Goldberg makes fun of anyone who's trying to do a thematic analysis of his motivations as the Harlequin figure.
The message: there is no message, you dolts, we're all here to have a fabulously good time! Granted there's no literal slapstick (although watch for that cricket bat!), but there's clowning and goofing galore.
EXTRA
Click to view the Vexler Theatre program for One Man, Two Guvnors
---
One Man, Two Guvnors
by Richard Bean
Vexler Theatre
Thursdays, Saturdays-Sundays,
May 12 - June 05, 2016
PERFORMANCES

Thursdays @ 7:30pm: 5/12, 5/19, 5/26, 6/2
Saturdays @ 8:00pm: 5/14, 5/21, 5/28, 6/4
Sundays @ 2:30pm: 5/15, 5/22, 5/29, 6/5
Box offce: 210 302-6835
2015-16 INDIVIDUAL TICKET PRICES:*
Single Admission
General Admission: $22
Senior/Military/JCC/Group (10+)/SATCO: $19
Students: $16