Review: Marie Antoinette by Capital T Theatre
by Michael Meigs
Aristotle wouldn't have liked it. His rules for tragedy in Poetics, the earliest surviving work of literary theory, insist that the protagonist of a tragedy should be a great or heroic individual, and misfortune should result from a mistake or misjudgement of the protagonist. And don't forget hubris -- the canny old fellow liked to point the finger at overweening pride as preparing the way for a fall.
David Adjmi isn't headed that way. Indigo Rael as Austrian princess Marie Antoinette is indeed in trouble as the social fabric of France rips apart and the soft comforts of her existence with Louis XVI are torn away with them. But Marie's a sociable clueless young thing who's been neglected all her life, scarcely knows how to read, and chatters along with a mind as clear and shallow as a babbling book. She knows it all too well, and she knows that her duty is to bear Louis sons.
Beyond that Marie knows little. She recalls with fondness the outdoor scenes of her native Austria, and for the court's amusement she plays at being a shepherdess for a flock of perfumed goats and sheep. And when the common folk riot at shortages of bread, she's entirely guileless when she wonders why they don't simply eat cake instead.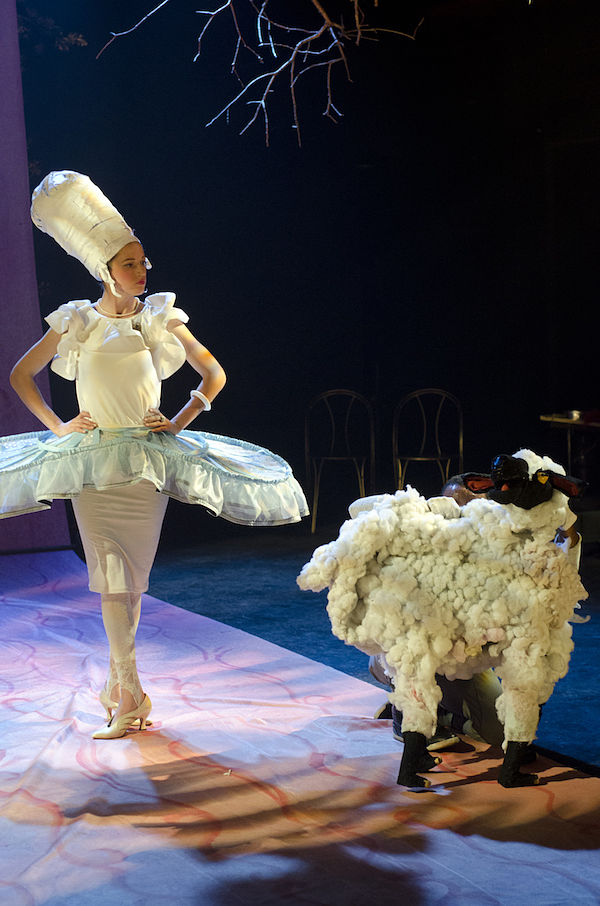 Adjmi takes that narrative from your standard Western Civ class and gives it a good swift anachronistic kick. The story is generally unchanged and runs from 1776 to the guillotine date of 1789, but there's a deliberate quirky atemporarilty to it. It starts as comedy. Marie's ceaseless chatter is perfect social media discourse. Louis XVI is a hopeless mess, distracted, childish and inhibited, and Nicholas Mills plays him just that way. There are some grownups on the periphery, including Nicolas Saenz as Joseph of Austria, exasperated at Marie's delay in producing those heirs, and Delanté Keys doubling as the courtier Fersen and eventually as the executioner. Because we're continuously accompanying Marie, they all seem distantly peripheral to her confusion. Including that bizarre talking sheep played by Matt Frazier who turns up as a chorus at infrequent intervals.
The rock 'n' roll treatment is emphasized from the first moments in the theatre. Cast members offer you delicacies on tea trays (a madeleine? a macaroon?) and circulate bouncily about the playing space, a subtle reminder that the theatre of Marie's day was an institution not only for one to see but also for one to be seen. Lowell Bartholomee's sound design alternates string minuets with loud fuzzbox guitars to let us know that we are entering an allegorical funhouse. The clashing effect is clever. In the closing scenes where Marie's in captivity and revolutionary guard Karina Dominguez is preparing her for the guillotine Bartholomee's reverbant deep base notes, seemingly beneath the seats of the audience, insist on menace and forboding. While buiding the suspense they threaten to drown the dialogue.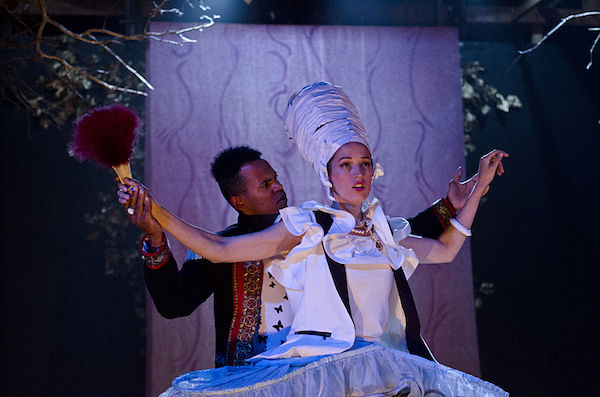 Indigo Rael is larger than life. Not only because she's taller and more dominant in her studied inconsequence than anyone else onstage, but also because of the epic hair construction that gives her a cartoonish, half-alien appearance. Director Rosalind Faires and Rael have constructed the artificiality of Marie Antoinette's character in like manner. Most noticeable is the lack of inflection and the contained emotional range, even in the final most pressing events of the narrative. Marie does not grow up, does not achieve emotional depth; she sails with instructed indifference even through horrors, and the circumstances of her death remain opaque and unexplained to her.
This Marie Antoinette is a protagonist for our times, supremely narcisscistic and unknowning, unaware of her privilege and unable to learn anything from her downfall. Indigo Rael elicits our pity, but not even the Terror can instill in us the terror that Aristotle insisted upon for tragedy. Marie loses all and then she dies; even her apotheosis -- that word she doesn't quite understand -- is a cartoon apotheosis.
EXTRA
Click to view program for Capital T' s production of Marie Antoinette
---
Marie Antoinette
by David Adjmi
Capital T Theatre
Thursdays-Sundays,
March 03 - March 20, 2016
Off Center
2211-A Hidalgo Street
near Robert Martinez and E. 7th Street, behind Joe's Bakery
Austin, TX, 78702
THREE WEEKS ONLY
March 3rd-20th, 2016
Thursday-Sunday at 8pm
The Off Center 2211 Hidalgo St, Austin, TX 78702
Tickets - $15-$30 Sliding Scale Pay-What-You-Can-Afford
www.capitalT.org or 512-537-CAPT
Running Time: 90 minutes without intermission.