Review: Antigone (David Rush) by Filigree Theatre
by Michael Meigs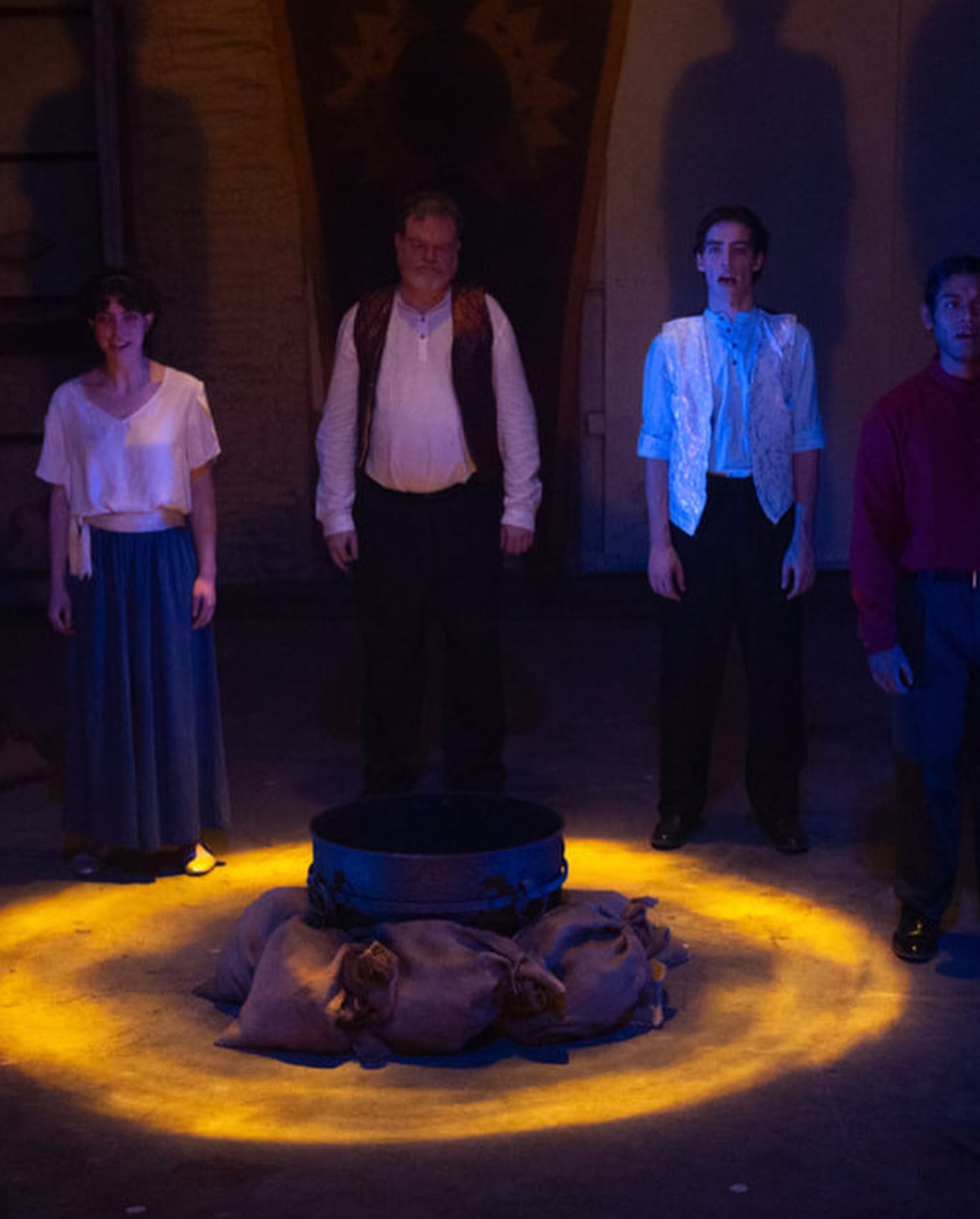 The choices are stark and the interests are opposed. As they were then, are now, and ever will be.
Playwright/adapter David Rush thoroughly scrubs Sophocles's Antigone, like a museum curator carefully restoring a find from an archeological dig, rendering it from an odd antiquity into a darkly glowing relevant contemporary challenge.
Director Elizabeth V. Newman, her cast, and the design team embraced the ritual nature of Greek drama with an almost liturgical staging. Eloquent and invested, each cast member appeared alternately as a distinct character and as a member of the chorus. When united, they moved in unison; they delivered choral speeches at times together, at other times singly. An individul pronounced a sentence, a phrase, or even a word, and those sequenced elements communicated collective thought.
The company invested much time and thought into creating a sacred space. The relatively narrow, high-arched space of Filigree's found venue Factory on 5th accommodated a tall four-legged central structure and overhead instruments that scenic designer Patrick Anthony used to flood the playing space with intense mood lighting.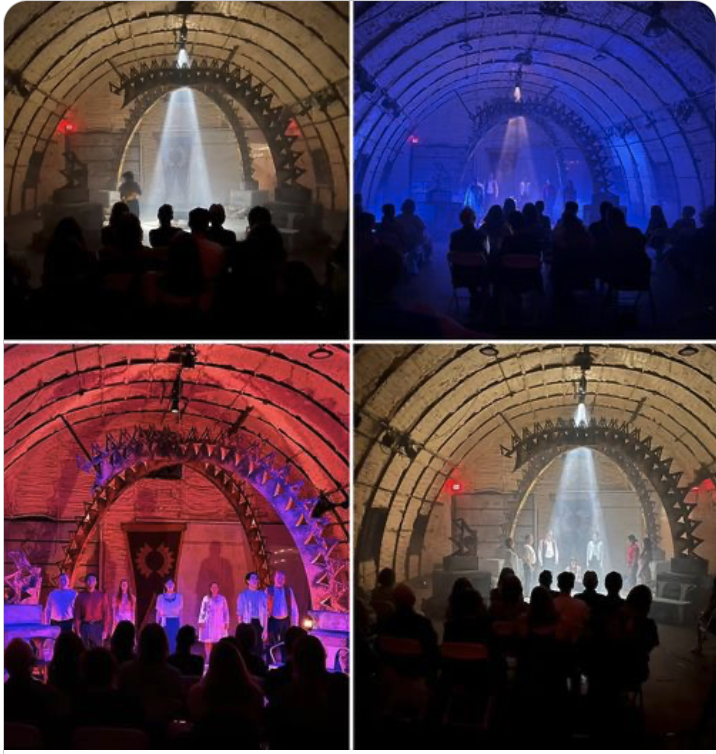 The company documented the crafting and construction of that non-denominational temple (for that's what it was) with images during October 3 - 10 tech. They're displayed on the Filigree Facebook page.
Newman assured with her blocking and direction of Rush's contemporary-language adaptation that the emphasis was upon the text. Each speech, whether individual or collective, was precisely articulated and appropriate to the character. Opposites were clearly defined. Julia Bennett as Antigone never doubted the divine justice of her decision to flout ruler Creon's edict banning burial of Antigone's brother Polynices; Beau Paul as Creon, a dutiful subordinate unexpectedly elevated to supreme authority, visibly enjoyed his new importance, reverted to old habits of counsel and persuasion, but ultimately showed himself merciless -- "The gods made me king; I have their authority." The deaths that followed, one after another, were bitter payment for his tragic hubris.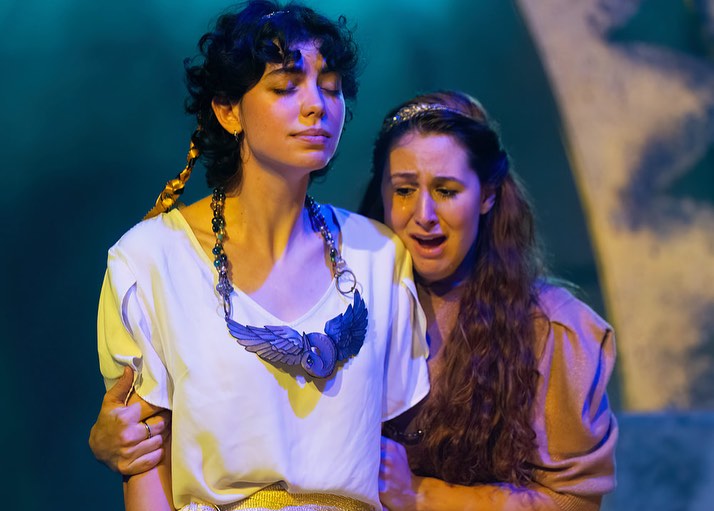 By using contemporary language and removing much of the complicated background of myths intimately familiar to antique Greek audiences, David Rush's adaptation vividly portrays a polarization afflicting both the contemporary United States and many other societies: which should prevail, an ethos of respect for ethical standards and human morality or obedience to the leader who claims absolute authority, often through divine right? Courtney DeBerry as Antigone's sister Ismene hesitates, unable to choose; only after Antigone is condemned does Ismene try unsuccessfully to defy the tyrant.
Speeches and characters in Rush's version closely track Sophocles's original. It's notable that the adaptation removes blind seer Teiresias from the play, so Creon gets no supernatural warning to change his mind. Creon's blind dedication to power calls forth disaster; Antigone's single-minded devotion to religious practice scorns his authority. Their adversity and mutual destruction are entirely human, for they act according to irreconcilable principles and they refuse appeals. There is no higher authority to mediate; the gods are silent. As they are in our own day.
This is a small and highly talented cast, also including Bailey Ellis as Creon's son Haemon, who tries unsuccessfully to dissuade his father; Martinique Duchene-Phillips as Creon's wife Eurydice, frantic for their son; and Mike Ooi, Creon's attendant. Josh Kok as the uneasy guard who's obliged to report malfeasance early did so with the faintest hint of comedy. He later recounted disaster with earnest effectiveness.
Filigree Theatre Company's Antigone was a deeply satisfying theatre experience, leaving the audience with food for thought and appetite for the rest of its "The Woman in the Story" fifth season: Photograph 51 by Anna Ziegler in January-February and Above the Fold by Julie Zaffarano in April.
EXTRA
Click to view the Filigree Theatre program for Antigone, adapted from Sophocles by David Rush
---
Antigone (David Rush)
by Sophocles, adapted by David Rush
Filigree Theatre
Thursdays-Sundays,
October 12 - October 22, 2023
October 12 - 22, 2023
October 12 preview; Thursdays - Sundays at 8 p.m. Sunday 3 p.m. matinee
Factory on Fifth, Austin, 3409 East 5th Street Austin, TX 78702 (
General admission $48.19; seniors/students/teachers $30.87
Tickets available via Eventbrite (click HERE).