Review: When We Were Young and Unafraid by Filigree Theatre
by Michael Meigs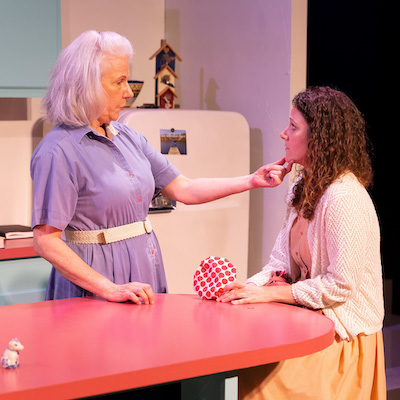 Go back forty-six years with playwright Sarah Treem and the artists of Filigree Theatre, and you'll find yourself in an eerily different place and time. The unpretentious kitchen Chris Conard has crafted in the compact space of the Mastrogeorge Theatre looks pretty much like what you'd expect to find at a bed and breakfast out on an island close to the border with Canada, but you're seeing through a glass darkly. While St. Paul urged church members in Corinth to turn their eyes from an unclear present to a future of revelation and exaltation, Treem's rigorously woman-centered work is retrospective instead. With her plot and sharply drawn characters she depicts a darkness of male oppression and female self-deception.
The title of When We Were Young and Unafraid is ironic in part. Certainly, from the perspective of today's raised consciousness, "we" -- meaning the female half of the American population -- were young forty-five years ago. "Unafraid" is a loaded adjective that carries connotations marking those young selves as naive, oblivious and vulnerable.
This script is polemical but well crafted. Its strongly contrasted characters, episodic construction and tidy plot are evidence of the playwright's success as a writer and producer for television. Filigree Theatre's eye-catching use throughout of subtitles that materialize on a screen set into the body of the kitchen island is disconcerting at first, almost as if we were watching a movie in a foreign language.But one adapts quickly to the convention -- if acceptable in opera or film, why not onstage, especially when one of the talented actors is deaf?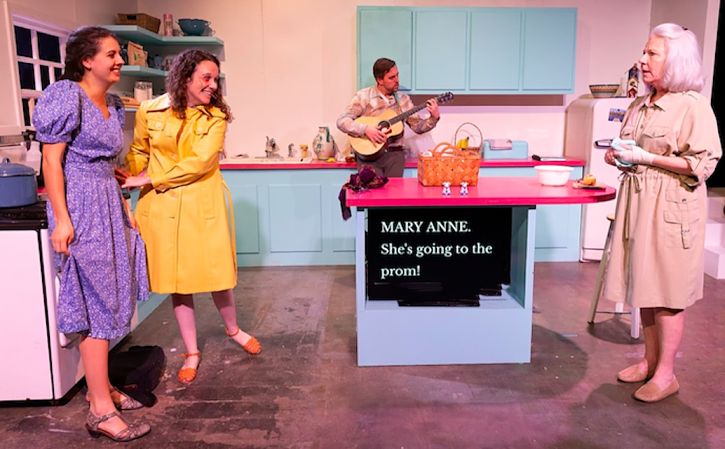 We males -- the other half of the American population -- take something of a battering in Treem's work. Forcefully aggressive feminist Hannah, played by Michelle Mary Schaefer, brings to Agnes, owner of the bed and breakfast, the report of a colony called Womyn-land. That's a collective of women so anti-male they don't allow male children to stay with them. In fact, by adding that "y," they exclude "men" even from the title of the colony.
It's fair to comment that Treem's created world is very close to Womyn-land. The cast consists of four women, one man, and two unseen male abusers. The female characters band together and bond in solidarity; the single male is unsure, earnest and well meaning; the offstage men are a husband who beats his wife and a high school athlete who's an epitome of self-regard, easily enticed and entirely irresponsible in a sexual relationship.
B&B owner Agnes, unattached to any man, is at the center of the story. It's no coincidence that her name coincides with that of St. Agnes, virgin martyr. Linda Bradshaw gives Agnes a brisk manner while preserving the woman's vulnerability. This Agnes has a daughter, Penny (Penelope), a high schooler smarter than her classmates but anxious to fit in and attract the attention of the jock who doesn't know she exists. Laura Ray is Mary Anne, the abused runaway wife who knows all about beguiling men but who wound up pregnant, battered, and neglected as a result. Ray captures Mary Anne's jumpy, contradictory and self-defeating attitude; Paranka as confused teenager Penny listens eagerly to Mary Anne's coaching. These three women are prisoners of their gender: Agnes, hand maiden to the homeless and abused, and the others because they're seduced by 1970's notions of relations between the sexes.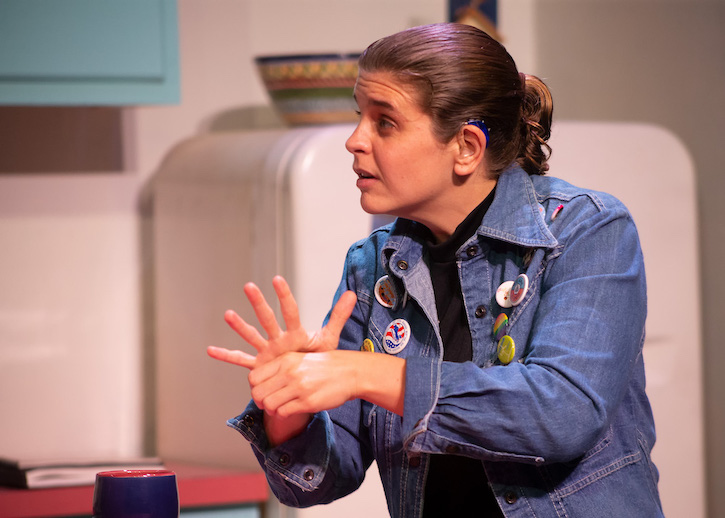 And then there's the paradigm buster, Hannah, an independent, man-scorning nomad, imbibed with new, radical notions of feminism, and impatient with others' illusions. Hannah's vision, far more acceptable to today's society, is reinforced; Ben Gibson as Paul, the single male onstage, remains the goofy prey to sentimental notions of romance, symbolized by his inept efforts to write a song with which to court the indulgent Mary Anne. Each of the others, however, is put through learning experiences and revelations about female identity.
This is a strong drama, strongly acted, but it's heavy, unleavened by humor except when Paul is captured by puppy love. A concluding scene, delicately played, is an almost-love scene between rebel Hannah and stalwart, old-fashioned Agnes.
Treem is writing to the movement and preaching to the choir. So much so that in the second act when Hannah asks Agnes, "You heard about the decision, right?" there's no need to be more specific.
Roe vs. Wade was decided 7-2 in January, 1974. And now, in the sway and swing of governance, the principle of a woman's right to decide for herself stands in perilous balance as a result of shifts that have affected the Supreme Court.
Let's hope RBG lives forever.
EXTRAS
Click to view the program of Filigree Theatre's producton of When We Were Young and Unafraid
Click to go to CTXLT slideshow of performance photos in black & white by Steve Rogers
---
When We Were Young and Unafraid
by Sarah Treem
Filigree Theatre
Thursdays-Saturdays,
February 07 - February 23, 2019
Thursdays – Saturdays: 8:00 p.m.
The production will run Thursdays through Saturdays at 8pm from February 7-23, 2018 at The Mastrogeorge Theatre (130 Pedernales St).
Tickets are available beginning January 11, 2018 online at FiligreeTheatre.com and in person at The Mastrogeorge Theatre Box Office for $30.00. Student, Senior and Group discounts will be available on the eventbrite ticketing site.
LOCATION
The Mastrogeorge Theatre,
130 Pedernales St. Suite 318
Austin, TX 78702