Review: Welcome to the Moon by The Exchange Artists
by David Glen Robinson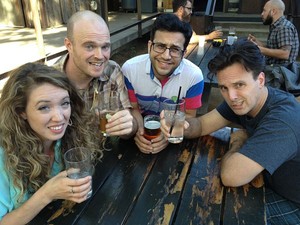 The Exchange Artists' Hot Nights performance series is here tonight, gone tomorrow. Thesaurus terms such as ephemeral and transitory correctly describe it, but certain qualities of the productions persist in memory. First, producers Rachel Weise and Bridget Farr choose pithy one-act plays, whether comedies or tragedies. Next, the producers recruit the most intense actors they can find to pour themselves into their roles in each play. Lastly, they find excellent musical ensembles to add musical support to the plays and perform full club sets after the play performance. The current show, already past, was the fifth installment of Hot Nights, and it met all the high standards of the series.
The current play is Welcome to the Moon by John Patrick Shanley. It's about old friends meeting up in a Bronx neighborhood bar after many years apart. The play depicts a reunion of sorts. How's your life? Not so good.
Travis Bedard anchors the play with his presence and attitude. As the bartender, nobody steps out of line in his establishment if he cares about what's going on, which isn't often. Zach Thomas keeps the whole play together as one of the friends; and he almost singlehandedly builds the emotional rollercoaster of the story, and then he rides it with both hands held up in the air. He and Mario Silva give a great demonstration of unison bawling and squawling. They both get in touch with their inner babies. Heath Allyn and Lindsey Kent round out the cast as friends. They succeed in their roles by metaphorically looking on in dismay.
Otis the Destroyer was this night's band. They rocked the Blackheart Bar in the proud tradition of all the Hot Nights bands. They will be touring out of state in June and July of 2014.
Exchange Artists is one of those companies that can't be contained entirely within the category of theatre arts. It is best to follow the company on all of the social media and anticipate the next Hot Nights performance. Exchange Artists is well worth the effort.
---
Welcome to the Moon
by John Patrick Shanley
Exchange Artists