Again - Family, Friends and Lovers
by Exchange Artists
Aug. 19 - Aug. 21, 2016
Friday-Sunday
The Exchange Artists announce their upcoming production Again- Family, Friends, and Lovers, a multi-media, partially improvised new show created from real moments of regret.
Again- Family, Friends, and Lovers, provides a fully staged opportunity for actors to reenact moments from their pasts with the hope of better outcomes. For the performance, each storyteller will encounter another actor prepared to play the person from their past moments. The outcomes of each encounter will not be rehearsed but will be improvised live on the night of the show. Each evening will include several of these improvised new outcomes as well as video and audio accounts of past moments from additional community members. In their honesty, these performances will provide a look at our collective humanity, our vulnerabilities, and our ability to make better choices for ourselves and those around us.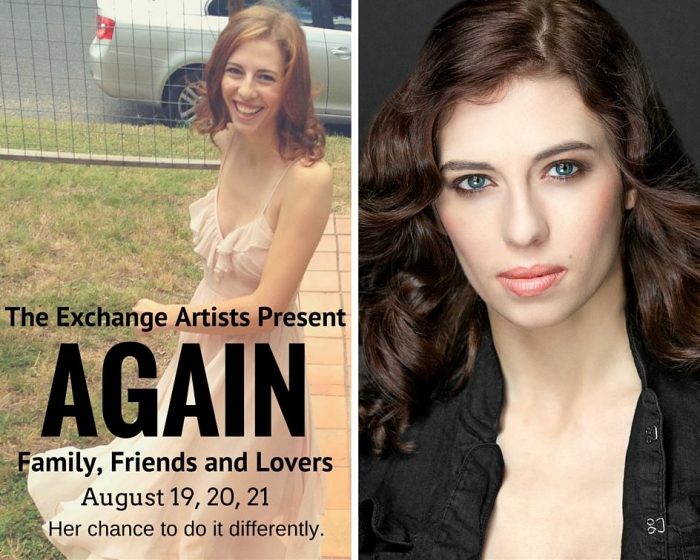 Friday, August 19th at 8pm features storytellers Anne Hulsman, Michael Joplin, Geronimo Son, and Rommel Sulit, together with actors Jen Brown, Marie Fahlgren, Zac Thomas, and Craig Nigh.
Saturday, August 20th at 8pm features storytellers Kelli Bland, Doug Costello, Kendra Franklin, and Jill Bailey, together with actors Nicholas Saenz, Geronimo Son, and Zac Thomas.
Sunday, August 21st at 8pm features storytellers Heath Allyn, Bridget Farr, Brooke Iglesias, and Zac Thomas, together with actors Marie Fahlgren, Nicholas Saenz, and Rommel Sulit.
Additional contributors from the community include: Pete Betcher, Lana Dietrich, and Dallas Tate. Direction by Bridget Farr and Rachel Wiese. Technical Direction by Zac Crofford. Video production and editing by Nina Vizcarrondo. Additional video editing by Ria ferich. Conceived by Bridget Farr.
About The Exchange Artists: As Exchange Artists we create theatre inspired by cultural exchange at home in Austin, TX and abroad. Through international collaboration and community engagement we empower our artists and audiences with fresh perspectives, new experiences and a strengthened sense of connection.
For more information, visit www.exchangeartists.org.
---
Again - Family, Friends and Lovers
by Rachel Wiese and Exchange Artists ensemble
Exchange Artists
Friday-Sunday,
August 19 - August 21, 2016
Three completely unique performances will take place Friday, August 19, Saturday, August 20, and Sunday, August 21st at 8pm at the Santa Cruz Theatre Center, 1805 East Seventh Street, Austin, TX 78702. The performances will last about an hour. Tickets are $20 for one night, or $30 for all three nights, and can be purchased online at brownpapertickets.com, or reserved by emailing exchangeartists@gmail.com.
Click for event page at the website.