Review: Wait Until Dark by Gaslight Baker Theatre
by Michael Meigs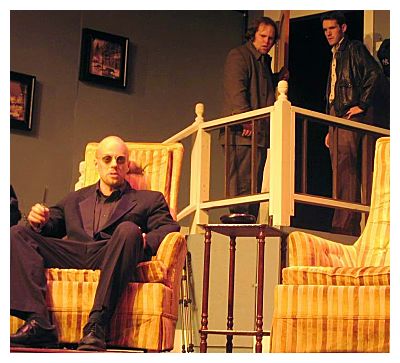 Harry Roat is a really, really mean guy. In this Gaslight Baker Theatre production of Wait Until Dark, David Young plays Roat with alarming, menacing stillness as he snares two minor ex-cons into the hunt for a lost shipment of heroin, setting them up as potential fall guys for a murder that Roat himself has just committed.


Yes, this is the one about Suzy, the blind woman that the bad guys are trying to confuse and to push into turning over the McGuffin of the piece, a doll that is packed with the purest smack going.


Suzy's husband, nice-guy former Marine Steve agreed to carry the doll from the Montreal airport to New York as a favor to an unknown woman. We're talking 1966 here, when folks were a lot more trusting and Halloween hadn't yet been tarnished by tales of poisoned candy.
The doll is missing. Hubby is decoyed out of the house for some photography work and the play opens as the ex-cons Mike and Carlino enter the apartment. Roat turns up and informs them that they're going to have to help him dupe blind Suzy either into revealing the whereabouts of the doll or into turning it over to them. In the opening scenes, David Young as Roat is so concentrated, motionless and in control behind those shaded lenses of his that one wonders momentarily whether he, too, is blind.
He proves that he is not, and he has the imagination and creativity of a fiend. Tysha Calhoun as blind Suzy walks into their unsuspected trap for her, including a perverse turn on the old "good cop/bad copy" routine. Roat play-acts to her the roles both of an angry, delusional father and of a concerned son. All are working to pressure Suzy with the version that the murdered woman discovered dumped in the neighborhood that morning has some close relationship with her husband.

We view dark and light; blindness, sight and insight; silence and revelations; and then, as the suspense builds, Suzy's use of her wits and counter-traps to discover the truth about these strangers. The second act builds to the famous finale with gasoline poured, blades out, a blackout and deadly hide-and-seek in the darkness.

Even if you know the famous 1967 Audrey Hepburn/Alan Arkin film version of the acclaimed Broadway play, you are going to find yourself engaged in this meticulously plotted story.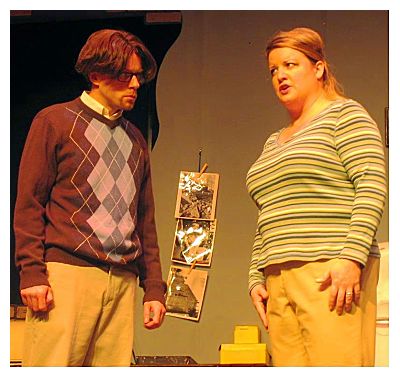 Tysha Calhoun reveals Suzy's initial confidence in her visitors and gradually becomes more guarded and careful. Her portrayal of the recently blinded woman is appealing. I was put off initially by director Todd Martin's decision to emphasize Suzy's blindness not only through the lack of eye contact but also by consistently facing her ten or twenty degrees away from her interlocutors. Wouldn't a woman who grew up with sight still peer toward the other voice? I withdraw the point now, however, noting that the
movie trailer
suggests that director Terence Young used the same orientation for Audrey Hepburn's Suzy.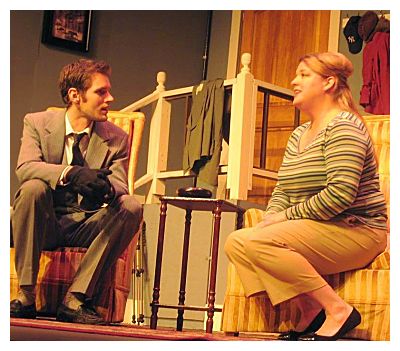 Both Polaris Banks as the ex-con-playing-nice-guy Mike Talman and Cruz Thomas as the ex-con-busted-cop Carlino have the stage presence and the language to enforce our belief in plot and place, as they twist those threads relentlessly more tight around Suzy.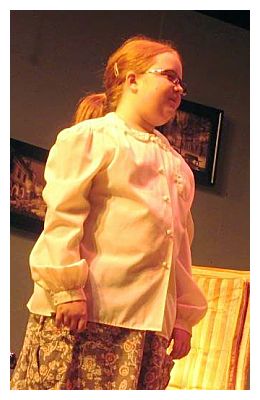 Young Bevra Williams does a impressive, brave job as Gloria, the neighbor girl who craves Suzy's attention and acts spiteful to get it. Through Gloria's eventual cooperation and Gloria's eyes and ears, Suzy learns just how far wrong things have gone. Bevra as Gloria is scared but attentive to instructions in their last-chance effort to seek help.

Well-paced, believable and disturbing, Gaslight Baker's Wait Until Dark shows once again that these folks know how to "put the art in Lockhart." The final performances at the theatre at 216 S. Main Street are on Friday, November 13 and Saturday, November 14.


EXTRA
Click to view program of Wait Until Dark by Gaslight Baker Theatre
Hits as of 2015 03 01: 3439
---
Wait Until Dark
by Frederick Knott
Gaslight Baker Theatre
October 30 - November 14, 2009