Review: Trevor by Capital T Theatre
by David Glen Robinson
Trevor by Nick Jones is the fictionalization of the story of Travis the Chimp, raised and lived with a human family in Stamford, Connecticut. The family trained Travis for roles in petty media, largely TV public service announcements and local commercials. Travis became a celebrity in his town. Travis grew up, as members of every species do, and became a surly and aggressive adult, also like every species. At this point, Travis's story morphs into the story of the first human face transplant, because Travis severely mauled a neighbor and was ordered destroyed as a result.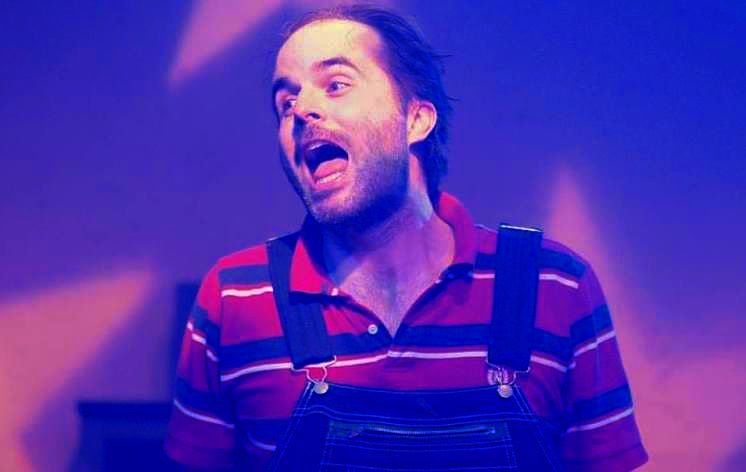 Playwrights like to have it their own way, just like the rest of us. And Travis's story serves merely as the germ of Trevor's story to playwright Nick Jones. His play starts at that point where Trevor's agent hasn't called in about ten years. This unreasonable gap will unnerve any actor, making him or her start to question their talent and worth as a human being or chimpanzee. This is precisely where we find Jason Newman's Trevor. Newman voices the chimpanzee's inner monologues, none of which can be understood by the human characters and vice-versa except by gestures and a small vocabulary of sign language. The barriers to inter-specific communication are emphasized throughout the play.
Outwardly, Newman and Judd Farris as Oliver, the imaginary chimp who made it big and appears to Trevor in dreams and fantasies, imitate chimps admirably. They stand bow-legged and forward-leaning. They gesture with their whole arms, leap into couches and chairs; and they change TV channels with the remote and sign autographs with their feet as easily as with their hands. Who says they are lower animals?
Trevor's inner dialogue overflows with stage discipline (don't poo onstage, even with the diaper), mid-season replacements, and changing media trends concerning chimp-dominant programming.He knows he can succeed at it with the help of Morgan Fairchild (played by the glamorous Rebecca Pearcy) with whom he made a commercial ten years previously. She's constantly in development of new projects and is a dream-advisor to Trevor.
Rebecca Robinson, one of Austin's favorite actors, plays Trevor's human "mother" Sandra, the stabilizing force in Trevor's life. Trevor is everything Sandra has left now, her husband having died some time before. Sandra's denial is profound, and although she becomes greatly stressed out by her lessening ability to control Trevor, she lacks any understanding of why that is so, much less what to do about it. Trevor drives Sandra's Corvette onto the neighbor's front lawn, simply a random aberration that won't happen again; why that misbehavior should bring animal control down on her and Trevor is inexplicable and seems completely unfair to her. Her life commitment is to provide Trevor with stability, but finding her own stability is what she is really needs.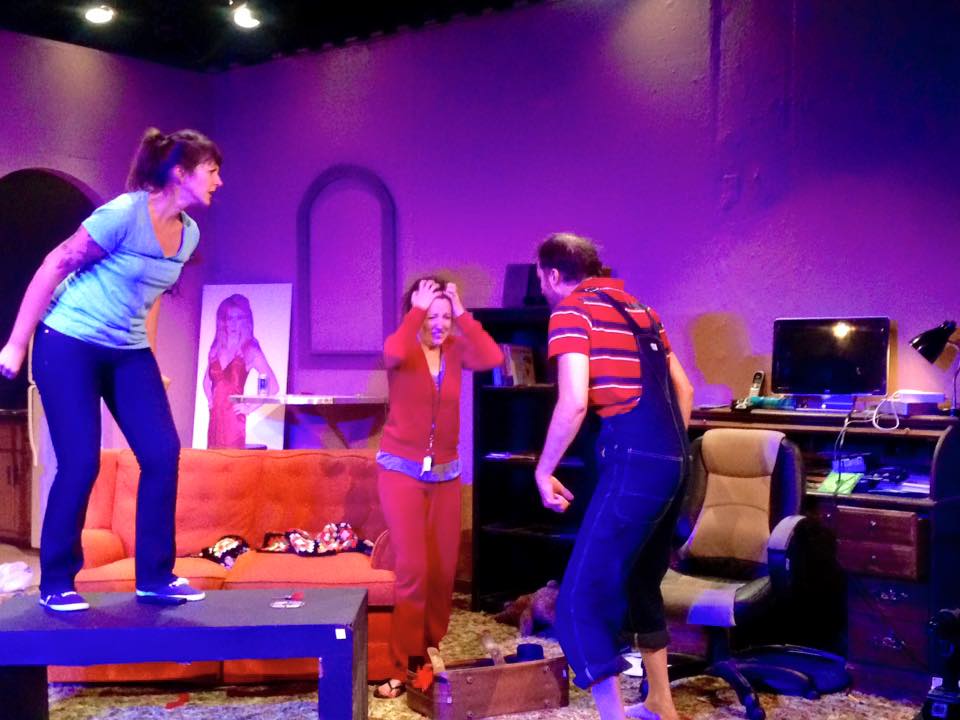 Robinson wins again. Conveying the quality of unknowing, or not knowing, something deeply essential in a character throughout a play requires a great depth of knowledge about that character. Robinson always seems to achieve that depth in all her characters. In contrast, Newman's Trevor knows exactly what he's about. We know this from Newman's complex narratives and impressive physical work as another species. Very well done. His Trevor is well worth the ticket price, modest by Austin standards.
So at the core of the story we have Trevor willfully launching out of control while Sandra hangs onto him for dear life (hers) and shields him from all others until she can't anymore. Naturally, the dramatic tension ratchets up so high that the audience leaves the theatre gasping for breath. The comedy is of the ironic type, with the chimps usually providing wry commentary on the foibles of humans.But the sense of impending tragedy grows so heavy through the play that we begin sorrowing over the impossibility of inter-species understanding, even with our closest evolutionary relatives. We know that Trevor is anything but a comedy.
The entire cast is committed, talented, and powerful. In addition to those mentioned they are Molly Fonseca, Joe Reynolds, and Matt Frazier. The ensemble shows the great virtue of working supportively with one other on stage. The action and blocking are complex, and innumerable props had to be placed and moved just so. The stage work was difficult, but the actors made it smooth.
The design fields worked well also. Travis Dean did lapidary work once again with the arduous fight choreography. The fog machines and their fog, symbolizing the start of dream sequences, were so effective in their work that they set off the theatre's smoke detectors in the second act.
The staging at the end of the play became somewhat obscure after the ironic bit of species role reversal. Whereas earlier the play had flirted with Grand Guignol—with stage blood and the brandishing of various weapons—the final scenes made rather vague allusions to the fates of the lead characters.The program notes actually conveyed more clearly what happened to them. A staging shouldn't require an assist from the program notes. This critique is aimed at the play and the script, not Capital T's excellent production of it.
Trevor is an excellent high dramatic work with an intricate, almost action-adventure plot. The play flirts with deeper issues of family, interspecies communication, and Hollywood self-destruction by celebrity. The audience takes flight on its wild ride, piloted by a four-star cast that makes no promise of setting them down gently. Trevor is for anyone who likes to scream on roller-coaster rides.
The play marks the tenth anniversary of Capital T Theatre in Austin and is well in keeping with Capital T's edgy, avant-garde work. Trevor runs from May 19 to June 18, 2016 at Hyde Park Theatre, 43rd Street at Guadalupe.
---
Trevor
by Nick Jones
Capital T Theatre
Thursdays-Saturdays,
May 19 - June 19, 2016
Thursdays - Saturdays at 8 p.m., Hyde Park Theatre
General admission reserved seating $20
VIP reserved seating with drink $30