Review: The Dumbwaiter by Capital T Theatre
by Michael Meigs
Thin and yet deep, apparently superficial but disturbingly suggestive, Harold Pinter's The Dumbwaiter was his second play, a one-act written in 1957. The production by Capital T Theatre is accomplished, eerie and aggravating -- all of which are qualities that marked Pinter's works throughout a fifty-year career recognized by the 2005 Nobel Prize for Literature.
Ill at the time and unable to travel, Pinter videotaped his Nobel lecture. In the opening passage he said,
Truth in drama is forever elusive. You never quite find it but the search for it is compulsive. The search is clearly what drives the endeavour. The search is your task. More often than not you stumble upon the truth in the dark, colliding with it or just glimpsing an image or a shape which seems to correspond to the truth, often without realising that you have done so. But the real truth is that there never is any such thing as one truth to be found in dramatic art. There are many.

Most of the rest of his lecture was a blazing attack on the foreign policies and interventions of the United States. No enigmas there -- when he rose from the level of the drama of uncertain and vulnerable individuals to the collective use of guile and force he had the force of Isaiah or Jeremiah.
Ken Webster, who plays Ben, the more senior hit-man in The Dumbwaiter, has an affinity for Pinter's darkness and enigma. In 2009 he directed and appeared in Pinter's The Collection at the Hyde Park Theatre, currently host to The Dumbwaiter. One evening in January of that year during the annual FronteraFest of short works a group had dropped out, and Webster stepped in with a reading of Pinter's Nobel Lecture.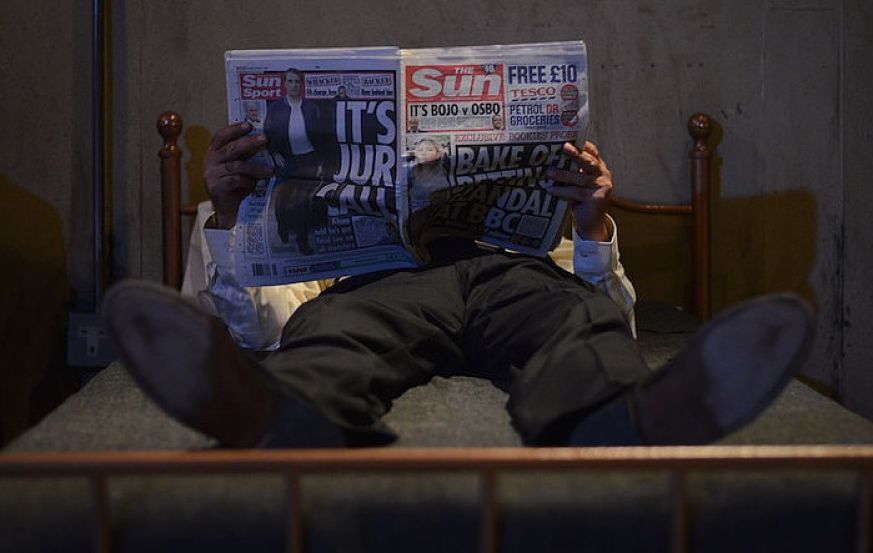 The Dumbwaiter with its setting in a single run-down basement room is a sealed-room mystery. Not the classic whodunnit sealed room where a murder has been inexplicably committed, but instead a room with stained concrete walls and floor where two murderers are idling in boredom while waiting for instructions. They're stretched in iron-frame beds as you file into the house. Webster as Ben is reading The Sun, the tabloid newspaper famed for its sensationalist journalism and its regular 'Page 3' photos of bare-breasted women. Gus, played by Jason Phelps, is sleeping, dead to the world.
The mystery here is not who did it, but how these two ill-matched tradesmen of murder got into this line of work, where they are, who they're waiting for, and finally -- ridiculously -- why someone upstairs keeps sending down the dumbwaiter with requests to a kitchen that does not exist.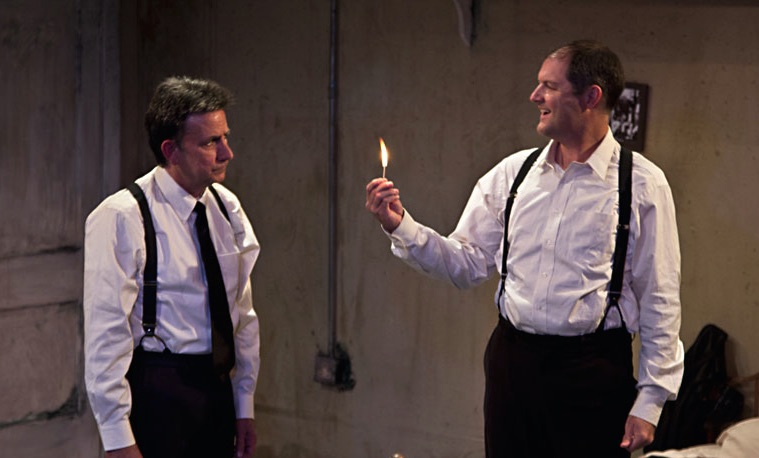 Random remarks, Gus's jumpy dim-witted chatter, Ben's slow burn and the exquisitely eloquent silences written by Pinter and delivered by these two with a delicious apparent lack of selfawareness build a vivid picture. Webster radiates impatient but strictly controlled menace; Phelps has the restlessness and distraction of a schoolboy. Although a gun-for-hire, he's astonishly inept at handling his pistol. Trivialities and commonplace comment prevail as Webster and Phelps build our sympathy for these ordinary and unimaginative workmen, but their exchanges in this binary confinement make it clear that they've carried out multiple murders. Per Pinter's doctrine we glimpse images or shapes of the truth of their story but we're left to guess at it.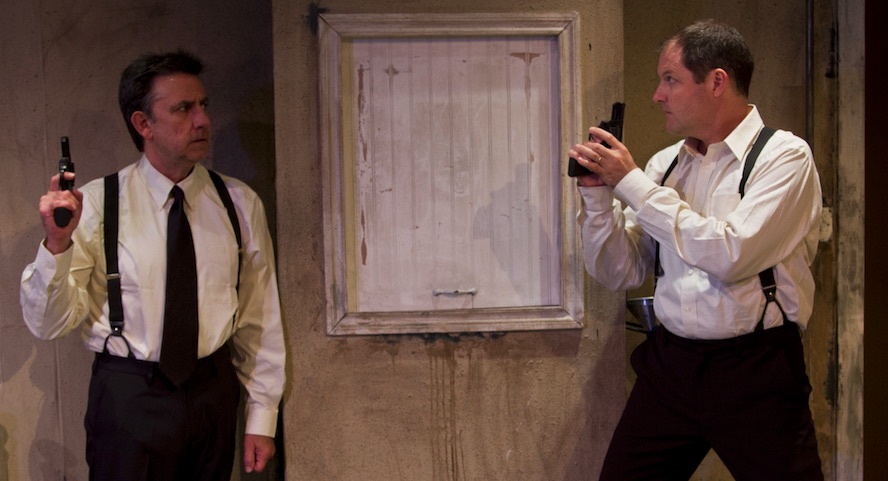 The Dumbwaiter is delicious and captivating, but not like that Chinese carry-out that fills you for only a short time. This piece is an amuse-guele, the species of cocktail party nibblies that rouse your appetite but leave it awaiting more. Its uninterrupted fifty-five minutes conclude abruptly and unexpectedly with an apparently impossible arrival. We don't even have time to assimilate it -- wait, what just happened? -- before the lighting and the actors signal that it's time to applaud. The hook is set, the questions established, the expectations raised; it's like setting out for an intriguing river cruise and suddenly finding that the boat has returned to the dock.
Pinter wrote more than a dozen one-act plays, and it's common for theatre companies to present from two to four of them in a single evening, dishing out generous servings of his distinctive genius. The Capital T production capitalizes on the acumen and presence of Webster and Phelps, who with director/set designer Mark Pickell constitute a sort of Three Musketeers of edgy comedy. But I stepped out onto 43rd Street at Guadalupe feeling a bit like Oliver. I wanted to hold out my bowl and plead, "Please, sir, can I have some more?"
EXTRA
Click to view the Capital T Theatre program for The Dumb Waiter
---
The Dumbwaiter
by Harold Pinter, adapted by Julian Sands
Capital T Theatre
Thursdays-Saturdays,
October 29 - November 21, 2015
October 29-November 21
Thursday – Saturday at 8pm
additional 9:30 p.m. performances on Friday, November 20 and Saturday, November 21
Hyde Park Theatre 511 W 43rd St
Tickets $20 general admission, $30 VIP with drink and reserved seating