Review: Spirits to Enforce by Capital T Theatre
by Michael Meigs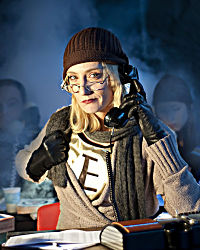 With 12 superheroes on stage, who ya gonna call? I picked over the suite of portraits at Capital T Theatre's website and I was seriously tempted by blonde Jenny Gravenstein with the come-hither eyes as The Page, particularly since Capital T is using her for one of its promo posters.
That would be a sexist indulgence in fantasy, though, so I settled on Austin newcomer Jay Fraley, who mans the central slot at the phone bank as Emory (secret identity: Ariel; yes, that Ariel, and a hint as to just why these impoverished superheroes, victorious so recently against Dr. Cannibal and his hoardes, are trying to raise donations so that they can put on a theatrical production of The Tempest).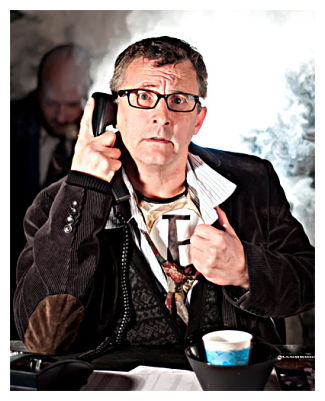 Besides, Fraley has more than a passing resemblance to playwright Mickle Maher of Chicago's Theatre Oobleck. And when the super-rubber hits the road, Ariel's performance in the theatre before a crowd including Dr. Cannibal as chief theatre critic is a self-confessed disaster. Judging from the rest of this speedy, hectic, amusing play, that's just the sort of joke that Maher would play on himself.
Capital T's first-time director Gary Jaffe puts all superheroes on stage, all the time. They hardly move from their stations at the telethon table, except for LaTasha Stephens as The Bad Map, but the psychic energy sizzles. Jaffe has assembled a cast that is its own microcosm of valiant Austin actor-heroes, all of them in their 20's and 30's, most of them familiar and welcome to theatre junkies. They mirror pretty well the very demographic that Capital T has courted so successfully over the past couple of years: energetic folk who are smart, self-referential, creative and a touch arrogant.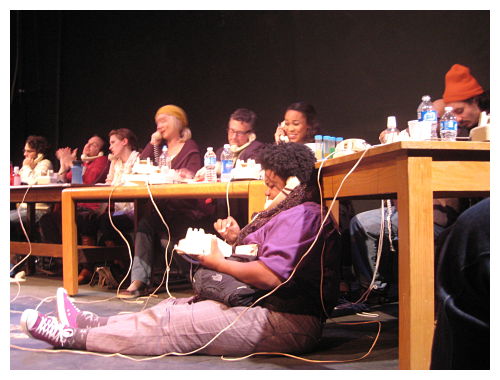 The audience understands pretty quickly that these folks working the phones so earnestly are getting just about nowhere with fundraising. After all, superheroes, aren't you super? Who says I'm going to need your services? Didn't you already put away Dr. Cannibal?
In this controlled boiler room chaos the word pops back and forth, we get scraps of conversations, overlapping appeals, frustrations, mini-storms and rolling eyes. It's dizzying at first, and I began to wonder if maybe the whole thing couldn't have been done better as a radio play.
But Maher is clever -- heck, they're all clever -- and he gives us bursts of information about the various oddly named and oddly endowed super heroes. Take those names: for instance, The Untangler (the furiously knotting Travis Bedard), Memory Lass (Allison Gregory), The Intoxicator (Braden Hunt in his low-life hoody and sunglasses), Fragrance Fellow (Stephen Mercantel), The Pleaser (Toby Minor) and my favorite monicker of all, The Snow Heavy Branch (Tyler Jones, who has something going with a gondola).
And just about the time that we begin to understand that they're seeking this money for a theatrical production, for chrissakes, The Pleaser makes the big step: he offers to reveal to the prospective patron on the other end of the line his Secret Identity!! Others grasp at that bargaining chip and there's new dedication to the begging effort.
There's lots of comic interaction among the desperate heroes -- for example, The Tune (Blake Smith) is enamored of Memory Lass (Gregory) but she can't for the life of her remember him from one encounter to another. Playwright Maher and Director Jaffe hit warp speed after that in the wild, disjuncted narratives we hear, especially from Fraley and Gravenstein, about the disasters and triumphs of the play production and performance. Without moving in space, we have all leaped forward in time and we experience the outcomes vicariously.
Cast and director do an impressive job of containing this chaos and directing the audience's attention so that each of the dozen players is stamped out as crisply as a newly-minted quarter. Spirits to Enforce has a runaway rhythm, but it's carefully calibrated and achieved. Director Jaffe keeps his Supers mostly in their places, with just enough breakaway to keep the picture interesting; there's even an endearing outcome for the courtship between The Tune and Memory Lass that involves a tidy, spontaneous rearrangement of places at the table.
So which Hero is your favorite? In that world of double identities, negotiations and cameos, it's hard to choose. Travis Bedard as The Entangler is a Max Bialystock of the comic book world, Tyler Jones as the Snow Heavy Branch does a fine spoof of all those earnest young men he has played for Different Stages and elsewhere, Karen Alvarado down at the far end as The Silhouette is the yin to Gravenstein's yang.
As for me, I come back to Fraley as Emory/Ariel/Mickle Maher. The character and the playwright are pushing a lot at us, and it takes an agile mind, sharp ears, and a love of theatre and Shakespeare to decipher it all. If you have the mental energy to appreciate Spirits to Enforce, you'll enjoy a good look at Capital T Theatre and a cast of some of Austin's finest theatricalists -- making fun of themselves and of the grand and noble art of the stage.
Review by Cate Blouke for the Statesman's Austin360 "Seeing Things" blog, January 24
Review by Georgia Young for Austinist.com, January 24
Comment on the production from Elizabeth Cobbe in the Austin Chronicle, January 27 (215 words)
Review by webmaster, TheatreAustin, Yahoo groups, January 28
Review by Courtney Griffin in Daily Texan, February 7
Review by Ryan E. Johnson at examiner.com, February 9
EXTRA
Click to view program of Spirits to Enforce by Capital T Theatre
Hits as of 2015 03 01: 2096
---
Spirits to Enforce
by Mickle Maher
Capital T Theatre
January 19 - February 12, 2011
Blue Theatre (now closed)
Springdale Rd and Lyons
behind Goodwill warehouse
Austin, TX, 78702