Review: Hand to God by Capital T Theatre
by David Glen Robinson
Just when the community thought Mark Pickell's Capital T Theatre had reached a plateau with the spectacular Trevor, it tops itself with Robert Askins' play Hand to God, playing now at the Hyde Park Theatre. The work defies categorization, having components of horror, comedy, and tragedy. It involves a church youth group and a peculiar hand puppet made in the group that starts speaking with a scatological mind of its own. Demon possession is feared, and the community is concerned -- that is truly an understatement.


The youth room of the church could be anywhere in North America. This one just happens to be in Cypress, Texas. The puppet-making class there is thick with adolescent sexual tension, described and conveyed explicitly by the characters from the opening moments. The characters include the puppets, especially one named Tyrone and voiced by Jason, played by Chase Brewer. This youthful setting has much to do with the broad appeal of the play. These adolescent characters are past the point of meltdown. Surprisingly, the supporting and guiding adults suffer flameout as well. It is these adults who take us on the circuitous but very clear path through Hand to God's combination of horror and comedy and drama.


Many are the children who create invisible friends, especially when they're remarkably withdrawn, imaginative, and perhaps rudderless. Jason's friend Tyrone, orange, big-eyed, and suspiciously Muppet-like, won't come off Jason's right arm. He increasingly gives cry to Jason's rage and frustration. Tyrone eventually takes over entirely, like the voice of addiction promising to bring you to wholeness if you just follow the voice's plan of action. This all breaks out in a steaming milieu of desire, and by that we mean exploding lust.
In other words, throwdown sex.
In the church.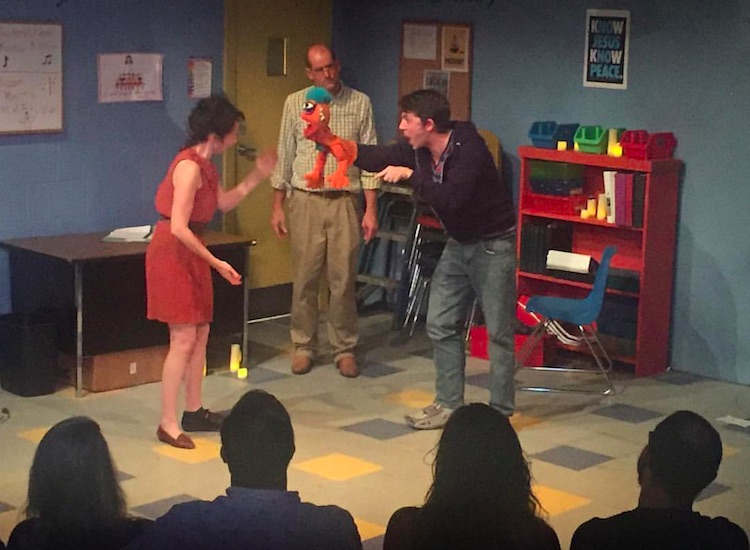 Jason's mother Margery, played by Rebecca Robinson, is the puppet class teacher. Her husband, Jason's father, died recently of a heart attack, and at this point in her life she feels she has fewer answers than Jason. Together and with the other characters they are feeling their ways through their brokenness and unknowing. When violence reaches the level of blood, everyone reaches for the tried and true: Blame it on Satan and demonic possession.


Rebecca Robinson leads an excellent cast in the role of Margery. As Jason's mother she lives her life in simplistic, rule-based Christianity, but she finds no solutions there to her profound problems. Things only get worse with the puppet possession. Robinson delights audiences constantly with her performances, and Hand to God is no exception to this pattern of excellence. Robinson's skill sets feature immensely wide emotional and dynamic ranges. She can access any point on them in an instant, and this quality of her acting gives great depth to all her characters. Plus the fact that her southeast Texas accent is perfect, although she is from Indiana. Artistic director Mark Pickell seems to prefer plays with a lot of physical action, and his esthetic matches well with the skills of Robinson and those of the rest of the cast.


Kenneth Wayne Bradley plays Pastor Greg with a much quieter approach to the character than his more typical interpretations in Killer Joe, Bug, and his many action movies. Pastor Greg is a role of breadth for Bradley but not by any means a stretch. All the facets of his character shine clearly. Especially his emerging romantic interest in Margery.


Chase Brewer gives a breakout performance as both Jason and Tyrone. His characters evolve and change through the story. Brewer conveys all the nuances in voice work distinguishing the two characters. His voices frequently speak in dialogue with one another. What the audience often doesn't seem to notice, perhaps not at all, is that this amounts to an actor talking, screaming, and emoting with himself on stage. Very well done. Brewer's program bio mentions no background in puppetry, but his puppet-play is almost masterful.


Theresa Baldwin plays teenage Jessica, also a church puppeteer and initially a objectified creature in the background. The frst actt seemed to have passed her by, but she made a near-unique second act entrance into the possessed youth room. Then and there she manifested her own masked desires through her transformed demon stripper puppet. The scene, apart from its hilarity, was a major plot surprise that came out of quietness.


Brad Rothwell is a relative newcomer to the Austin scene. He forged a memorable role in Hand to God starting with one of his early lines, the immortal "I can see your boner." Thereafter he was on for a wild ride, accepting transformation but always working from his base as a horny teenager.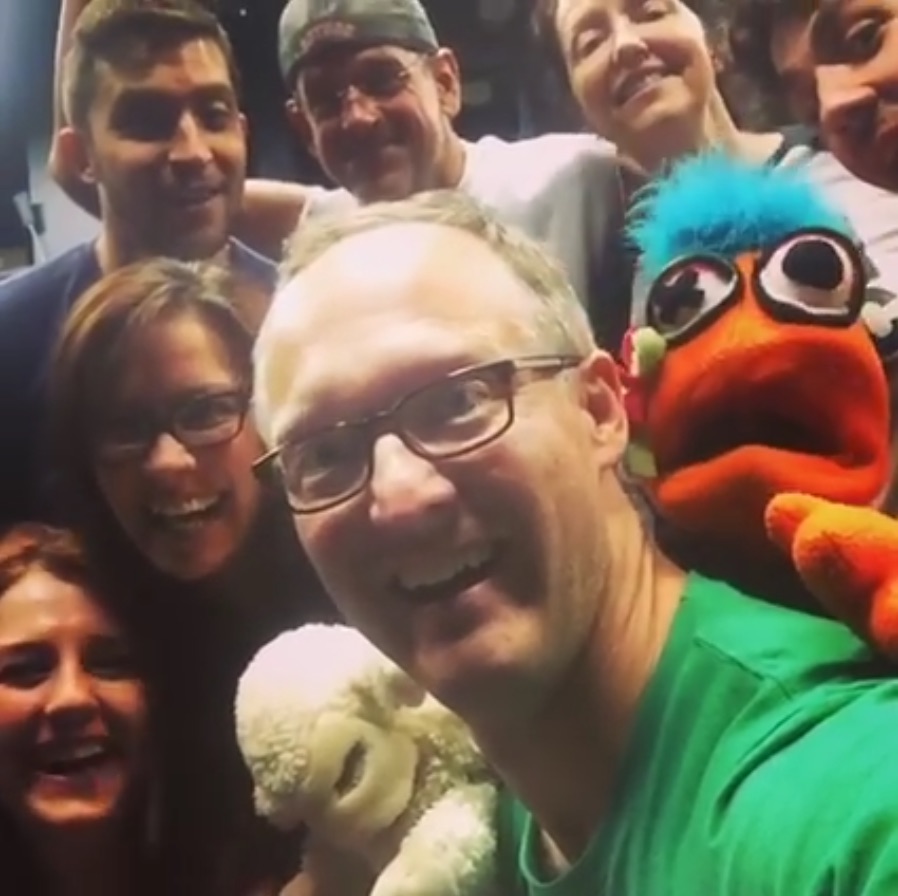 Capital T Theatre's productions very often feature well calibrated action. Close coordination of the design fields is a requirement for this approach, and Capital T has refined its game with these high-energy productions. The set designed by Pickell, is an interactive, transformer type of construcction with surprises of its own. Patrick Anthony's lighting design almost tells the story by itself. His lighting sets are imaginative and colorful, ranging from changing daylight filtering through high windows to reflections of traffic signals in a motor traffic scene. Taken together, the set and lighting fields look as though Ia Enstera and Jason Amato never left town.


Set changing, often a busy, lengthy mess that aggravates reviewers and picky audience members, was smooth and well-timed. The changes were made in blackout with sufficient crew for the task, unlike many other productions. The crew credit goes to Taylor Hurley, Kyle Hurley, Taylor Tolleson, and Kelley Kantz.


Robert Askins wrote a marvelous play in Hand to God, and Capital T Theatre does it full justice in its production at Hyde Park Theatre. Some have said the play is sacreligious -- well, not totally. There is blasphemy, yes, but who among us in petty rage has not cursed God? The play points out the efforts of liberal, progressive Christianity to make a difference today, and also the truth that people may or may not find a livable faith within the confines of the church.
But Askins' play does not ignore sources of spiritual strength. At the play's climax, or pivoting point where all the characters change their paths, Margery manhandles a large cross, destructively and painfully. She looks down at her bloody hands in exhaustion and sheer physical hurt and says, "Everything I touch turns to shit. Take me away. I can't touch anything else. I don't want to hurt anybody else." Her behavior may indicate that she will become less Christ-centric in her life, but her statement may make her a more spiritual person in a truer, more personal sense.


There is huge humor in puppets behaving badly, and mature adults will enjoy Hand to God greatly. Teenagers and younger children will just get nasty ideas for their own misbehavior, so they should be left at home, but not alone.
Hand to God runs at Hyde Park Theatre August 18 – September 17, 2016.
---
Hand to God
by Robert Askins
Capital T Theatre
Wednesdays-Sundays,
August 18 - September 17, 2016
Tickets $20 and $30 plus service fee, available via BuyPlayTix.
ADDED Performances Sunday, September 11 and Wednesday, September 14 at 8 p.m.