Review: Small Mouth Sounds by Capital T Theatre
by David Glen Robinson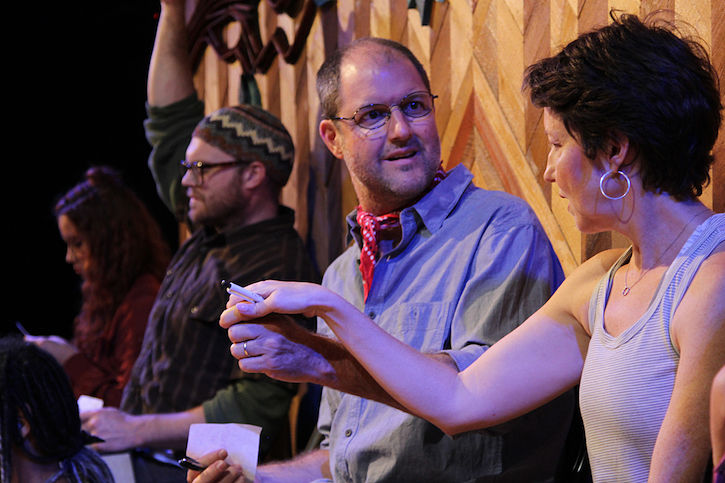 Small Mouth Sounds by Bess Wohl, now playing at Hyde Park Theatre, is one of those small-scale modern plays that compete for stage space in 21st century American regional theatre. That quality may make the play difficult to see in the lush forest of contemporary plays, but it has the quirky originality that Capital T Theatre loves to spy out. Hence the current production.
The characters don't know each other (except the lesbian couple) before signing up for a spiritual/therapeutic weekend retreat at a forested concern in the hinterland. Think summer camp for adults, but a camp with a lot of rules designed to mold and push the participants toward goals of advanced self-knowledge and spirituality. The format resembles, vaguely, that of EST and the inspirational workshops of Tony Robbins and others.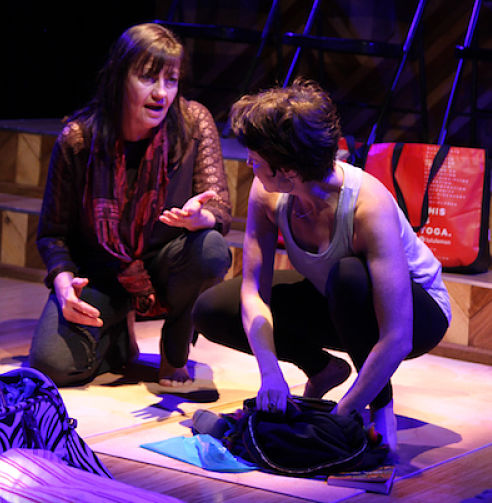 The instructor/guru, played in voiceover by Katherine Catmull, lays down the rules at the first gathering. There shall be no fast food, cell phones, smoking, intimacy or leaving the camp, and there will be very little sleep. Above all, there will be total silence while attending the retreat. Of course, the campers violate most of the rules as soon as they roll out their sleeping mats in their assigned austere cabins.
There is wisdom in silence. Small Mouth Sounds shows us that Americans can't find either one.Playwright Wohl has thoroughly researched the therapeutic retreat industry and laid bare its bathos and occasional fecklessness. It is fair to say she is cynical about all of it. Therein lies comedy.

Delanté G. Keys plays a devotee of all forms of meditation and wears waist-length dreadlocks and tribalist fashions. Of course, he is be-cabined with Zac Thomas' uptight white boy; their fight is over the smoky incense Keys burns in the garish stone idol he carries around in his shoulder pouch.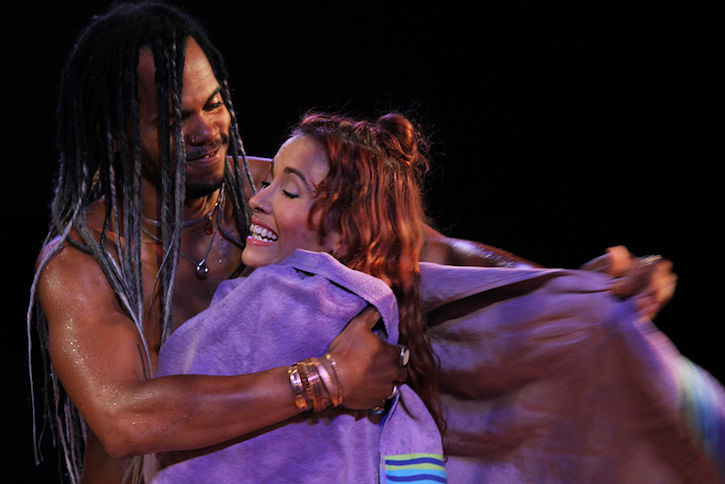 Theresa Baldwin plays the daffiest sorority ditz ever to tread the stage. Her cool is dashed for all time when she is bunked cross-gender with Jason Phelps' character Jan. He is mysteriously and happily silent, awkward, sweet, and flustered by flying biting things and the arrival of his excitable mat-mate. They work out an accommodation at last, and that leaves us with a moment of silence, free of Phelps' slapping at mosquitoes.
In a moment of magical realism, Zac Thomas' character walks out to upstage center with a stand-up microphone (with no electrical cord attached) and delivers his character's back-story in monologue, from the dreamtime. Thomas' performance was reminiscent of a stand-up routine, but it was deadly serious: he told of his auto accident, brain cancer, loss of wife, death of dog, and a few other things. He listed Everyman's tragedies and explained why anyone with his unbeatable insecurities would seek the transformations offered by the retreat industry. He mentioned the increasing attraction of suicide. If the tale was the stuff of irony, sarcasm, and schadenfreude, then it didn't work because the audience remained mostly silent, almost stunned. The relatively short but intense story played heavily to Zac Thomas' immense storytelling gifts.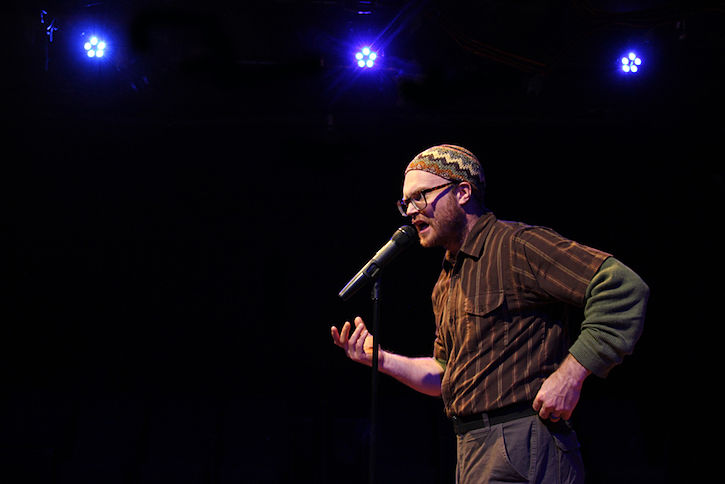 One waited for the breakout story episodes of the other characters, but there were no others This hesitancy to change its structure and allow all the play's characters to expose their underlying pain was a road not taken. In this, and in keeping with characters on retreat, Small Mouth Sounds fails to transcend itself.It does not go from clever to brilliant, although that pathway is seen wending away through the woods. While the rest of the play offers ironic surprises, the characters' transformations don't seem especially transformative. Cynicism has its limitations.
None of this is the fault of this cast of Austin's A-list actors. Their lines and timing are clear, and they pick up every blocking stick in their leafy retreat. These actors have no problems expressing their characters without spoken lines.
Capital T Theatre's Small Mouth Sounds is sure to appeal to comedy theatre buffs who enjoy situation comedy routines. It runs until June 16, 2018 at Hyde Park Theatre in central Austin.
---
Small Mouth Sounds
by Beth Wohl
Capital T Theatre
Thursdays-Saturdays,
May 17 - June 16, 2018
Tickets are on sale now for SMALL MOUTH SOUNDS by Bess Wohl.
General admission $25, VIP supporters $35

Get your tix at capitalT.org