Review: The Tempest by Classic Theatre of San Antonio
by Kurt Gardner
"We are such stuff as dreams are made on, and our little life is rounded with a sleep."
Considered by scholars to be the last play that Shakespeare wrote entirely on his own, The Tempest is also one of his best-loved works. Typical of the Bard, the plot combines dramatic elements with comedy, but here the blending of genres is more successful than in his "problem plays." Mark McCarver's production, now playing at the Classic Theatre, takes full advantage of the play's comic aspects, and it's the right choice. The house was packed on opening night and there were lots of laughs.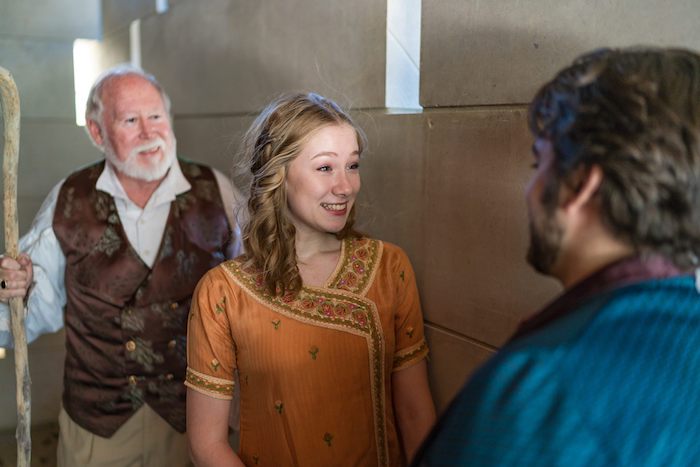 Prospero (Alan S. Ross), the former Duke of Milan, has been stranded on an island for 12 years with his virginal daughter, Miranda (Grace Lamberson), after his jealous brother, Antonio (Meredith Bell Alvarez), aided by Alonzo, the King of Naples (Magda Porter), deposed him and set him adrift. The result of years of studying, he has developed magical powers that allow him to divine that Antonio and his men are aboard a nearby ship. He conjures up a storm to draw them to the island so that he may exact his revenge.
Much is magical in The Tempest. Prospero is served by a spirit, Ariel (a delightful Kacey Roye), who eagerly does her master's bidding. Also obeying his commands is his resentful, half-human slave, Caliban (John Stillwaggon, also good). As the survivors of the shipwreck wander the island and encounter these various inhabitants, spells are cast, revenge is plotted, and a romance blossoms.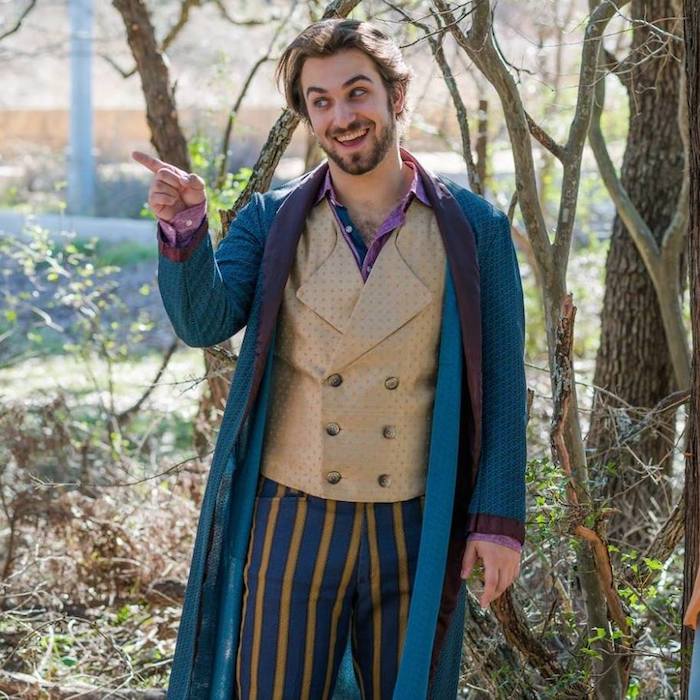 Ross is excellent as Prospero, whose abiding love for his daughter and world-weariness are made abundantly clear. Lamberson also impresses as the sweetly innocent Miranda, experiencing the thrill of a first romance with Alonzo's son, Ferdinand (a fine Hunter Wulff). McCarver's gender-blind casting puts females in male roles, and they're terrific. In addition to Alvarez and Porter, Linda Ford plays Trinculo, whose drunken hijinks with Stephano (Rick Clyde), earned many of the evening's laughs. Kelly Hilliard Roush as Alonzo's nefarious brother, Sebastian, and Alison Bridget Chambers, as the courtier Gonzalo, round out the cast. Symbolic of the treachery among this lot, almost everyone is armed with a dagger, and the frequency with which they're brandished is hilarious.
Jodi Karjala's library-themed set looks great, literally surrounding the audience with Prospero's books. Karjala also provides the fine period costuming. The handsome production features atmospheric music and sound by John Coker and attractive lighting design by Pedro Ramirez.
The Tempest plays Fridays and Saturdays at 8:00 p.m. and Sundays at 3:00 p.m. through March 12 at the Classic Theatre of San Antonio, 1924 Fredericksburg Road. Tickets can be obtained online or by calling (210) 589-8450.
Kurt Gardner's theatre reviews also appear at BlogCritics.org.
---
The Tempest
by William Shakespeare
Classic Theatre of San Antonio
Fridays-Sundays,
February 17 - March 12, 2017
Fridays and Saturdays at 8 p.m., Sundays at 3 p.m.
Tickerts $25 general admission, $20 seniors/military/SATCO members, $10 students
Choose seats and purchase tickes on-line via