Review: The Quarry by Hyde Park Theatre
by Michael Meigs
Hyde Park Theatre's production of The Quarry by Greg Pierce offers not one but two luminiscent performances by women company members. They're remarkably different but equally striking and captivating, demonstrations of the vitality of this long running and well established theatre.
The HPT is a theatre that one's almost reluctant to write about, because it's a gem, hidden in plain sight. This reviewer, like Gollum, would really prefer to keep this 'precious' for himself. The word is out, however; productions on their narrow stage with the curiously Y-shaped audience space elicit thoughtful reviews and discussion, and more respectful attention than the heavily promoted, well-financed stagings of the Zach Theatre downtown.
HPT staged Pierce's Slowgirl in March and April of 2013, and The Quarry is crafted with similar depth of character and locale. The exotic locale this time is not Costa Rica but rather an unnamed small town in Vermont that grew up at a quarry prized for its green marble. There's an eccentric and isolated protagonist who finds the younger generation intruding into a shuttered world. Pierce takes us far away from our urban occupations and preoccupations, and his story quietly examines the sources of alienation and the unconfessed yearning for connection.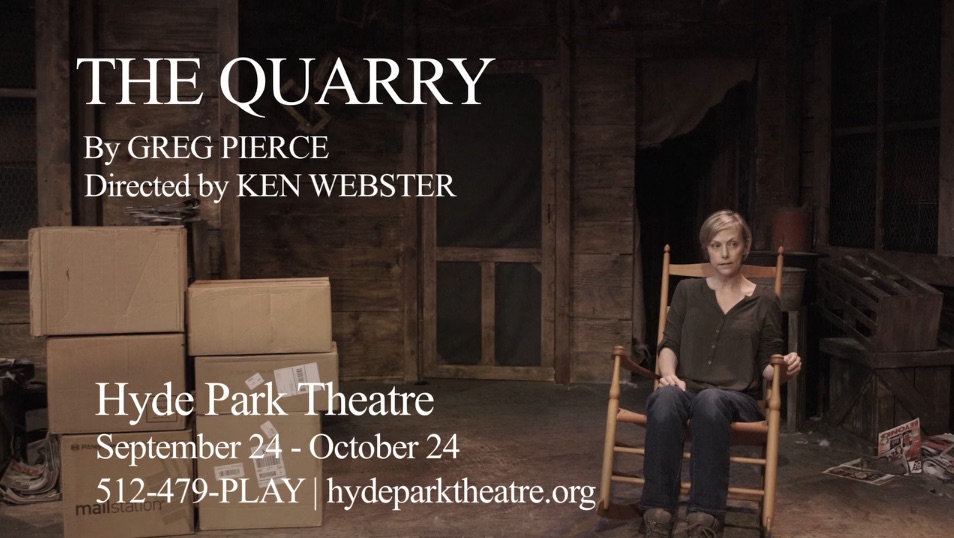 Widow Jean lives in a house she and her husband Sammy built themselves -- not well -- on a plot overlooking the chasm of the quarry. Katherine Catmull settles in the rocking chair at stage center of Mark Pickell's rustic, convincing set and she lectures us. Or seems to do so; for she has no friends, no one to talk to, and her only neighbor is crazy Wanda the burned-out hippie across the quarry. Perhaps we don't realize it in these opening minutes, taking her commentary as exposition within the permitted suspension of disbelief, but Jean is not quite all there. Her patiently supportive husband Sammy dropped dead three years ago, but Ken Webster stops through from time to time as an uxorious phantom, responding goodnaturedly to Jean's comments and complaints.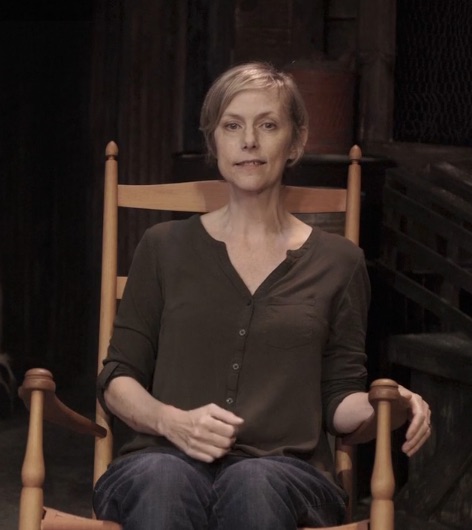 We're charmed by Jean's cranky wit, so we accept her version of the facts, of her history, and of the inexplicable events involving the disappearance of a local girl left at the bottom of the quarry as part of a birthday prank. Catmull is fully in control of this character who isn't in fact in control of herself. The evening invites us deep into Jean's delusions without Camull ever acting irrationally or with any more than a quiver of dangerous emotion. In the hands of an actress of more forceful disposition, Jean might well be crabbed and repugnant, but Catmull keeps her her sweetly sour and dismissive of despair.
Jess Hughes creates four distinctly different characters for us, in an evening of acting turns that to my eyes far outshine her justifiably applauded performance for HPT last March in Lucas Hnath's The Christians. She's Jean's alienated daughter Clara, fencing with her mother across the telephone lines, in an extended duel that has both women looking directly out at the audience, not at one another; she's Leah the much younger girl excited about the upcoming fatal birthday party; she is, briefly, crazy Wanda of the apocalyptic dreams; and she's a self-certain anthropologist who escaped the town as a teenager and has now come back to lecture in an affected pseudo-British accent about the symbology of the quarry and of the mysterious carvings and ancient human sacrifices uncovered there. In a key scene late in the play Hughes as Clara has a lengthy telephone harangue telling her mother truths and revealing hurts. Her recitative is powerful and entrancing, all the more so when she and her mother break the stage convention for telephoning and visibly shift their attention directly to one another. Since the production is at this moment in its last performance, it's no spoiler to declare that particular moment as the real revelation that some of this -- perhaps all of this -- is going on in the turbulent waters of Jean's soul.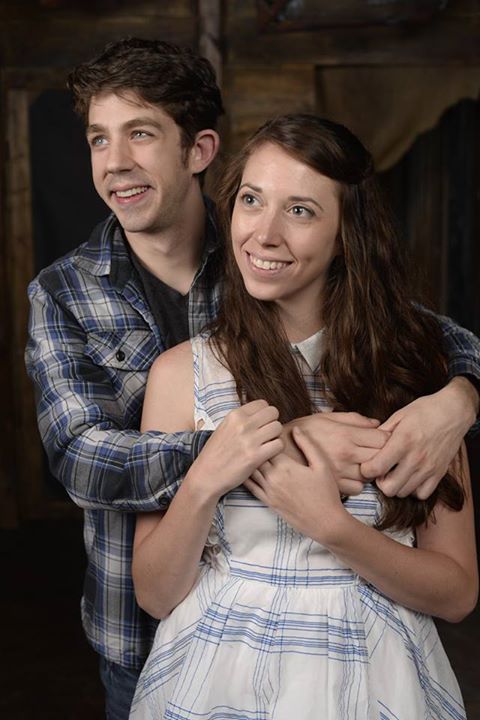 There is a mystery and a search and a sort of resolution as Jean encounters the lost girl and sees her restored to her grieving boyfriend, but Jean doesn't get there by means rational or even believable. The question we ask ourselves afterward is just how far from reality we have drifted with Jean by the end of the play.
Ken Webster is affable Sammy, curiously similar to his portray of Uncle Sterling in Slowgirl. Both he and Chase Brewer as the bereft boyfriend Jackson step in as other characters, cleverly differentiated in speech and gesture. Webster's New Englanders -- a mayor and a crane operator at the quarry -- are particularly tangy in terms of dialect and timing. Brewer is, like Hughes, a relatively recent graduate of Southwestern University's Theatre Department and has scored a succession of impressive roles that take advantage of his presence and energy. Seeing the two of them paired onstage was a particular satisfaction.
Pierce enlisted his brother Randal to compose atmospheric music for this sweet fable of delusion. It's not really needed, and the sight of invisible-by-convention pianist Cliff Bond sitting at an electronic keyboard in a corner of the porch is initially puzzling. One accepts it and appreciates the underscoring, of course, and in retrospect one works at justifying it. But we follow faithfully in Catmull's wake as she departs reality, so we have very little attention left to pay to such exogenous touches.
EXTRA
Click to view the Hyde Park Theatre program for The Quarry by Greg Pierce
---
The Quarry
by Greg Pierce
Hyde Park Theatre
Thursdays-Saturdays,
September 24 - October 24, 2015
The show runs at 8:00 PM on Thursdays, Fridays, and Saturdays, September 24 - October 24, 2015. Thursdays are Pay What You Can Nights. For the first four weeks (September 24 - October 17) Friday tickets are $22 and Saturday tickets are $24. For the final weekend (October 22 - 24), Friday tickets are $24 and Saturday tickets are $26 . Every Friday and Saturday tickets are $2 off for students, seniors, military, and Austin Creative Alliance members) Purchase tickets online or call 512-479-PLAY (7529) for reservations.