Review: The Hotel Vanya, or A Metaphysical-Paradigm At The End of Everythingness by Timothy Braun and Natalie George Productions
by David Glen Robinson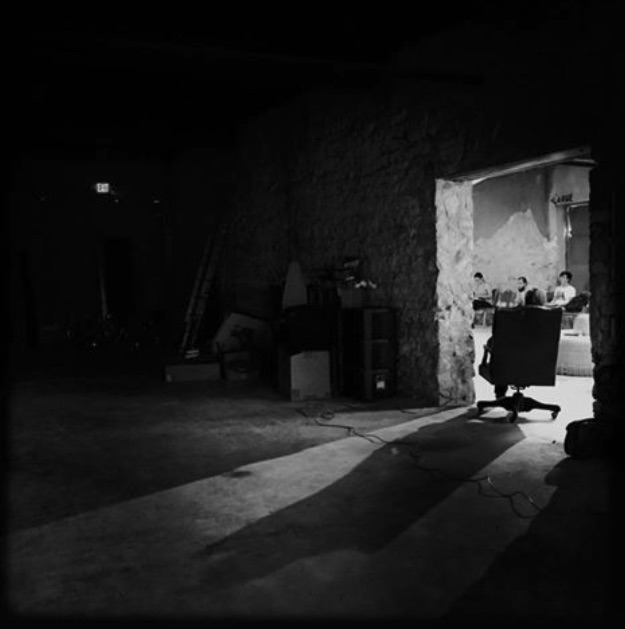 The promotional material for The Hotel Vanya, or A Metaphysical Paradigm At The End Of Everythingness promises a wide range of story glimpses for audiences, like the individual objects in a Dali painting or scenes in a Fellini movie. The promise is fulfilled, with slightly less color, in the dusty warehouse where the play is performed, but what the publicity does not say is that the play is the newest original theatrical production in regional central Texas theatre. The play takes its place with its peers, Rude Mechs' Field Guide, just closed, and Paper Chairs' Poor Herman, still playing at the Off Center.

The play takes place in a location revealed upon ticket purchase, a one-production-only venue not slated to become a new Austin theatre. The facility is a former commercial concern and warehouse; some unsold stock, machine parts, refuse, and dust remain in place, definitely part of the industrial design concept.
From its title to the development of its theme The Hotel Vanya, or A Metaphysical Paradigm At The End Of Everythingness is definitely a work of eschatology, the study of the final destiny of the soul and of humankind. On several levels. The titular Hotel Vanya has seen much better days. It's effectively closed and awaits the imminent arrival of the wrecking ball. Characters tell stories about the hotel in monologues and dialogues from earlier years, last night, and at tomorrow's Merman Parade. This time-disconnect suggests the possibility of a play told by ghost characters, but playwright Timothy Braun does not rise to that bait. Instead he shows a great fascination with Chekhov and that writer's wry, dry humor (Braun wrote Three, or The Sound of the Great Existential Nothingness, produced three years ago at the Off Center - click for CTXLT review). Braun updates Chekhovian characters for his own hotel.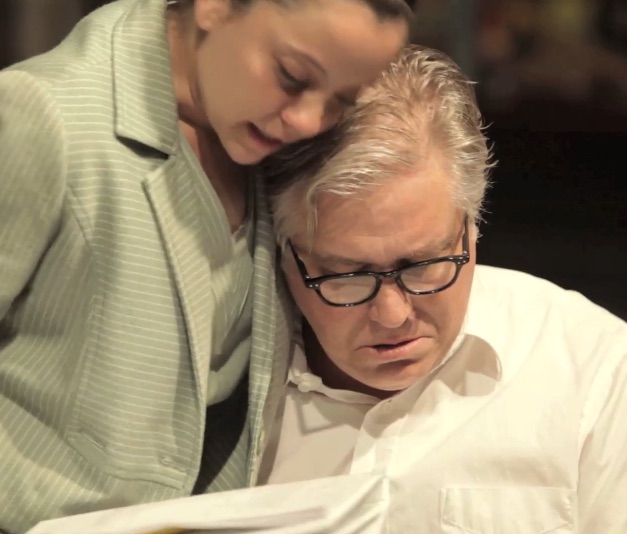 The superb cast of The Hotel Vanya, or A Metaphysical Paradigm At The End Of Everythingness is its principal virtue. Actors Robert Pierson, Gricelda Silva, Jeff Mills, Katy Taylor, Noel Gaulin, and Zac Carr are standouts under the guidance of first-time director Dallas Tate. Each portrays a single character, unusual in this modern, trendy era of multiple characters per actor. They take turns entering to tell their stories related to the hotel. Particular highlights for this reviewer were Katy Taylor's eloquent facial expressions in silence and Jeff Mills' annoyed and clipped dialogues with Silva and Taylor at various points throughout the play. There were many other gems of acting. About halfway through the play the stories began to gain touch points with each other and create a longer thread. By the end, we felt we knew the characters and their stories very well. This is a tribute to Braun's writing.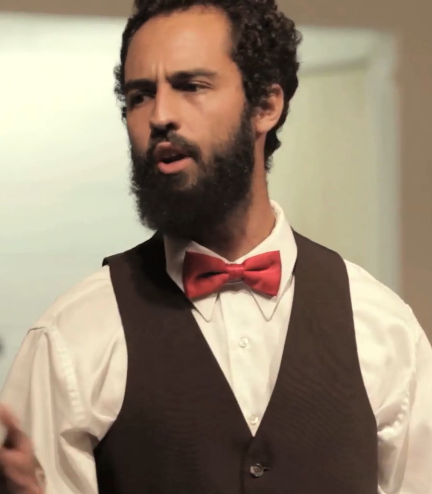 The work is strongly metatheatrical. Most of the work of the hotel manager/bell hop played by Noel Gaulin is to announce the play, make a curtain speech, declare scene changes, state the passage of time, and inform all when the play is finished. These efforts and others, performed impeccably by Gaulin, advise us repeatedly that this is a play, a play, a play. No one should make the understandable mental error that this is a cocktail party in an abandoned warehouse.
Distractions were programmed. At various points in the middle of scenes a huge roar from the sound track echoed through the bare spaces beyond the playing area. The din went on for seconds and then stopped. Gaulin commented that perhaps the demolition crew had arrived early. Product placement was a more marked disruption. Breakouts were scripted into the middle of the most intense dramatic scenes. Typicaly, a character would grab a glass of vodka, announce its fortifying qualities and state its motto, encouraging the audience to raise its glasses in salute. This distraction, repeated two or three times, flew well beyond product placement, past parody, past cleverness and over snideness to land smack in the lap of cynicism.
Production aspects were successful, and any such accomplishment in a site-specific or outdoor setting unequipped for lights and sound deserves huge credit. Natalie George Productions is gaining a reputation for this kind of work. Well done.
Without a program it's not possible to assign detaied credits for the artistic and technical work. This follows an Austin trend. We've gone from a single page of notes to postcards to credit on Twitter to no notes at all. Highly symbolic.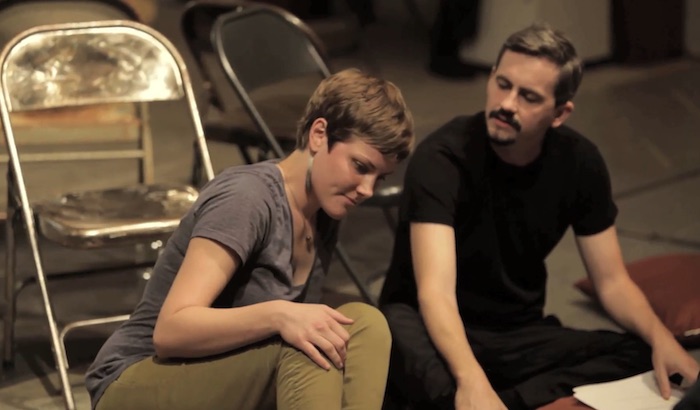 So The Hotel Vanya, or A Metaphysical Paradigm At The End Of Everythingness is parodic. A parody, but of what? The demented parody of product placement demeans the performances, and the attack seems directed at the play itself. Its episodic and somewhat nebulous form suggests that nothing on stage is so critical that it can't be interrupted by a pitch for alcohol and a slogan trite beyond words. Members of drama elites have trashed and mocked narrative plays, nonlinear stories, devised work, improvisation and performance art. Now they resort to mocking and parodying the very forms in which they themselves work. Peculiar and paradoxical is the fact that this may come across as the last vestige of authenticity in a time of loss and endings.
On what level does the eschatology of The Hotel Vanya, or A Metaphysical Paradigm At The End Of Everythingness come home to roost? Many contend, with some evidence, that vibrant independent theatre in Austin is dying. The Salvage Vanguard Theatre, where Braun chairs the board, is closing soon with no announcement as yet of a new home. The Off Center will close in 2017, and the Ground Floor Theatre has been shuttered for months because the City's permitting process is lengthy. Others may expect the same from the city bureaucracy. Those who run the few remaining tiny theatres without numbers of seats sufficient to cover their costs view rising rents with horror. The metatheatricality of this play may in fact be a clue to its deepest message. Whether that was Braun's intention or not, The Hotel Vanya, or A Metaphysical Paradigm At The End Of Everythingness may be earnestly signaling other independent theatre artists that soon they too will be performing in dead factories, all too symbolic of a dead theatre industry.
The seasonal flooding into Austin talent pools of graduates from our well-regarded academies may subside as those young graduates look for bigger ponds and other careers. While ironically the City Council continues to proclaim its pride in Austin as a city of creatives.
The Hotel Vanya, or A Metaphysical Paradigm At The End Of Everythingness will appeal to adults who take their vodka with a twist of angst. It plays in a dusty, nearly empty factory building downtown just east of I-35 from May 26 to June 5, 2016. Tickets are available via www.nataliegeorgeproductions.com.
---
The Hotel Vanya, or A Metaphysical-Paradigm At The End of Everythingness
by Timothy Braun
Natalie George Productions
Thursdays-Sundays,
May 26 - June 05, 2016
unspecified in Austin
somewhere in Austin
to be announced
Austin, TX, 78700
Thursdays - Sundays at 8 p.m.
ADDED: late performance at 10:30 p.m., Saturday, June 4
at a site specific location to be announced, Austin
Tickets $15 - $45 (you choose) plus fees
available via BuyPlayTix (click here)
The Hotel Vanya is located at 807 East 4th Street. Parking is in the back of the building facing 3rd with the entrance on Brushy Street.