Feb. 25 - Feb. 28, 2016
Thursday-Sunday
Heloise Gold and Natalie George present 1000 FOREST GORILLAS IN KANSAS - The Remount

Exciting performances by Natalie George and Heloise Gold
with Ellen Bartel, Jason Phelps, Elaine Dove, Noel Gaulin, Dallas Tate, Amy Myers, Tim Mateer and Randi Leigh Turkin
One of Austin's most highly-acclaimed dancer/choreographers Heloise Gold, and highly acclaimed lighting designer/ performer Natalie George along with a heavy-hitting Austin ensemble, present one weekend of exciting performance, 1000 Forest Gorillas in Kansas. The four performances take place February 25-28, Thursday through Saturday at 8:00 pm and Sunday at 2:00 pm at Salvage Vanguard Theatre, 2803 Manor Road, Austin, TX 78722. Tickets range from $15-50, and may be purchased online at nataliegeorgeproductions.com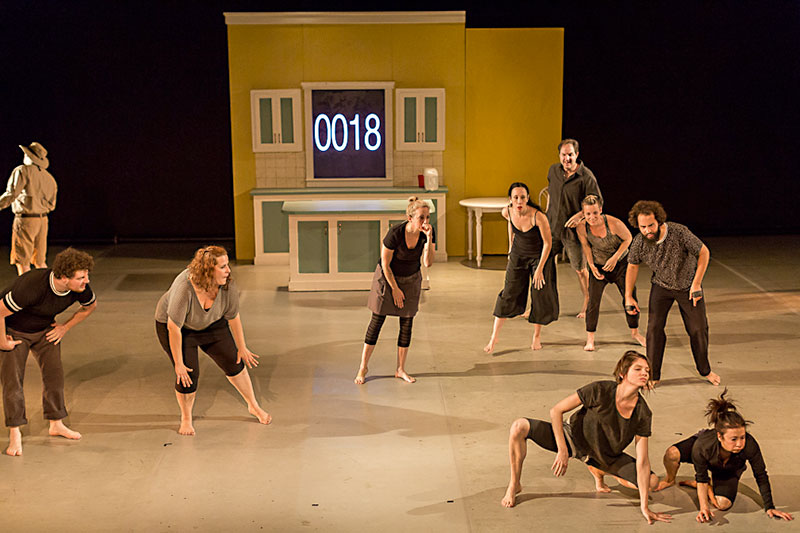 Focused on the evolution of creativity, the spark for 1000 Forest Gorillas in Kansas was partially ignited out of a powerful dream Gold had a few years ago (of a gorilla, literally) and a four-day residency with George to 'Pilot Balloon Church'; a temporary artist's colony in Lawrence, Kansas, founded by former Austinites Matt Hislope and Josh Meyer of Rubber Repertory.
Using their extensive creative backgrounds (Gold's vast experience as a dancer/choreographer and George's talents as a lighting designer/artist) the two artists explore a shared fascination of movement and light, the evolution of communication, and the curiosity of doing things a 1000 times over. The duo decided to retool and remount the production in 2016, but don't worry it still includes all your favorite moments AND the kitchen sink.
1000 Forest Gorillas in Kansas premiered last year and garnered Gold and George a Best Choreography award from the Central Texas Excellence in Theater Awards. George was awarded Best Lighting Design for Forest Gorillas and other shows in the 2014-2015 season by the Austin Critics Table and Gold was inducted into Austin Arts Hall of Fame.
[poster photo: Patti Neff Tiven]
"This short evening with Heloise Gold and Natalie George was an Easter egg basket of surprises." – Michael Meigs, CTX Live Theater
"The gorillas were with us in Austin only for that one long weekend at the Salvage Vanguard. But George and Gold and their invited companions may be expected to be hanging around this forest for quite a while. Watch for them. It'll be worth the wait." – Michael Meigs, CTX Live Theater
"When I watch this piece, my imagination is allowed to move, expand, even fly a bit. And it does so."
--Julie Nathanielsz
"again, "1000 Forest Gorillas in Kansas …" was a beautiful, humorous and touching piece that will be with me for some time" -- Leon Alesi
For ticket information visit: nataliegeorgeproductions.com
PERFORMER BIOS:
Heloise Gold
Heloise Gold's performance career traverses numerous paths beginning with childhood appearances with the Bolshoi Ballet (1962) to performing in Robert Wilson's legendary 12 hour opera The Life And Times Of Joseph Stalin (1973); to participating in many experimental happenings in NYC in the 1970's. Heloise moved to Austin in 1978 and has created a steady body of work as a performing artist, dancer, choreographer and comedian. Her arrival to Austin began at a high professional level and saw Heloise dancing and touring with the Deborah Hay Dance Company (1980-1985). Additionally Heloise began creating her own works and became known as one of Austin's premiere performance artists, being a key player in the experimental work developed in the 1980's and 1990's. A fertile and generative artistic relationship in the early '90's with electronic/ New Music pioneer Pauline Oliveros took Gold around the world in both performance and teaching capacities (1991 to the present). She continues to work here in Austin and collaborates with many of Austin's current performance visionaries. She was recently awarded the Best Short Dance Work of 2014 from The Austin Critics Table Awards and her 2013 and 2014 Gold Show/Rose Show series (with Julie Nathanielsz) was listed as one of the top 10 Dance Performances in the Austin Chronicle. Website: heloisegold.com
Natalie George
Natalie George is a designer, producer, and artist based in Austin, TX. After studying technical theater at St. Edward's University, Natalie worked as a freelance lighting designer for corporate events and stage performances throughout the city of Austin and beyond. The Austin American-Statesman says, "The play of shadows orchestrated by Natalie George's breathtaking light design is worth the trip in itself." She has been honored with awards for "Best Lighting Design" by both the Austin Critics Table and the B. Iden Payne Awards multiple times, most recently by ACT for the 2014-2015 season. Natalie's artistic contributions don't stop there; she was instrumental in the growth of the Fusebox Festival, working as the festival producer for ten years. Natalie left FB to continue expanding her skills and vision as a producer and event designer. Her next theatrical producing project, Hotel Vanya by Tim Braun, will premier in Austin in May of 2016. Website: nataliegeorgeproductions.com
---
1000 Forest Gorillas in Kansas - the Remount
by Heloise Gold and Natalie George
Natalie George Productions
Thursday-Sunday,
February 25 - February 28, 2016
*ONE WEEKEND ONLY*
1000 Forest Gorillas in Kansas - Heloise Gold & Natalie George remounting their award winning performance piece.
February 25 – 28, 2015 *One weekend only
Thursday-Saturday, 8:00pm; Sunday, 2:00pm – 70 minutes
Salvage Vanguard, 2803 Manor Road, Austin, TX 78722
Tickets $15 – 50, sliding scale. Purchase online: nataliegeorgeproductions.com