Review: The Drawer Boy by Hyde Park Theatre
by Michael Meigs
Let's talk about 'dark humor' for a moment, since that is the label that, faute de mieux, has been applied to this production and more generally to the art offered at the Hyde Park Theatre's curious space at 43rd and Guadalupe.
The Statesman in its finite wisdom offers the following capsule description:
Hyde Park Theatre mounts its second production of Michael Healey's darkly humorous play that 10 years ago netted the company a string of local awards. Healey's play finds an eager young actor whose theater collective is writing a play about farming visiting two middle-aged Canadian farmers who live remotely by themselves and have a strange relationship.
I directly dispute the 'humorous' element of the characterisation. Michael Healey's The Drawer Boy is a portrait of two ageing Canadian farmers whose hopes were destroyed by events of World War II, even if they did manage to survive those dangers by shirking duties, hiding out during the London blitz and falling in love with two English girls -- one tall and the other one taller.
A casual scrivener might suppose that Angus, the big, earnest and bewildered fellow played by Michael Stuart, is humorous in the way that idiots or the mentally handicapped are humorous. Holy crap, he can't remember things from one day to the next! (This is funny?) Or perhaps the contention might be that Jon Cook as Miles, a city boy trying to understand farm life and present it in a drama workshop, is naive and foolish and deserving of dismissive laughter. Note, however, that Miles learns, he shares his enthusiasms and dreams, and he becomes deeply concerned when memories and pseudo-memories start to awaken for Angus.
Or let's complete the conjugation: Ken Webster the terse and tight-lipped chameleon has found a character that we suspect resembles himself: distant, short-spoken, vaguely angry but with a heart of gold.
And why 'dark'? In his tenure at the Hyde Park Theatre Webster and his colleagues have sought out theatre pieces that are remarkable in the depth of their characterisation and acute in their sense of the underlying small tragedies of this life. If that is dark -- a vision that's fully shared by the associated theatre companies Capital T, A Chick and A Dude, and Street Corner Arts -- one should remember that the vision is consistently balanced with the redemption of authentic human relationships. Just look at that poster picture of these three oddly assorted individuals contemplating the night sky, counting the stars according to the methodology taught to Angus by his now-vanished love the English girl. Those aren't the faces of idiots or buffoons; they're archetypes, searchers after the transcendent who are surrounded by fragility, failure and simple humanity -- in a word, darkness.
Webster goes for Will Eno, Harold Pinter and Annie Baker, writers who can deliver stories with that world view. He pulled The Drawer Boy out of his -- pocket -- evidently when he wasn't able to secure the rights for Annie Baker's newest piece The Flick, earlier rumored for this time slot. As the Statesman blurb and the poster indicate, the HPT production of The Drawer Boy was voted the outstanding production of 2004 both by the B. Iden Payne committee and by the miscellany of newspaper writers traditionally dubbing themselves the Critics' Table. The HPT has been anything but adverse to repeating its successes -- after all, as memories fade and audiences turn over, remounting something like Thom Pain (based on nothing) by Eno, a Webster solo, both reinforces reputation and helps pay the rent.
The Drawer Boy gives us a quietly evocative evening out in the Canadian steppes, sharing the days with characters we come to understand and admire. Healey endows each of these three characters with a distinctive voice. One nice touch: Webster makes sure that in their speech they all consistently use that Canadian signature 'ou' vowel -- for the word 'out' it's not the Middle Western/Texan 'aut' but rather the scooped Canadian pronunciation 'oout.'
As always, Ia Ensterä's set design is simple, functional and precisely imagined, with a kitchen at center stage, stairs up center, and a screen door giving access to a straw-strewn corral at stage left.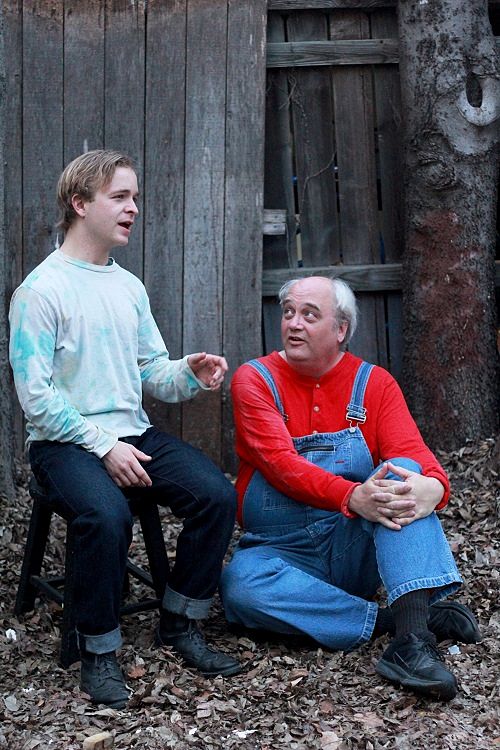 The story flows, and there's not a moment of dead time in these two acts. In retrospect it becomes evident that Healey is writing about just that: our effort to shape stories to grasp the meaning of events and existence. Cook as the wide-eyed drama student initially seems to have the advantage in that art, and it's affecting to hear how he's seeking to craft order and performance from the hard realities of life on a farm, where death and harvest are simple facts. His re-telling of Hamlet to the enraptured Angus in Act II is a highlight, but it's no farce; in that context and with Angus as the credulous listener, for a brief moment we may again have the impression that Shakespeare's absurdly complicated plot has eternal meanings to share, if only we could puzzle them out. And much of the rest of the second act is a revelation of the myth that has comfortably enshrouded the realities of these isolated farmers' lives, with the clear indication that Cook as Miles the fiction-maker has involuntarily disturbed the consolations of that story.
The Drawer Boy in this Hyde Park Theatre recreation is deep and character-based, a beguiling reminder of how vital stories and theatre are to our efforts to decipher ourselves. In other words, it's programming typical of the single most effective stage institution in Austin.
That's an opinion that's widely shared by those with a sense of the art. On the last page of the program there's a clear example of the economists' dictum of revealed preference: the list of about 180 names of HPT supporters. A few are grant-makers and some are businesses, but far and away the majority constitute a coterie of the most accomplished and perspicacious theatre artists in town.
Oh, and for what it's worth, I'm in there twice, under my own name and under that of this website.
---
The Drawer Boy
by Michael Healey
Hyde Park Theatre
March 27 - April 26, 2014
Thursdays-Saturdays at 8 p.m.
The show runs at 8 p.m. on Thursdays, Fridays, and Saturdays, March 27 - April 26, 2014. For the first four weeks (March 27 - April 19) Friday and Saturday tickets are $20 ($18 for students, seniors, military, and Austin Creative Alliance members). For the final weekend (April 24-26) tickets are $22 ($20 for students, seniors, military, and Austin Creative Alliance members). Thursday tickets are pay-what-you-can. To charge tickets go to www.hydeparktheatre.org or call 512-479-PLAY (7529).