Review: Slowgirl by Hyde Park Theatre
by Michael Meigs
I went to Costa Rica twice this week with Becky to see Sterling. Snapped up the opportunity to slip into a Monday evening preview of Slowgirl by Greg Pierce at the Hyde Park Theatre. Then on Friday I took Karen along to Sterling's open-air hacienda in the dry jungle nine hours away from San José, the capital.
It wasn't a long visit -- just under ninety uninterrupted minutes on the veranda and at the labyrinth up on top of the hill.
Parrots fluttered somewhere in the trees behind us as we sat in the Hyde Park Theatre. Iguanas scrabbled across the tin roof, seeking warmth and spooking Becky as she lay wakeful and worried on the fold-out bed.
We didn't quite catch the subtle heat of the place, since the HPT a/c surged into action from time to time, but Robert Fisher's sound design and Ia Ensterä's ingenious and deceptively plain-looking set kept us firmly planted in that Central American hiding place.
Sterling spends his days reading and building trails through the tall growth on the land he purchased there five years ago. Every day is much like another. Sometimes he wanders in one direction to the tiny settlement of Los Angeles or in the other direction to the tin-topped boxes of San Francisco. Total combined population: about 200 souls, including Sterling's handyman Hector and his cleaning lady Sonia. The outside world scarcely exists. Cell phone reception is out for days at a time.
Stumbling into this eerie world is his 17-year-old niece Becky, a flipped-out, compulsively talkative woman-child from suburban middle-class Massachusetts. Her mom bought her a ticket to Costa Rica and gave it to her before her dad could object. There's an enormous gap between uncle and niece, who haven't seen one another since Becky was nine years old. Becky's brash thoughtless trash-mouth patter disrupts her stolid uncle's prolonged reverie, and she jabs insistently at his reluctance to reveal his own past. Greg Pierce's work offers us the opportunity to watch and follow as these two characters bridge that gap, building confidence and rediscovering sympathy and kinship as they dangle at the ends of their very different ropes.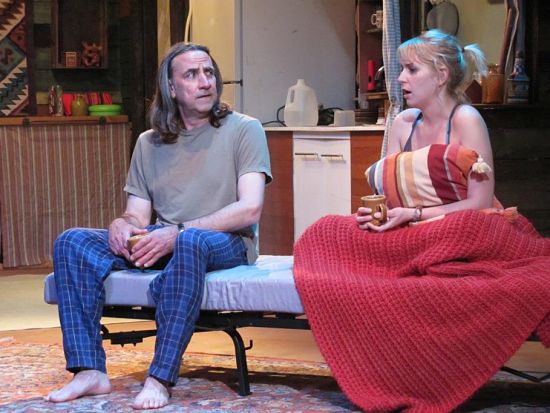 Sterling left a career and a failed marriage in the United States to become a recluse. Becky's in really big trouble because she and her other clueless teenage friends organized a drunken party that turned into disaster for sweet but mentally handicapped Marybeth -- "Slowgirl."
Pierce's script has vivid, often wildly comic dialogue and a story of satisfying depth and emotion. The two actors onstage are joined by a full unseen cast in their back stories, vividly depicted in language that's unforced but at the same time precisely structured to reveal, to modulate our understanding, and to engage us.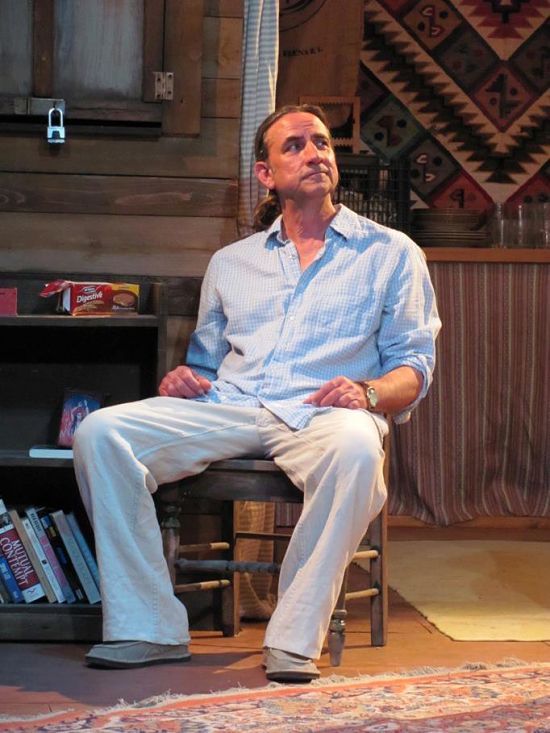 Slowgirl
is another example of Hyde Park Theatre doing what it does the best, almost always well ahead of the crowd: identifying and capturing new scripts that are offbeat, thoughtful, usually a bit dark and thoroughly contemporary. This one fits that vibe exactly, with the added advantage that playwright Pierce is not belittling his characters. They're not weird just to make us laugh at them; they're strange because of their origins and environments and the brutal, perhaps avoidable accidents that have shaped them. And they're vulnerable characters, people with whom we can empathize.
The actors fit the roles so well that one could imagine this piece was written especially for them. Even in real life Webster has always seemed contained, careful and exacting, and many of the characters he has chosen to play share those qualities, standing vigilant upon their spiritual barricades.
Molly Karrasch is his polar opposite in style. In a 2010 review of Educating Rita, where she was paired with Michael Stuart, I wrote that she "sparkled and was an absolute delight." That sparkle is in fact the manifestation of alertness and intensity. It has become more and more evident each time she appears onstage. And as she gets recognized with nominations, a B. Iden Payne award, and -- even better -- more roles onstage.
Last February her bio in the program for Breaking String's Strike noted that it was Karrasch's third time in two years playing a little boy. No such misprision occurs in Slowgirl. Becky's very evidently a young woman, and a physically attractive one -- which gives Uncle Sterling all the more reason to feel awkward. The two of them move in tandem through this story, working their way toward a new understanding and decision on how to confront their fears.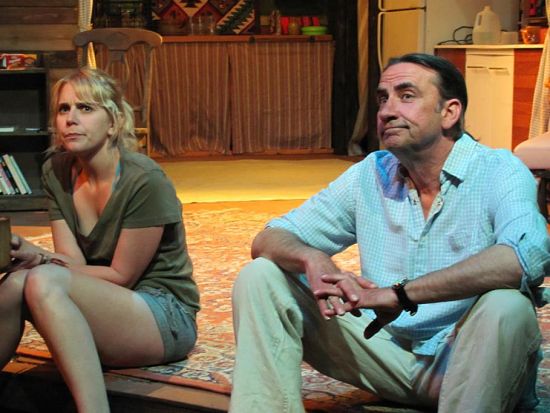 In the quiet closing moments in the Hyde Park Theatre the uncle and niece shine their flashlights out into the moonless jungle darkness. The fears are still there, but they're ready to take the path, walk the labyrinth and see what happens.
Word of mouth on this one is strong, and you can expect it to play to full houses over its six-week run -- a longer schedule than usual for the HPT. But with only three performances a week, Thursdays through Sundays at the comfortable hole-in-the-wall stage near 43rd Street and Guadalupe, not everyone will be taking this magic trip to Costa Rica. This is the first theatre outside New York City to present Slowgirl. And if you have friends in the Chicago area, you could tell them they can come to Austin's Hyde Park to see it. The Steppenwolf Theatre doesn't present their version until this summer.
Review by Lola and Zoe at blogspot.com, March 18
Review by Spike Gillespie at her blog Spike Speaks, March 25
Review by Jillian Owens in the Austin Chronicle, March 28
Review by Ryan E. Johnson in www.austinlifestylemag.com, April 16
EXTRA
Click to view extracts from the program for Slowgirl by Greg Pierce at the Hyde Park Theatre
Hits as of 2015 03 01: 1938
---
Slowgirl
by Greg Pierce
Hyde Park Theatre
Thursdays-Fridays,
March 22 - April 27, 2013