Review: American Blood Song by Trouble Puppet Theatre Company
by David Glen Robinson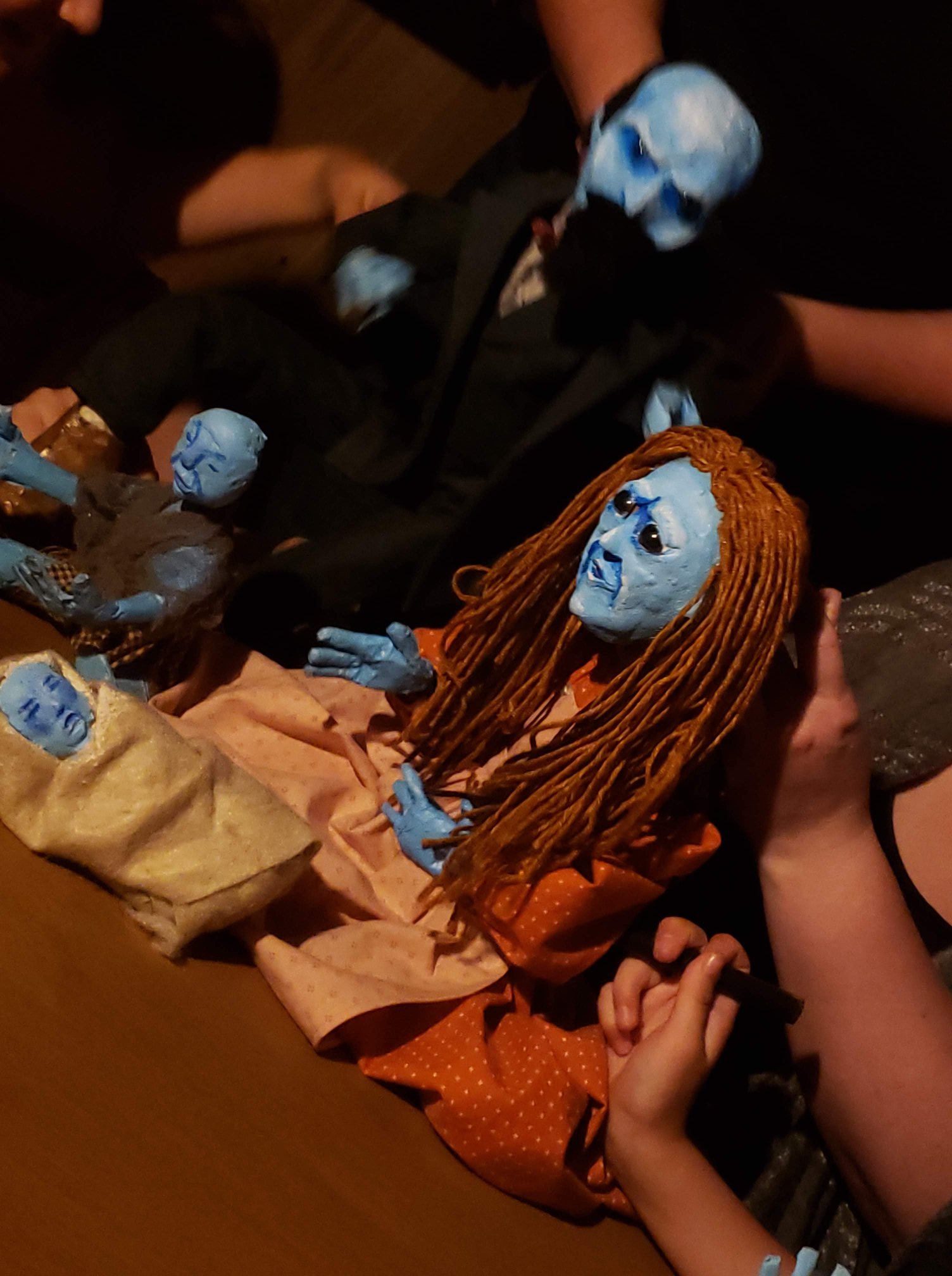 "Crazy cold 'way down there…", the memorable line from the 60s band Blood, Sweat, and Tears seems like a prophecy of 2019's Trouble Puppet Theater Company original production of American Blood Song, A Puppet Operetta of the Donner Party (ABS). The show is about nothing but loss, loss of country, loss of life, loss of possessions, loss of family, loss of mind, loss of self-respect, loss of morality, loss of ethics, loss of faith, loss of the will to live. It is historically accurate and beyond grim.
All this, and it is an operetta in the strict sense, with music composed and performed live at each performance by the (currently) three-piece ensemble Mother Falcon.
Connor Hopkins, producing artistic director of Trouble Puppet Theater Company, drew the story of the Donner Party from historical documents, and his book for the production describes and dramatizes the migration of the group to California in the winter of 1846-47. Tragedy set in when the party of pioneers was snowed in along a pass through the Sierras, but the tragedy began earlier when through deceit and exploitation the party was steered away from the more reliable Oregon Trail to the more difficult pathway through the Sierras. The party arrived at the pass weeks after seasonal snowfalls rendered it impassable.
The pioneers trekked westward with all their possessions and hearts full of hope, minds full of entrepreneurial spirit. Fortune and hope of a good life impelled them, despite the very little evidence that California could or would provide such. Their trek was about two years before the 1849 California Gold Rush To Beat All.
The infamous incidents of scavenging body parts of the dead for food—cannibalism--took place in the frozen pass.
Trouble Puppet performs this operetta as a linear narrative of the tragic story, and does it with characteristic innovative unpredictability. The multiply scaled bunraku style puppets are actually quite typical, with sculptural blue faces and flexible hands for grasping props; they wear designed, period costumes. The puppet fabricators showed keen and intricate knowledge of puppet anatomy.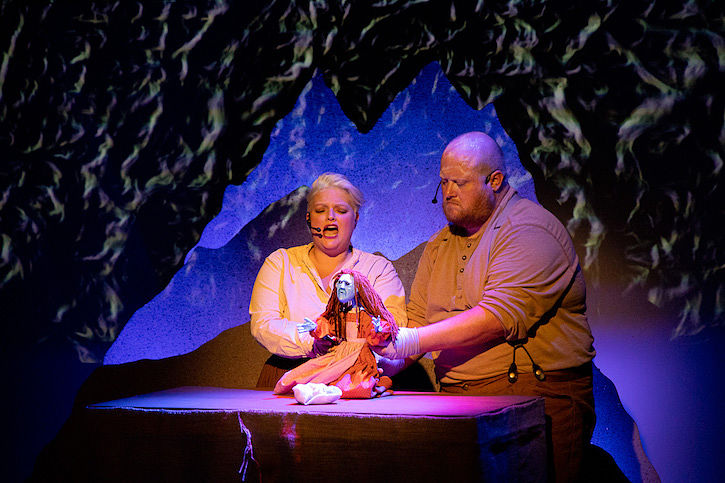 The big change is in the puppeteers. Gone are the black, cloaking garments and hoods familiar in conventional puppet theatre, and instead puppeteers wear period costumes to go with the puppet costumes, acceptably period hairstyles (Indigo Real's is particularly fetching), and headphone microphones to facilitate the puppeteers' operatic singing.
Manipulation of the puppets to manifest their characters by the puppeteers was entirely virtuosic, performed while singing opera and singing it well. The complex manipulation of the puppet tables representing mountains, plains, and deserts was well organized and blocked by director Hopkins. Credit goes to him and technical director Zac Crofford for the highly functional and imaginative set design.
The cast was well skilled and mutually supportive, and they moved as one as they shifted the tables, articulated the puppets, and sang. Human performers are Zac Carr, Zac Crofford, Marina DeYoe-Pedraza, Indigo Real, Caroline Reck, Melissa Vogt, and Jay Young. Vogt performs a standout aria "I Am the Mother of Death" as Mother Garrison in the second act. Vogt's performance equals her work in Vampyress and Last: An Extinction Comedy. She stands in the front rank of Austin opera and puppet artists.
This gestalt of story, performance, and song allowed the audience to remain in their own deep zone of receiving the dreamlike progression of images in an abstracted story of human beings sung in opera by puppets.
The Vortex and Bonnie Cullum deserve great credit in this show. The Vortex has always offered space, time, faciitation, and affection for stage art, music, and visual art that are anything but conventional. If any theatre can embrace its dreams, that theatre is the Vortex.
See this show, but leave the kids at home. American Blood Song, A Puppet Operetta of the Donner Party, plays until August 17, 2019 at the Vortex.
---
American Blood Song
by Trouble Puppet Theatre Company ensemble
Trouble Puppet Theatre Company
August 02 - August 17, 2019
Thursdays - Sundays at 8 p.m.
Tickets $35 (priority), general admission $25, reduced rate $15 (last seated)
plus service fees
Box Office: 512-478-5282 or alex@vortexrep.org
Bus Route #20.
Free Parking is available in front of The VORTEX.
Additional parking is available at Home Steam Cleaners next door
Limited street parking is also available near The VORTEX.
The Butterfly Bar @ The VORTEX is open nightly 5 pm - Midnight, 1am on Saturdays.
Full bar with handcrafted specialty cocktails, local beers, and our famous sangria.
butterflybaraustin.com
Patrizi's @ The VORTEX is open nightly 5pm-11pm. Italian food truck offering exceptional handmade pasta, homemade soup, fresh salads, sandwiches, and daily specials. Austin's best Italian food. If you are eating dinner at Patrizi's before the show, please arrive at least 90 minutes in advance of showtime.