Dec. 08 - Dec. 09, 2017
Friday-Saturday
Join us for a Holiday themed event-- and we mean that literally-- this event is hilarious mashup of Christmas, Halloween, and Arbor Day.

Cockroaches. Killer trees. Beloved children's entertainers returned from beyond. Beautiful considerations of life after death. And of course, a healthy dose of political satire.
The Austin Puppet Incident features local and national puppet artists performing short, original puppet works for ADULT audiences. Funny, sweet, deep, enchanting: it's all here. Co-presented by Glass Half Full Theatre and Trouble Puppet Theater Company, and funded in part by The Puppet Slam Network, The Austin Puppet Incident is an annual event since 2009.
The Austin Puppet Incident is supported by the Puppet Slam Network.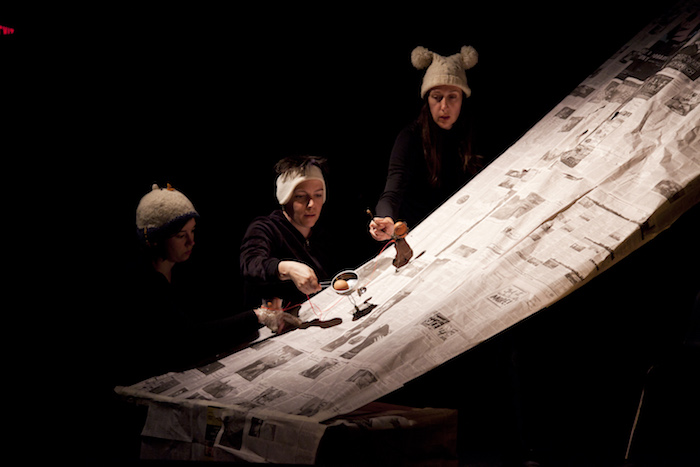 Glass Half Full Theatre (Puppetry & Physical Theatre of Objects & Ideas) creates original works of theatre using the precise physical language of both humans and puppets to address the momentous issues that humankind confronts across the globe. Our productions are designed to travel across linguistic and cultural boundaries to the heart of the imagination, where together with our audience we strive to probe, to question, to elevate, and to dream.
Productions include the award-winning FupDuck, The Orchid Flotilla, Once There Were Six Seasons, Simple Sundries, Cenicienta, Petra and the Wolf, Don Quixote de La Redo, and a physical comedy series, Missionary Position: Pleasure Journeys for the Intrepid Lady Explorer, as well as annual events The Handmade Bikini Fashion Show and The Austin Puppet Incident (Co-curated with sister company, Trouble Puppet). GHFT is a sponsored project of the Austin Creative Alliance, and is funded in part by The Jim Henson Foundation, The Puppet Slam Network, The Creative Fund, and The City of Austin Cultural Arts Council. www.glasshalffulltheatre.com
Trouble Puppet Theater Company, recipient of such B. Iden Payne Awards as Outstanding Director of a Drama, Best Production of a Drama, Outstanding Original Script, and Outstanding Puppetry, is dedicated to the creation of exceptional works of puppet theater for grownups. Trouble Puppet was created in 2004 by Artistic Director Connor Hopkins and has in recent years been making trouble in shows such as Frankenstein: The Trouble Puppet Show, The Jungle, Riddley Walker, Toil and Trouble, The Cruel Circu, The Wars of Heaven, and The Bomb in Haymarket Square. Trouble Puppet is a sponsored project of Salvage Vanguard Theater and is supported in part by the city of Austin, the Jim Henson Foundation, and individual donors.
---
Austin Puppet Incident
by Trouble Puppet Theatre Company
Trouble Puppet Theatre Company
Friday-Saturday,
December 08 - December 09, 2017
Doors at 7:30, Show at 8:00 pm
• Online tickets $12 https://austinpuppetincident.eventbrite.com
•Tickets at the door $15 (so buy online ahead of time)