Aug. 02 - Aug. 17, 2019

This tale of the Donner Party is rife with the privilege, entitlement, and hubris that leads to nation building, and sometimes cannibalism.
"Remember, never take no cutoffs and hurry along as fast you can."
- Virginia Reed, age 13, member of the Donner Party
This is not a children's puppet show.
Trouble Puppet Theater Company, in collaboration with Mother Falcon, presents American Blood Song: A Puppet Operetta of The Donner Party.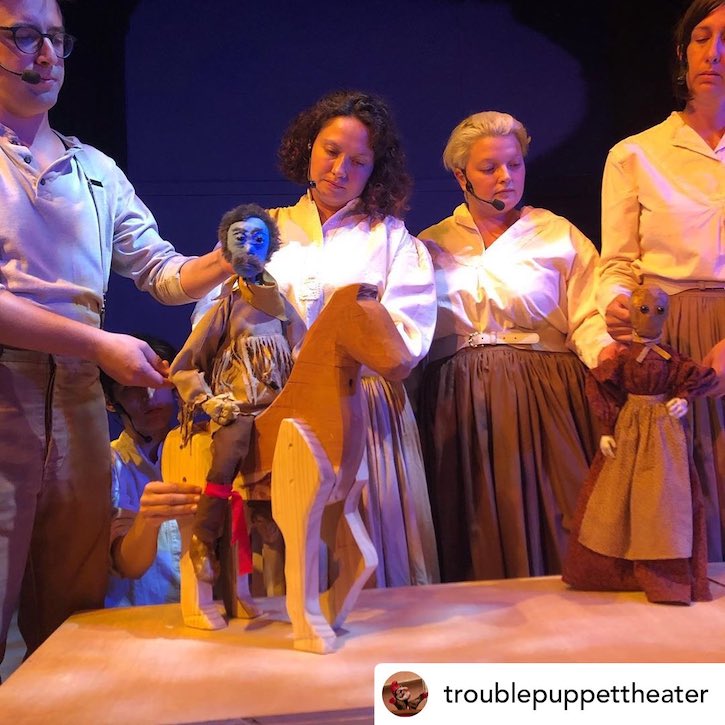 Performed by Zac Crofford, Caroline Reck, Marina DeYoe-Pedraza, Indigo Real, Jay Young, Zac Carr, and Melissa Vogt, this elaborately staged theatrical exploration of a pivotal moment in history features precise and expressive puppetry, singing, live music, media integration, and an original score by Austin's celebrated orchestral band, Mother Falcon.
The Creative Team lead by Writer/Director Connor Hopkins includes Emily Weerts, Victoria Schwarz, Monica Pasut, Eliot Haynes, Chris Owen, and Talena Martinez.
The project is sponsored in part by the City of Austin Cultural Arts Division.
---
American Blood Song
by Trouble Puppet Theatre Company ensemble
Trouble Puppet Theatre Company
August 02 - August 17, 2019
Thursdays - Sundays at 8 p.m.
Tickets $35 (priority), general admission $25, reduced rate $15 (last seated)
plus service fees
Box Office: 512-478-5282 or alex@vortexrep.org
Bus Route #20.
Free Parking is available in front of The VORTEX.
Additional parking is available at Home Steam Cleaners next door
Limited street parking is also available near The VORTEX.
The Butterfly Bar @ The VORTEX is open nightly 5 pm - Midnight, 1am on Saturdays.
Full bar with handcrafted specialty cocktails, local beers, and our famous sangria.
butterflybaraustin.com
Patrizi's @ The VORTEX is open nightly 5pm-11pm. Italian food truck offering exceptional handmade pasta, homemade soup, fresh salads, sandwiches, and daily specials. Austin's best Italian food. If you are eating dinner at Patrizi's before the show, please arrive at least 90 minutes in advance of showtime.