Review: A Bright New Boise by Hyde Park Theatre
by Michael Meigs
You might suppose that Samuel Hunter's 2010 play A Bright New Boise is a satire about empty-eyed religion in the upper Midwest and the Oklahoma plains where Hobby Lobby is headquartered. Indeed, you could move the pieces around to build a case for that -- all the more so, considering that in June of this year the Supreme Court accepted the contention of Hobby Lobby and similar businesses that the owner-managers' religious convictions justified limiting employee benefits by refusing to provide the emergency contraceptive services -- day-after treatments --mandated by the Affordable Care Act.
Corporate HQ can hardly have liked Samuel Hunter's play. There is no Hobby Lobby in Boise, by the way, although there are a couple not too far away in Idaho. The action takes place in a shabby employee break room at the crafts superstore. It's none too subtly the waiting room on the way to hell. Hell, in this case, is the barren and dysfunctional consumer culture of provincial areas of the United States.
Come to think of it, 'Hobby Lobby' is a cheerfully cryptic corporate title. A lobby is a place of waiting -- but for what or whom? And a hobby is a pastime, a secondary activity usually of relatively little meaning or consequence.
Tough store manager Pauline is cynical and demanding. Neither she nor her employees really believe in any aspect of this enterprise. And just to remind us of the absurdity of the retail operation, the video in the break room runs a non-stop two-man talk show from corporate headquarters, murky and completely inaudible -- inexplicably replaced for long stretches of time by medical channel videos, ghastly close-ups in full color of stomach-turning surgeries. Garry Peters and Tom Green as the uncredited folksy corporate announcers in Lowell Bartholomee's video have never before been so mute or mindlessly opaque.
Will, interviewing for a job at the Boise Hobby Lobby, is reluctant to talk about his involvement in a non-denominational evangelical Christian church upstate. We will eventually learn more about the scandal and catastrophe that drove him out of that town and down to Boise. But other than some wistful remembering on Will's part, the events that unfold in the store center less on faith than on yearning.
Hunter's plot is wickedly clever and his characters are sharply drawn. This is a collection of misfits. Not that they don't want to fit in; that is perhaps the one desperate common denominator among them. It's just that there's no place for any of them.
Benjamin Summers with his mild manner, blue eyes and blond hair, has given us nice guy roles before, but in A Bright New Boise he delivers a characterisation more subtle and moving than any before, deftly underplayed. We can't help but like Will and sympathize with him -- his attempt to start over both in a job and in a lost family relationship, his painfully courteous demeanor, his reluctance to share his perplexed search, his hollow existence and his ardent desire for unexplained transcendence. Summer's performance is so rich that it alone justifies urging your friends to attend.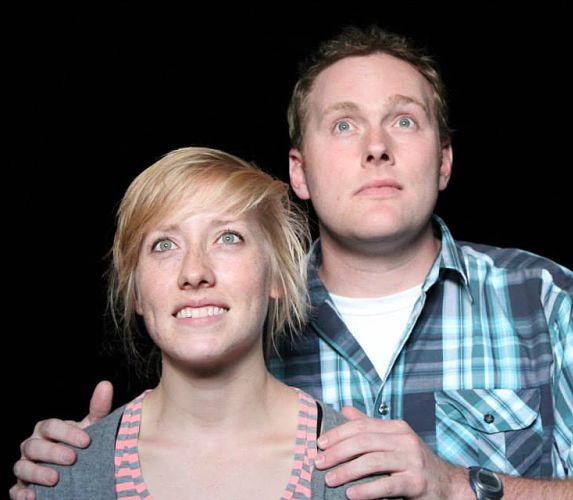 The rest of the cast selected and guided by director Ken Webster rise to the vivid opportunities presented by Hunter's script. Each is memorable. Rebecca Robinson as Pauline the manager is sharp, profane, emphatic and decisive -- portraying a woman whose life has become devoted to making this white elephant of a store function and prosper, even though she scorns its mission. Three other employees provide complementary takes on Hobby Lobby both as employment and as a metaphor for life. Sweet lost Anna (Katie Kohler) is bewildered by everything and reduced to trying to hold on to a job. Alex (Nate Jackson), perhaps afflicted with Asperger's syndrome, perhaps a survivor of neglect and abuse, is subject to panic attacks and adamantly refuses Will's overtures, seeking to narrow, limit and control the perpetual confusion about him. Leroy, Alex's stepbrother, a gifted artist, is reduced to stocking shelves, protecting Alex and futilely challenging the bland conventionality that surrounds him.
So what, exactly, happened at that evangelical church in Will's past? Who was responsible? How was Paradise -- or at least comfortable community -- lost? Playwright Hunter brings the story full circle, resurrecting a crucial incident from Will's memory in such a way that we find ourselves tripping out into another reality, perhaps into confused, delusional imagining of a protagonist who deserves far more help than anyone in sight can possibly give him.
---
A Bright New Boise
by Samuel D. Hunter
Hyde Park Theatre
September 25 - October 25, 2014
The show runs at 8:00 PM on Thursdays, Fridays, and Saturdays, September 25 - October 25, 2014. Thursdays are Pay What You Can Nights. For the first four weeks (September 25 - October 18) Friday and Saturday tickets are $20 ($18 for students, seniors, military, and Austin Creative Alliance members). For the final weekend (October 23 - 25), Friday and Saturday tickets are $22 ($20 for students, seniors, military, and Austin Creative Alliance members). Purchase tickets online or call 512-479-PLAY (7529) for reservations.