Feb. 12 - Feb. 27, 2016
Thursdays-Sundays
The Mikado: Reclaimed flips the Gilbert and Sullivan classic on its head, presenting an (almost) all-Asian American cast performing a devised theatre piece with select musical numbers from the (in)famous operetta. Set in an internment camp in the near future, internees seek humanity amidst racism, corruption, and xenophobia. Queer love stories mingle with examinations of yellowface and conflict as we reinvent the well-known characters of Yum-Yum, Nanki-poo, and Ko-Ko. In a political climate of over-crowded immigrant detention centers, calls for "Muslim Bans," and the largest refugee crisis in decades, The Mikado: Reclaimed explores human resilience and liberation in the face of real and metaphorical confinement. Three weeks only at The VORTEX.
Click for feature by Rosalind Faires in the Austin Chronicle, February 11, 2016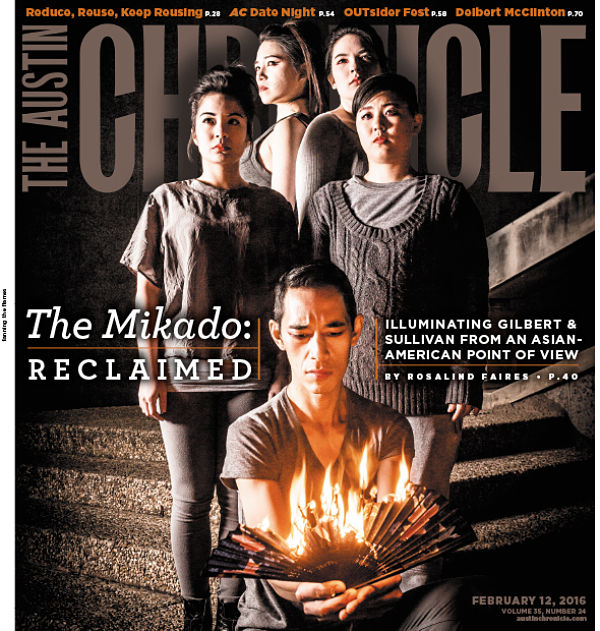 Directed by kt shorb
Featuring: JooHee Anh, Annie Hedrick, Jonathan Itchon, Abigail Lucas, Smalls McCoy, Rachel Steed, and Leng Wong.
Music Direction by Alex Hartley
Lighting Design by Shelby Gebhart
Costume Design by Lirit Pendell
Cosmetic Design by Amelia Turner
Scenic Design by Ann Marie Gordon
The Generic Ensemble Company (GenEnCo) makes the invisible visible through bold, socially relevant, body-centered theatre. www.genenco.org
The VORTEX conjures and navigates the storm of imagination with urgent, unashamed art that dares to dream the world in which we want to live. This magic emanates from our cultural harbor, embraces diverse communities, breaks down barriers, and opens channels for vital exchange.
kt shorb's directorial work has won a FronteraFest "Best of Fest," and been shown at the Menil Collection, the Pulitzer Foundation and in many venues across Texas. She is an invited member of the National Institute for Directing & Ensemble Creation.
"…Ambitious, timely, and vitally important…"
—Austin American-Statesman on Generic Ensemble Company's Robin Hood: An Elegy
"I love what kt shorb does and how she does it, both onstage and off. Whatever she is up to is not to be missed."
–Anne Bogart, Artistic Director – SITI Company
---
The Mikado: Reclaimed
by kt shorb and GenEnCo ensemble
Generic Ensemble Company
Thursdays-Sundays,
February 12 - February 27, 2016
Tickets $10 - $30
The VORTEX, 2307 Manor Rd. Austin, TX 78722
Free Parking. Bus Route.
The Butterfly Bar @ The VORTEX opens nightly at 5pm with full bar, hand-crafted cocktails, and snacks.
Patrizi's @ The VORTEX opens nightly at 5pm with delicious homemade Italian food.
Tickets: $10-$30 -- click to purchase on-line
$30 Priority Seating
$20 General Admission
$10 Discount (Artist/Student/Senior)
Limited Seating. Advanced Reservations Strongly Recommended.
Radical Rush Free Tickets:
Limited free tickets for each performance in the spirit of sustainability, accessibility, and the gift economy. Radical Rush tickets released at 7pm each night--in-person only.
2-for-1 admission Thursday and Sunday with donation of 2 cans for SafePlace.