Aug. 18 - Sep. 11, 2016
Thursdays, Saturdays-Sundays
What happens when a shy, reluctant Englishman in search of complete solitude ends up at a fishing lodge in the middle of "Podunk" Georgia? In this hilarious farce, Charlie, a timid sci-fi proofreader by day and boring husband by night, adopts the persona of a foreigner who doesn't understand English. When others begin to speak freely around him, he not only becomes privy to secrets both dangerous and frivolous, he also discovers an adventurous extrovert within himself.
Bryan Rindfuss, San Antonio Current: "Likened by theater critic Ben Brantley to "a Beverly Hillbillies or Green Acresepisode with a social conscience," The Foreigner is one of two enduring farces left behind by Larry Shue, a playwright and actor who died in a 1985 plane crash at age 39. Only slightly lesser known than his slapstick, dinner-party comedy The Nerd, the Obie Award-winning play follows tragically shy British proofreader Charlie Baker to a rural fishing lodge in Georgia where he masquerades as a foreigner from an exotic locale. Although introduced by his pal "Froggy" LeSeuer in hopes of sparing him from having to talk to strangers, Charlie's purported otherness only gets him closer to the assembled oddballs and rednecks, their dark secrets and a plot to convert the lodge into a stomping ground for the Ku Klux Klan. Ken Frazier and Dylan Brainard co-direct Jared Stephens and Michael Burger in The Vex's production."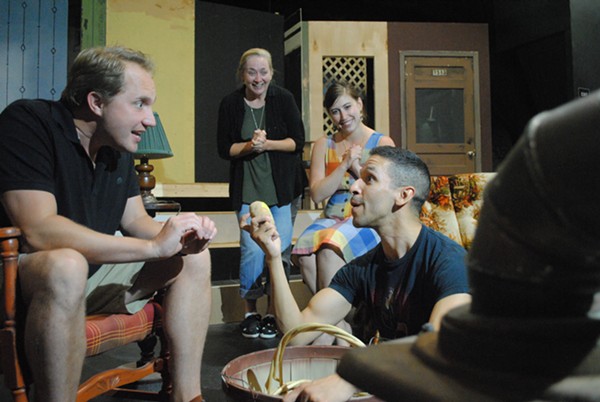 Michael Burger - "Froggy" LeSueur
Jared Stephens - Charlie Baker
Whitney Marlett - Betty Meeks
Brian Hodges - Reverend David Marshall Lee
Kaitlyn Jones - Catherine Simms
Joshua Goldberg - Owen Musser
Roman Garcia - Ellard Simms
---
The Foreigner
by Larry Shue
Vexler Theatre
Thursdays, Saturdays-Sundays,
August 18 - September 11, 2016
$16-$22, 7:30pm Thu, 8pm Sat, 2:30pm Sun, Barshop Jewish Community Center, Sheldon Vexler Theatre, 12500 NW Military Hwy. (210) 302-6835, vexler.org. Through September 11.