Stars of David, by Austin Jewish Repertory Theatre
by Michael Meigs
Aaron Harnick's lively musicalized monologues go back to an ancient and honorable tradition. No, probably not the one that you're thinking of: I'm referring to the Catskills resorts of the 'Borscht Belt,' refuges from New York City's non-air-conditioned summer heat frequented by middle-class Jewish families from the 1920's through the 1950's.
Families on summer vacation love to be entertained, and the venues there in the 'Jewish Alps' featured many small-cast musical comedies, as well as an impressive array of stand-up comedians. In his autobiography Act One Moss Hart describes the several years he spent putting on amateur musicals out there before attracting the attention of theatre producers who, eventually, set him up in the collaboration with George S. Kaufmann that made him famous.
A four-person show done to accompaniment by three musicians, Stars of David by the Austin Jewish Repertory Theatre played as part of the FronteraFest Long Fringe at the somewhat cavernous and echoing Ground Floor Theatre. It then moved to the Dell Jewish Community Center, where it plays until February 8. But Adam Roberts and the Austin Jewish Repertory Theatre could put it on virtually anywhere, from a trestle table on the lawn to any room large enough to seat the musicians and cast.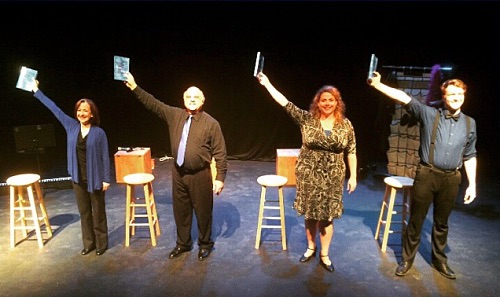 Journalist Abby Pogrebin interviewed a range of Jewish celebrities and success stories for her Studds-Turkel-style book Stars of David: Prominent Jews Talk about Being Jewish (New York: Random House, 2005). From the sixty-two interviews in the book writer Harnick arranged a succession of 16 monologues and punctuated them with music and lyrics by 23 artists.
The result is a rapidly moving series of scenes and songs for each of which a cast member is introduced with the name of an interviewee and uses those documented words to paint sharp pictures of memories, experiences and concerns of contemporary American Jews. Four cast members cover the sixteen personalities, almost all of whose names are instantly recognizable, principally from the world of entertainment. You do need the introductions, since the interest lies in the material rather than in the quality of the vocal or physical imitation. Chunky Scotty Roberts does a pretty good Dustin Hoffman, for example, but you really do need that hint to appreciate it when he shares the stage with youngish Connor Barr as Mike Nichols, discussing the casting of WASP-sounding Benjamin Braddock, lead in Nichols's film The Graduate.
One recurrent theme is that of Jews 'passing' as WASPs, or at least being perceived as Christian or non-confessional Americans. For example, Joan Rivers was born Joan Alexandra Molinsky. Exuberant Jennifer Coy has two numbers that go into high gear on opposite sides of that issue: her sassy strutting as Gwynneth Paltrow in 'Hoo Doo Jew' and a lengthy comic monologue and song in the persona of Fran Drescher. Drescher describes her successful insistence that her character in the 1980's television series The Nanny (produced by Drescher and her husband Marc Jacobson) be as loud and unmistakably New York Jewish as she herself is. Coy's style, by the way, is closer to that of the fabulous Bette Midler (also Jewish).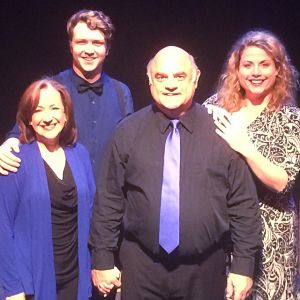 It's not all fun, games and entertainment. Exclusion and prejudice are frequently touched upon. Barr as Mike Nichols recalls the persistent, unmotivated bullying and harassment he endured without protest in high school. Leonard Nimoy recounts a cruel humiliation that put an end to his early endeavors as an amateur musician. But the constraints of tradition are also mentioned: Milaka Falk dons robe and lace collar to deliver a contained emotional account from Supreme Court Justice Ruth Bader Ginsberg about the death of her mother -- when as a woman she was not permitted by tradition to participate in the twelve-man minyan that would pray Kaddish to mourn her death.
Director Adam Roberts recruited a talented cast and three accomplished musicians (whose names don't appear on the program leaflet). The occasional bursts of choreography, often in a deliberately vaudevillian quartet, were programmed by Ginger Morris.
As you enjoy this hour of thoughtful fun, a question may come up in the back of your mind. How echt is this? Are the performers and musicians Jewish? If so, are they really Jewish, whatever that is? Have they experienced directly all the shades, uncertainities, traditions and beliefs that they're presenting?
You can't really tell by looking at them.
And that's part of the message, isn't it?
---
Stars of David
by Aaron Harnick, Abigail Pogrebin, et al.
Austin Jewish Repertory Theatre
January 22 - February 08, 2015
Ground Floor Theatre
979 Springdale Rd
Austin, TX, 78702
Four performances at the Ground Floor Theatre for the FronteraFest Long Fringe, January 22 - Feb. 1; additional performances at the Dell Jewish Community Center. Tickets via www.shalomaustin.org.