Review: What's Goin' On? by Generic Ensemble Company
by Stephen Meigs
Okay, so I'm with other audience members, in the box office of the Vortex Theater, before the show starts. And the lady staff member says to us, "The show takes place all over the place, not just in the theater. It's out in the courtyard. It's in the theater. It's interactive. You can get involved or just watch." Then she holds up 3 ribbons, each about 20 inches long - a red ribbon, a yellow ribbon, and a green one.
"If you tie a red ribbon around your arm, the performers won't talk to you, they'll look right through you, you're invisible."
She holds up a yellow ribbon. "If you tie a yellow ribbon around your arm, then performers will ask your permission first, before they involve you or touch you."
Then she holds up a long green ribbon. "If you tie a green ribbon around your arm," pausing, applying a classic speaker or teacher's technique of focusing our attention: "The performers don't have to ask your permission to talk to you or touch you." This lady is calm, composed, with a face like those seen on a Victorian cameo brooch.
Up front, a young man whispers to his date who nods intensely.
Behind me I hear a husky, somewhat unsettling laugh. Man or woman's voice? Hard to tell.
The box office lady takes out a round wheel of red tickets. She pulls a half a dozen tickets out and off with a flick of her wrist. She hands them out. "You can buy stuff with these."
"Such as?" Behind me, the voice from before. Woman. Maybe.
"Your salvation?" The lady replies. "Or cherry kisses. Stuff to keep spiders away. You'll see."
Some audience members know what they want. My brother takes a green. Some take a red. I take a yellow ribbon and a green one.
I tie the yellow ribbon around the old right arm. Maybe I'll change to green later.
It's awkward to tie the ribbon around my arm with one hand. I had a similar problem with a Band-Aid once. At least this time I'm not bleeding.
Two lovely, tall, olive-skinned ladies who were holding hands moments ago now each use 2 hands to tie on a green. On each other. The ladies have kittenish eyes and carefree smiles and seem very happy. One slightly anxious appearing woman ties a red ribbon on and doesn't seem calm afterward. I guess being told to fasten your safety belt makes the already nervous dread the bumpy night. A grinning guy with an ear ring, green ribboned arm, fist full of red tickets, strides out of the box office toward the action "out in the courtyard."
And I amble toward the courtyard by way of the bar, noting the black and white footage of the Beatles circa 1965 being projected on the wall. An 8-foot-tall John Lennon is doing the call and response of "She Loves Me". His lips move, "Yeah", and George and Paul lean into the microphone and their lips move, "Yeah!"... but there's no sound. I escape this past and seek the present, though since I'm not there yet, will it be the future? On the Butterfly Bar deck, I gaze to my left and see a wiry lady 30 yards by the entrance gate yelling something. A performer? Below the deck railing, I spy another femme half hidden by the bushes, declaiming some kind of poetry, and selling, could it be water? How strange.
The Vortex is both a bar and a theater. I see guys hanging out drinking a beer, guys you can tell don't go to the theater more than once a life. There's a couple under the trees in the courtyard with eyes only for each other. And all around them are performers.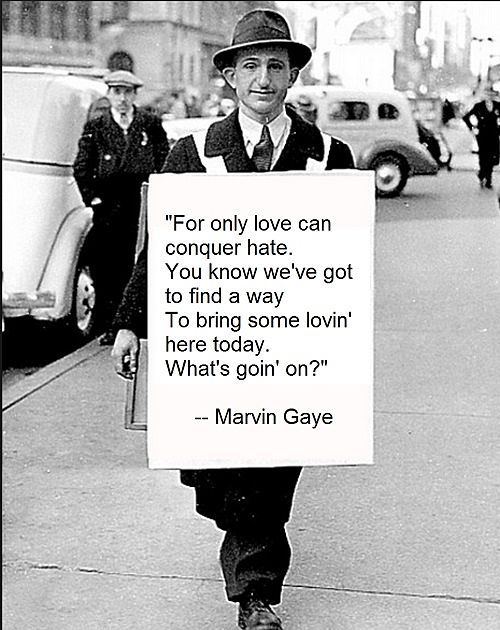 There are serious monologues, almost poems in this show. Some are inexplicable meldings of words and motion. Repetitive as they are, they become hypnotic. That's how the show opens.
Later comes the Siren Song, a gathering moment which takes place with the audience crowded into a "Pony Shed." This was Gestalt, a bit crystal and angst, as the soul sees the price of becoming physical and tries to retain its goodness. I was there. It was all around me though I'm not sure I understood a word of it. Many of the scenes are like that. They seem absurd and a bit strange.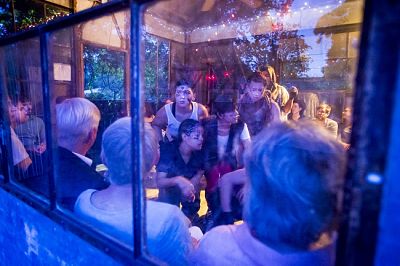 Later, a clash between Gods is a big buffoon cartoon, with the audience exhorted to take part by yelling for one or the other.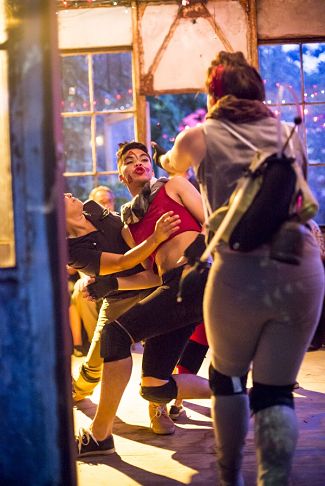 The ensemble actors are Olivia Jimenez, Smalls McCoy, James McMaster, Saray de Jesus Rosales, Kannou, Morgan Robyn Collado, Wendy Vastine. All contributed. No one dropped the frenetic energy; it was a group working together.
The character of Red (played by Jimenez) was the most accessible. She addressed the audience directly, promised she'd protect us if it rained, which was a distinct possibility that evening. She's the water seller, and Jimenez's easygoing energy and warm smile makes her the likeable every woman of this piece. Morgan Robyn Collado, as O, stood out as the broadest comic, and O's heft and booming voice kept the entertainment level high. Wendy Vastine's energy, range, and concentration kept her character believable even in the most absurd moments.
Watching Saray de Jesus Rosales do her life story at the beginning, with a fiercely kinetic word poem that involved her character Dom climbing up a light tower and then sliding down it, was mesmerizing. The characters cycle through their stories in the exposition out in the yard. I watched Dom do that choreographed manic monologue 6 or 7 times, and though it was a bit like hearing a language I don't understand, I felt quite entranced.
Later on in the show, I switched my yellow ribbon to a green one. Wasn't accosted. Bought a kiss on the cheek, cost 2 of my red tickets. My brother bought his salvation from the character of O. He wanted to pay less for it, but O grabbed all his tickets but one.
What's Goin' On? is loosely inspired by Bertolt Brecht's The Good Person of Szechwan. Director kt shorb has pitched that story into the cauldron of the ensemble's imagination and together they have boiled it down so much and so long that only a few bones of the original are left. And that's okay.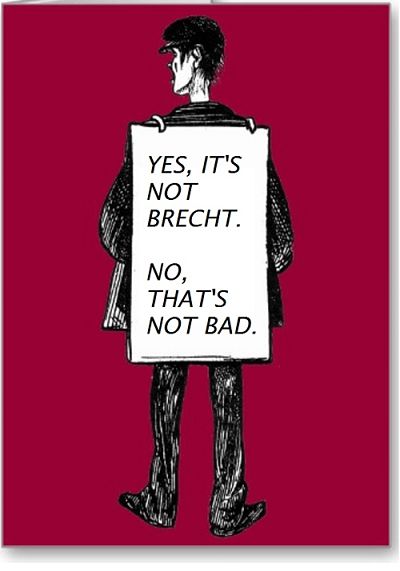 At The Vortex, the Gods come down to earth, looking for an honest person. That plot device serves as the skeleton to explore other issues: intimacy, financial struggles, the power of the state, the morality/immorality of sex/sex work/gender policing. Some performance elements of What's Goin' On owe a lot to the methods of Julian Beck's Living Theater (The Serpent by Jean-Claude Van Itallie comes to mind) and to the Polish theater of Jerzy Gratowski. It is more structured than improv, though the frenetic pace of its performance, and its conclusion, resemble the results of improv.
Could more have been done with audience involvement? Maybe. Those green ribboners want to be on a Hegelian hot seat, they want to choose. Let 'em, then reboot it.
EXTRA
Video scenes (published via Vimeo April 23, 2015)
---
What's Goin' On?
Generic Ensemble Company
March 16 - March 31, 2014
May 16 - June 1, 2014 7:30 pm (Thurs-Sun) -- 3 weeks only
Free Parking. Bus Route.
Admission: $30 Priority Seating, $20 General Admission, $10 Artist/Student/Senior
Available at www.vortexrep.org or 512-478-5282
Advance Purchase Recommended.
Radical Rush offers limited free tickets every performance night in the spirit of sustainability, accessibility, and participating in the gift economy. Radical Rush tickets released an hour before the performance starts--first come first serve! In-person only!