Review: Troilus and Cressida by Austin Shakespeare Youth Troupe
by Michael Meigs
Although the performance took place in the idyllic lakeside setting for The Curtain Theatre, Troilus and Cressida was no picnic. Austin Shakespeare put this summer's 16-member Young Shakespeare teen troupe into one of Shakespeare's grimmest and most cynical works.


The epic characters of Homer's Iliad manifest gallantry and heroic courtesy, and the Trojan lovebirds Troilus and Cressida, grafted from medieval courtly romances via Chaucer, plunge into oaths and carnal pleasure. But the guiding spirits here are lechery in the form of uncle Panderus and spite, in the figure of bitter, railing Thersites. Shakespeare viciously undercuts the build toward the romance as King Priam sends gentle Cressida to her traitor father Calcas in the Greek camp in exchange for a captured Trojan noble. The playwright gratifies the audience with some exultant, head-banging combat between heroes but then empties the meaning from their courtesies in the final scene when Achilles ambushes the weaponless Hector and cuts his throat.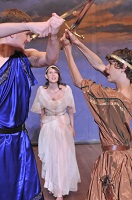 War is hell, and romantic love is illusory and doomed. In the long night of fraternization and feasting down by the Greeks' dark ships, Ulysses brings the young Trojan prince Troilus to a vantage point where he can see Greek warrior Diomedes seeking to woo Cressida, delivered to him as a prize of war. rapped and abandoned, Cressida temporizes and does the best that she can; her former true love Troilus puts an evil interpretation to everything she says. Bound to discretion by his host Ulysses, Troilus shows no sympathetic imagination for Cressida and sees no recourse but to go out and kill some Greeks on the following day of combat. Especialy Diomedes, who'll be flouting the trophy scarf that Cressida had received from Troilus as pledge of eternal love.
This world was nothing like the 1940's "Casablanca to Cuba" neverland of their 2009 Twelfth Night or the town frolic of the 2010 The Merry Wives of Windsor. These kids had a tougher hill to climb.


In warriors' garb and spirit-gummed mustaches and beards, with minimal props and the uncertain squawk of an offstage horn, the 2011 Young Shakespeare troupe worked a virtually bare stage at Richard Garriott's reduced-size evocation of Shakespeare's Globe.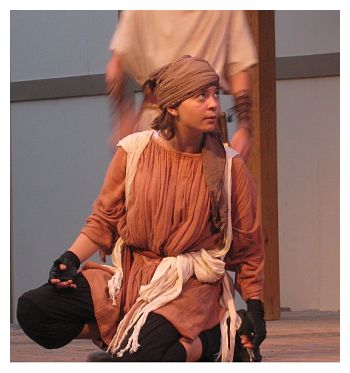 I think I might have been lost if I hadn't re-read Troilus and Cressida before attending this staging. The actors had mastered the words. Director Linda Nenno set their blocking and defined the movements of the play with the very capable help of David J. Boss and fight coordinator Toby Minor. Shakespeare's sour vision of courtship and courtly honor is so off-putting, however, that a single unsuspecting hearing of the text could leave one confused and deceived.

Georgia McLeland as the slave Thersites, a creature of invective and anger, is at the heart of this work, delivering the bitter moral vision of the play. In a world of self-esteemed heroes, McLeland gave her thrashing, deformed Thersites a sharpness and piquancy that in other plays is characteristic of Shakespeare's fools, generally drawn as far more sympathetic characters than this.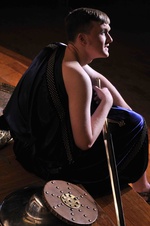 A teen troupe with this span of ages must act its way through some physiological incongruencies. Liam Dolan-Henderson as Hector, champion of Troy, looms assured and athletic in a company of all shapes and sizes , one in which women outnumber the men and take several of the warrior roles. Solveij Praxis convinces us with mien and movement that she has the strength of the none-too-bright muscleman Ajax.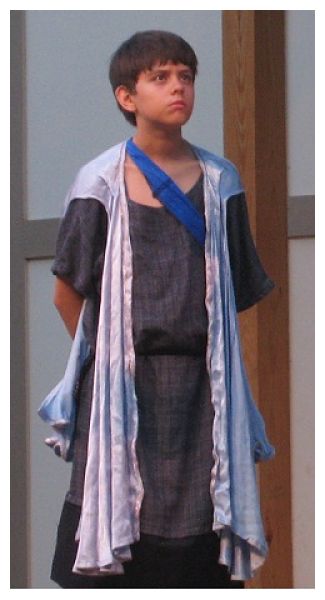 Jonathan Holle as betrayed Romeo-figure Troilus is a slim young man due for a growth spurt but fully in command of his role, as is Vincent Gordon, portraying the glowering Diomedes.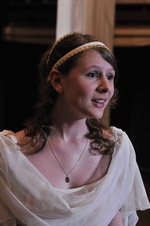 Zoe Buckalew as Cressida is slim and earnest but sweetly monotonal in a role that ideally would require more subtlety to establish her character. Troilus can woo and rail, but Cressida, trapped in an impossible forced betrayal of her lover, needs to establish for us the meaning of her apparently equivocal reactions to her transformed status. She and director Linda Nenno may have chosen to deprive Cressida both of choice and of strongly defined reaction, stressing in that way the powerlessness of women in a big violent game defined by brutal men.
No wonder that Troilus and Cressida is performed so infrequently. Dramaturg Christina Gutierrez notes that although it appears in the 1609 Quarto, no record of performance exists for that time. Not until the twentieth century did theatre companies begin to stage it with any regularity -- both to complete the canon and in response to its dark and cynical message.
EXTRAS
Click to view Kimberley Mead's portfolio of 36 performance images from Troilus and Cressida by Young Shakespeare, June 30
Click to view the program for Troilus and Cressida by Austin Shakespeare's Young Shakespeare Troupe

His as of 2015 03 01: 2284
---
Troilus and Cressida
by William Shakespeare, adapted by Frank Benge
Austin Shakespeare Youth Troupe