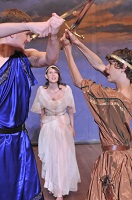 by Michael Meigs
Published on July 05, 2011
Shakespeare's sour vision of courtship and courtly honor is so off-putting, however, that a single unsuspecting hearing of the text could leave one confused and deceived.
Although the performance took place in the idyllic lakeside setting for The Curtain Theatre, Troilus and Cressida was no picnic. Austin Shakespeare put this summer's 16-member Young Shakespeare teen troupe into one of Shakespeare's grimmest and most cynical works.
The epic characters of Homer's Iliad manifest gallantry and heroic courtesy, and the Trojan lovebirds Troilus and Cressida, grafted from medieval courtly romances via Chaucer, plunge into oaths and carnal pleasure ...
Read more »