Review: Titus Andronicus by Last Act Theatre Company
by Michael Meigs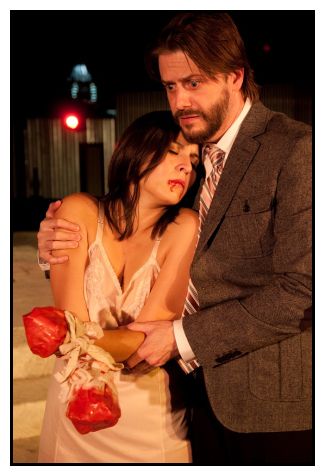 Austin likes its hellish Halloweens and on that score Titus Andronicus deserves standing-room-only audiences and ticket queues around the block, down there on César Chávez Avenue just a few blocks east of Interstate 35.
Forget all that stuff about Shakespeare they taught you in high school and college. This one he wrote really early in his career, in 1591 or so when he had only a couple of comedies and the three-part history Henry VI under his belt. The wannabe playwright gleefully embraced the new and popular genre of the blood-and-gore revenge tragedy pioneered by Thomas Kyd with The Spanish Tragedy, or Hieronimo is Mad Again (ca. 1585, published in 1592).
Looking for shivers? Try these: agéd Roman general Titus Andronicus returns to Rome after forty years of battles in which twenty-one of his twenty-five sons have been killed. He parades in captured Goth queen Tamora and her three sons; despite her pleading he orders his troops to take reprisal by killing the eldest and burning his corpse. Titus refuses the people's choice of him as their emperor and moves them to acclaim Saturninus, son of the former emperor.
Now emperor, Saturninus selects Titus' daughter Lavinia as his wife, thereby depriving his brother Bassanius of a sweetheart; Titus' sons refuse and spirit away their sister. Furious at this disobedience, Titus kills his own son Martius. Only after Titus' brother Marcus intervenes does the old warrior permit them to place the corpse of Martius in the family mausoleum. Annoyed at Bassanius' "rape" -- kidnapping -- of Lavinia, the emperor decides to take Goth queen Tamora to wife, giving her and her two remaining sons Roman citizenship. Tamora counsels new hubby Emperor Saturninus to stay calm, promising him "I'll find a day to massacre them all,/and raze their faction and their family. . . "
And that's just the first act.
Still ahead of you are the murder of Bassanius, rape and mutiliation of Lavinia, the injust condemnation of Titus' sons, wicked moor Aaron's scheme prompting Titus to chop off his own hand, the offstage execution of Titus' sons and the presentation of their heads to their father, Titus' half-feigned madness, an elaborate masque featuring Goth Tamora as 'Revenge' and her two sons as 'Rapine' and 'Murder,' some muscular throat cutting and the set-piece finale in which Titus serves Emperor and Empress a meal of cannibal pie. Briefly to conclude, Titus kills his own daughter and his tormentor Tamora, Saturninus kills Titus, and Titus' son Lucius, back at the head of a mercenary army, kills the Emperor and takes over.
There's no down time here and there are no langorous poetic interludes. It's horror, horror, and horror. The text and this production of it are done in powerful, pumping verse that's unmistakeably Shakespeare's.
Grotesqueries abound. Seated at the dinner table deep in misery, Titus falls into bizarre ranting with puns about the hands that he and his daughter now lack. Brother Marcus kills a nasty black fly, prompting Titus to a hysterical defense of the creature until Marcus likens it to the Emperess' servant and paramour Aaron the moor. Titus flips completely the other way, stabbing the creature wildly.
In his editorial notes to Titus Andronicus for the 1948 Complete Works, the venerable G.B. Harrison begins, "Titus Andronicus is regarded by many critics as Shakespeare's worst play." After considering the sources, influences and printings, Harrison calls the characterization inconsistent and badly motivated, with episodes inadequately prepared and set off. "The horrors in Titus Andronicus are too much; if ever presented on a modern stage they would move the audience not to shudders but to guffaws."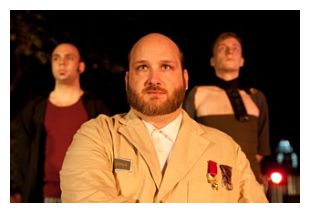 Not so, I'm here to tell you. The sparse opening night audience for this production was rapt, almost stunned by what they heard and saw. Amidst the intensity of action and image in that intimate outdoor space the cast's conviction, diction and projection were superb.
Ben McLemore asserts in his director's notes that the attitudes of modern audiences have undergone a shift, due to global media reports of "political injustice, mass rapes, and inhuman brutality happening all across the world. The horrors we witness onstage now seem awfully close." Even as divorced as I have long been from television news, images of handless Africans, mass graves in the Balkans and the execution of Omar Khadafi have intruded into my consciousness. I'd add that the ghastly magic of computer graphics, cinema special effects and the morbid, permitted thrills of Hollywood and gamers have coarsened our sensibilities.
This Titus Andronicus slaps that casually blasé attitude right off your face. Yes, you know it's just as much make believe as those pricey haunted houses of The House of Torment at the half-deserted precincts of the old Highland Mall here in Austin. Your ticket here will cost you half as much and will bring you a lot closer to the abyss.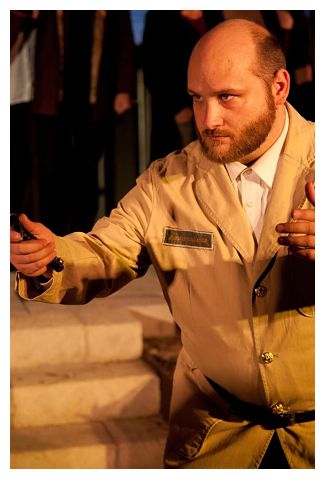 When he addressed the audience before the opening, director McLemore came across as very earnest and very young. His choice of cast and his shaping of the action show that he has insight and talent. He creates for us a Neverland of sorts, costumed simply in generally contemporary dress, using the garden's wooden deck with the ingenuity of the transforming blank space of the Globe. Travis Bedard is a stolid, strong Titus, dangerous throughout but never more so than when his enemies think him deluded in his glaucous fury. With more cerebral intensity Kevin Gates as brother Marcus becomes the conscience of the piece, reason driven to desperation and expressing for us the depth of reaction to these bizarre events. The Goths are the redoubtable Bridget Farias as evil Tamora, with Paul Szent-Miklosy and Domenic Procaccini II as near-twinned siblings of glittering, supple snake-like energy in contemporary goth-cult attire. Andrew Brett as the vain Emperor Saturninus has good presence but needs to keep that luxuriant Prince Valiant cut tied back out of his face. Andrew Rodgers does a good job of making the earnest eventual inheritor Lucius Andronicus a dutiful son with inherent nobility.
Karen Alvarado as the suffering, abused and tongueless Lavinia, though condemned to dumbshow and handless gesture, has depth, pathos and dignity.
The crackerjack character in this piece is Aaron the moor, more mindlessly, determinedly evil than any other villain you'll see in Shakespeare. He's gratuitously evil and entirely unrepentant, even in the final scene:
I am no baby, that with base prayers
I should repent the evils I have done.
Ten thousand worse than ever yet I did
Would I perform if I might have my will.
If one good deed in all my life I did,
I do repent it from my very soul.
Aaron is at least consistent in his attitudes to others, although he shows unexpected tenderness and determination when he receives and protects the bastard child he has begotten upon Tamora.
The company had some difficulty recruiting for this role, judging from the additional audition call they made for it. Mario Ramírez gives the Moor a distinct Hispanic flavor, entirely fitting in Central Texas as the 'outsider.' Such a Moor is both appropriate and ironic in the context of Shakespeare's time. The Spanish were sworn enemies to Elizabeth I, defeated in the storm-torn channel with their mighty armada just three years before Shakespeare wrote Titus Andronicus -- but they were even more implacable enemies of the Muslims of Ottoman Turkey, whose expansion they'd stopped at the Battle of Lepanto less than twenty years before. Ramírez is a familiar face in contemporary roles at Austin's mostly English-language Teatro Vivo. He's confident and articulate as this baddest of all bad guys.
There's so much going on here that the action seems to rush right past the very late climax of the 'man pie' in the final scene. In this production Titus slips his haughty aristocratic visitors a couple of saucers just big enough for a kolache apiece; Saturnius is in profile to us at one end of the table with Tamora close to him at the rear of the table. I'd have preferred to have them both fully facing us with the additional visual horror of a more ceremonious consumption of the two bad boys. For example, in the 2007 Titus Andronicus at the Shakespeare Theatre in Washington DC -- the only time that company has ever done it -- Titus appeared carrying a pie with bulging upper crust, nearly the size of a suckling pig.
Here's your Halloween holiday treat, Austin. Come and get it!
EXTRA
Click to view program leaflet for Titus Andronicus by Last Act Theatre Company
Hits as of 2015 03 01: 3446
---
Titus Andronicus
by William Shakespeare, adapted by Frank Benge
Last Act Theater Company
October 20 - October 31, 2011