Review: Tigers Be Still by Hyde Park Theatre
by Catherine Dribb
Kim Rosenstock's play Tigers Be Still is a well-woven, touching narrative about family triumph (thread that needle!), tragedy (Bette Midler karaoke is never okay) and of course, tigers. And it will have you falling out of those new comfy chairs at the Hyde Park Theater.
It's that good.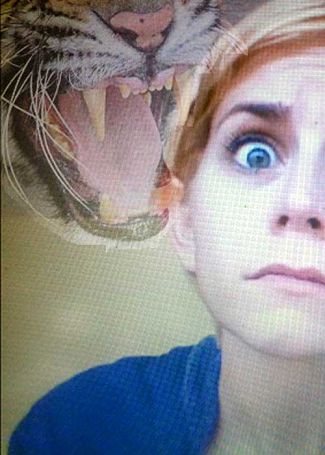 With a sick mother upstairs and two sisters trying to get their sh*t together, Tigers Be Still seemed an unusual pick for Hyde Park Theatre after Marion Bridge (a play about a sick mother residing upstairs and three screwed-up sisters figuring out life down below) earlier this season. But Tigers Be Still is hilarious and poignant and will literally take your breath away (I need a price check on a box of extra-large, deodorized…)
Wow. Raunchy and redemptive.
Director Ken Webster delivers another masterpiece especially considering during the 95-minute show, the characters move from one house to another to a school to the lake in addition to both Walgreens and CVS. How did he and set designer Paul Davis do it? Very carefully. But it worked, and I'm not sure I've ever seen the Hyde Park stage look so… spacious.
Maybe it's because the characters don't move around much onstage. Initially, this was bothersome, and my belief lost suspension as I wondered why there wasn't more velocity to the sisters' arguments. Let's see some movement! But we soon discover that art therapist Sherry (expertly played by Molly Karrasch) is practically paralyzed by her own anxiety, compliments of her sickly, yet unseen mother who refuses to come out of her bedroom, and her heartbroken couch-ridden sister who won't quit stealing items from her ex-fiancé's house. We understand why Molly Karrasch's characterization of Sherry is so compelling. She plays her as the cock-eyed optimist of Generation Y, a salmon in the sea of post-modernity. Except salmon swim upstream in rivers. Whatever. You get my point. Grief is a frustrating process, and we empathize with Sherry. Karrasch's face shows every desire to move forward and every painful setback. "Give it up!" we want to tell her, and yet, we do so want her to actually break through to her angry and explosive client Zack (Jon Cook), to her sister Grace, the mailman-shagging drunk (Kelsey Kling), and to her boss Principal Joseph, with his sandwich and his rifle (Jay Michael Fraley). We feel almost paralyzed too.
Thank God the play is funny because, you know, sometimes life is seriously that hard. Don't try and check your metaphorical tigers at the door. It ain't that easy to let go. But Tigers Be Still does a beautiful job of setting forth hope that life really is worth living. That we can get out of bed, get off the couch, put our feet on the floor and get out of the house. That we can look that proverbial tiger in the eye and let her live. That there is more to life than Depends commercials and that love scene in Top Gun.
I told you, it's a trip. And you've got three more weekends to take it. Go see Tigers Be Still at Hyde Park Theater running now through August 11th.
Comments by Cate Blouke in the Statesman's Seeing Things blog, July 16 (407 words)
Review by Spike Gillespie at her blog Spike Speaks, July 23
Review by Robert Faires in the Austin Chronicle, July 26
Mike Lee's audio piece for KUT-FM, July 30
Hits as of 2015 03 01: 1379
---
Tigers Be Still
by Kim Rosenstock
Hyde Park Theatre
July 12 - August 11, 2012