Review: The Tempest - An Aerial Tale by Renaissance Austin
by Michael Meigs
It helps to know Shakespeare's plot before you attend the Renaissance Austin/Sky Candy production of The Tempest. Lorella Loftus's adaptation cuts a lot of text to reduce playing time to just over two hours including a 15-minute intermission. Aerial gymnastics on silks, rings and trapezes take a lot of stage time and don't necessarily advance the story. She also makes significant modifications. As a framing device an aged Prospero meditates in his library before and afterward. She raises Caliban's mother the witch Sycorax very much to life in the middle and end of the play.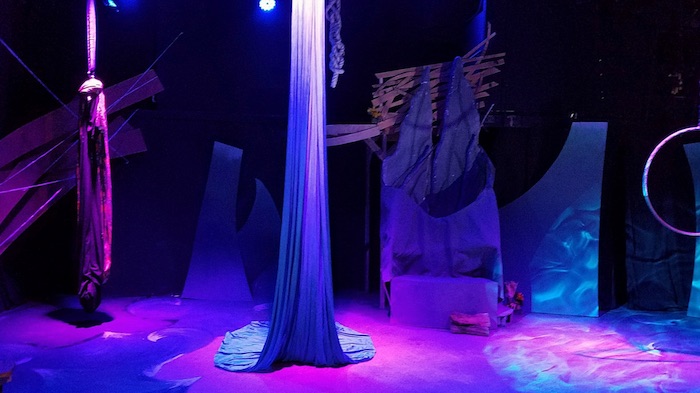 It's a Tempest designed more to be seen than to be heard. The simple set shimmers with silks lit by Patrick Anthony's cool, shadowy high-color-contrast lighting plot. The stage is full, in fact crowded, with Ariel and her several very supple posturing fellow sprites.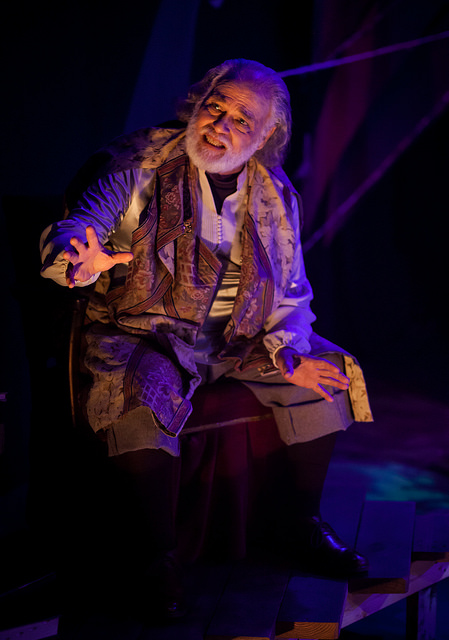 Rather than trying to match Shakespeare's cadences, verse and images, director-adaptor Loftus has Tom Swift as her aged Prospero welcome us to his library with the promise, "We'll tell stories of a different time in different languages." With the mellow serenity of a monk or retired full professor, he sits in his nook at stage right without intervening or speaking again until the very end.
Shakespeare's texts are delivered with furious speed most of the time, from the shouts of the initial scene of shipwreck, with superb lighting and sound effects, through many of the subsequent scenes. This Prospero, David Boss, has logged hundreds of hours in his own Shakespeare log, but faithful to the director's concept he rants much of the time. He's a relatively young, more impatient and vengeful Duke of Milan than usually imagined, perhaps in his early 40's. In any case he's far from contemplative.
Two Ariels alternate during the performance, perhaps because of the physical challenge of the twisting, climbing and soaring choreographed by Andy Agne of Sky Candy Aerial Works. Similar in build, Sofia Rodriguez and Emily Villareal dress identically in electric blue patterned tights, so some in the audience may not detect the switch. They are mute. All of Ariel's dialogue retained in this version was recorded by Loftus herself in a delicately musical English accent that some may find difficult to hear.
There's wide variance among the players in articulation and projection. Clear, well phrased and thoughtful delivery comes especially from Oliva Jimenez as Miranda, Chelsea Manasseri as Antonio the usurping Duke of Milan and Kevin Moxley as his co-conspirator Sebastian. Kera Blay is quietly imposing and well spoken as the King of Naples. The clowns, on the other hand, are a stage disaster played at wild speed. Will Douglas as Stephano has some funny moves but he plays drunkenness the way a fifth grader might do, all waving arms, grimaces and no interiority. Rachel Pallante as Stephano might as well be a mute circus clown, for scarcely a word she said was intelligible.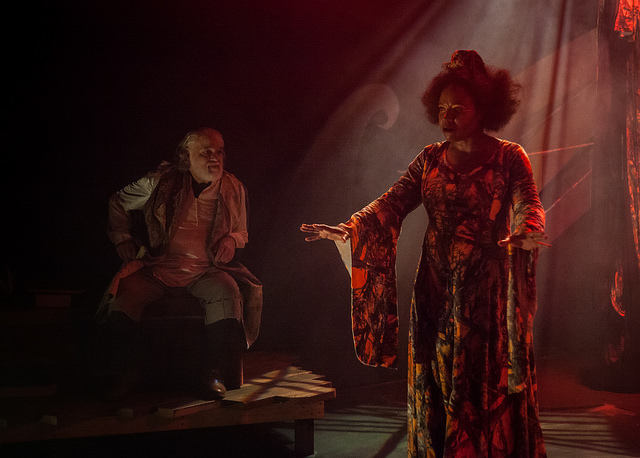 Caliban is muscular and loud. Gabriel Maldonado plays him as excitable but a bit dim, so that one is perforce impressed that Caliban was able to learn language at all. He has excellent stage presence and even takes an impressive knotty turn or two dangling in the silks. The arrival — or perhaps eruption — of Gina Houston as Sycorax his dam is a roaring, resounding surprise, somewhat reduced when she berates one and all with the eloquence of a 20th century fishwife, calling her offspring 'stupid' and 'an idiot.' Her intensity warns us that she's dangerous. There's even a Hogwart's-style duel between Sycorax and Prospero, each waving a wand and sending spells smashing into the other.
The best approach to this unusual but imaginative adaptation is to have a drink at the venue's Butterfly Bar, loosen up and release your rigid grip on the text. Loftus draws on the strengths of the Vortex, a long established art locale dedicated to fantasy and epics, often musical, and known for casts consciously selected to stress the diversity of actors and performers in Austin. And in this Mother's Day season the Vortex is an entirely appropriate venue for the fearsome return of Caliban's mom the maligned and dismissed Sycorax, the once (and future?) ruler of this isle.
Renaissance Austin's Tempest with its largely mute Ariel and ranting Prospero doesn't offer many pear-shaped tones, but the production mostly makes up for that with spectacle and surprise.
EXTRAS
Click to view extracts from the program of The Tempest by Renaissance Austin and Sky Candy Aerial Works
Click to go to slideshow of performance images by Kimberley Mead
Vortex and Howlround TV will livestream performance of Friday, May 13, 2016
---
The Tempest
by William Shakespeare
Renaissance Austin
Thursdays-Sundays,
April 29 - May 14, 2016
Apr.29-May.14, 2016;
Bonus show on Monday, May.09.
ASL Interpreted: May.07;
Vortex and Howlround TV will livestream performance of Friday, May 13, 2016
Tickets: $10-$30
$30 Priority (Seated first), $20 General , $10 Discount (Seated last) Limited Seating. Advanced Reservations Strongly Recommended.
Radical Rush Free Tickets: Limited free tickets for each performance in the spirit of sustainability, accessibility, and the gift economy. Radical Rush tickets released at 7pm each night--in-person only.
2-for-1 admission Thursday and Sunday with donation of 2 cans for SafePlace
The Tempest: An Aerial Tale is funded and supported in part by VORTEX Repertory Company and by the Cultural Arts Division of the City of Austin Economic Development Department.