Review: Sweeney Todd, by SummerStock Austin
by Michael Meigs
The demon barber who slits his clients' throats is an urban myth celebrated in print first as a "penny dreadful," or serialized story of scandal and murder, in London in 1845. The razor and the strop continued to hold a fascination, at least until the technological advance of Mr. Gillette's safety razor put them at some remove. That wicked barber had figured in 13 earlier versions on radio stage and screen before this 1979 piece by Stephen Sondheim and Hugh Wheeler. They adapted British dramatist Christopher Bond's 1973 stage play, which had reimagined Todd as the wronged party, bent on revenge.

SummerStock Austin gives us their vivid imagining of Sweeney Todd's world. It's a London of grotesques and dog-eat-dog, corresponding to that which Thomas Hobbes imagined as pre-dating civil society: "a war of all against all "where lives are "solitary, poor, nasty, brutish, and short."

The self-assured Judge Turpin and his agent the unctuous Beadle Banford represent the genteel classes who oppress the poor and regard them as little more than animals. Into this morass and degradation comes Sweeney Todd, unjustly condemned many years before and now escaped from a penal colony. Pie baker Mrs. Lovett tells him that his beautiful wife has died and that his infant daughter Johanna is a ward of the Judge. Mrs. Lovett restores to him his case of razors -- Todd's "little friends" -- and the elaborate revenge plot begins.
Sweeney Todd offers a relentless depiction of human degradation. Mature characters manifest cunning and amorality; they engage in murder, blood and cannibalism. Squalor pulls down spirit and lust predominates over love. Sondheim's music plays with these grotesques and plot turns. He opens with jangling structures of dissonance but he also creates pure themes ("my friends," Sweeney's caressing salutation of his razors, and "Johanna," a repeated theme of hope and longing). With sardonic humor he provides comic music hall numbers about the varieties of pies stuffed with human flesh (" . . . a bit of -- priest!") and about the seaside. Two times Judge Turpin and Todd share a thrumming, satisfied theme celebrating the appeal of women's flesh -- as Todd prepares to slit the judge's throat.

Tension is cranked high throughout. All the wicked get their comeuppance. The mature generation perishes and the young innocents are spared, perhaps to escape.

This production is rich, powerful and strange. And it is bursting with talent.
Director and SummerStock founder Michael McKelvey is known for an output and productivity so extensive that one could wonder if he is, in fact two persons. Or perhaps he never sleeps at all. He scarcely has time to collect his awards. In addition to his job at St. Edward's University, where he directed Pajama Game in April, so far this year he has been stage and/or music director for The Last Five Years for Penfold Theatre, The Fantasticks at Austin Playhouse, and The Frog Prince for the Scottish Rite Children's Theatre. That's in addition to writing music for Austin Shakespeare, the Zach Scott, and plenty of others. When there's music in Austin theatre, the question is, "Was it McKelvey -- or someone else?"

The advantage of that accomplishment and activity is that he has a fine stable of talent to draw upon. For example, in addition to those cast in this year's edition of SummerStock, he brought onboard as his assistant director for Sweeney Todd David Gallagher, a SummerStock alum and recent grad from St. Ed's, recognized with an ALT Applause! award for The Last Five Years.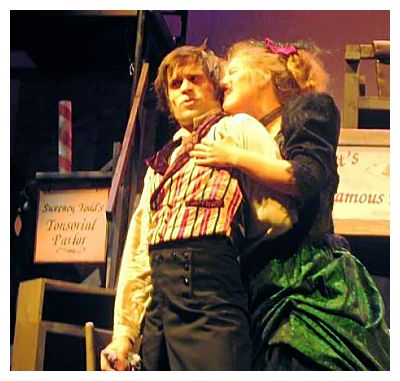 Jacob Trussell, chosen to portray Sweeney Todd, has flourished under McKelvey's tutelage. His roles in Pajama Game and The Fantasticks were relatively lightweight leading roles in which he could strut a bit, simper a bit and sing on key, all of which he did with cheerful grace. This role is different. Sweeney is dangerous, obsessed with vengeance and murder. Trussell gives a vivid portrayal of a man dismissive of sentiment and yet still deeply vulnerable. He incarnates the death-obsessed Todd with edge, focus and dexterity, delivering the vocal part with sharp, dark accuracy.

Foil to Trussell the razor is Kathleen Fletcher as Mrs. Lovett the pie maker. She gooses the woman to the limit, so that her mad mouth and sentiments are as flyaway as her frizzy hair. Mrs. L is a cartoon conspirator, a survivor, and a species of amoral, dreamy vermin fattening on the muck of London. Fletcher makes her a comic monster.

Ben Mayne is the fresh faced sailor Anthony Hope who saved Todd from a shipwreck, and Mikayla Agrella is Todd's daughter, his love. As their nemesis the evil but tormented Judge Turpin, Aaron Moten delivers a riveting performance. He is assertive and muscular, taking as his due the pleasures of power and desire while writhing in the self-abasing pleasure of guilt and self-hate.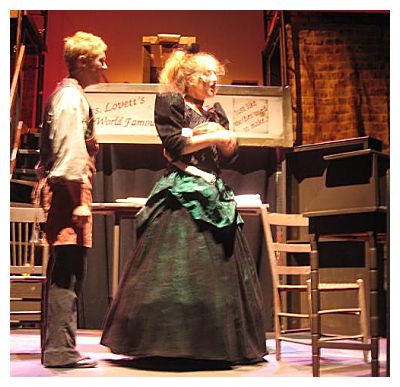 As if to contradict McKelvey's disclaimer to the audience on opening night, the technical team did a fiercely impressive job with the show. Joe Carpenter's design filled up the Rollins Theatre and still kept the action intimately close to the audience; costumes by Pam Friday were well conceived and lighting by Jennifer Rogers functioned without a glitch. There was a bit of fumbling when Fletcher demonstrated the meat grinder to her shop boy Tobias Ragg (Reno Bostick), but with a deft adjustment by the actors, the contrivance began threading out its horrific, glistening product with more than sufficient authenticity.
The complexity of the music, the pace, the color and the assurance of this cast were dazzling. This is as good as any keen professional production. They re-established my opinion of the show. I had gone to see it, unaware in advance of the content, in a small Chicago theatre some years ago, and found it a delight. Last year I took my wife to a mid-day showing of the film with Johnny Depp, and we both staggered out acutely depressed into the afternoon light. Director Tim Burton is a conceptual wizard, but his ghoulish, graphic obsession with filth and destroyed flesh ruined Sweeney Todd for me.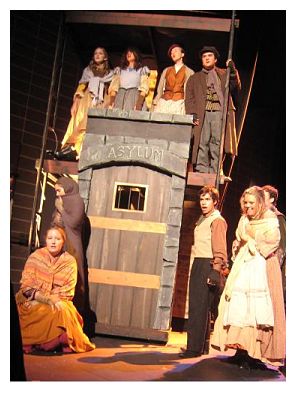 This production puts the concept, the characters and the music back where they should be: in the world of ideas. McKelvey, his cast and his musicians keep those razors glinting in the lights of the theatre, precisely defining for us innocence, guilt and retribution.

Highly recommended.
Review by Clare Croft for Statesman's Austin360 "Seeing Things" blog, July 31
Review by Elizabeth Cobbe for the Austin Chronicle, August 6
Review by Ryan E. Johnson at examiner.com, August 13
KXAN story on SummerStock Austin, July 28
EXTRA
Click for program from Sweeney Todd
Hits as of 2015 03 01: 2529
---
Sweeney Todd
by Stephen Sondheim
SummerStock Austin
July 30 - August 09, 2009
Rollins Theatre
Long Center
701 Riverside at South First,
Austin, TX, 78704