Review: Sleuth by Gaslight Baker Theatre
by Michael Meigs
I continue to be impressed by the craft and love of theatre of the Gaslight Baker Theatre, which is "putting the art in Lockhart."

The broad two-story set installed in the former movie theatre on South Main Street is nothing less than epic, with columns, French doors, a working staircase, a billiard table, meticulous set decoration and furnishings that look authentic and very pricey. The production staff once again mastered that huge expanse of stage and created a world for the actors.

Anthony Shaffer's Sleuth is a witty, malicious cat-and-mouse game. Shaffer pits the urbane, rich amoral Andrew Wyke against Milo Tindle, a much younger first-generation, barely-white-collar Brit who is carrying on an affair with Wyke's wife. She never appears. Except for the intrusion of various policemen, this play gives us a lengthy two rounds of games playing and deception, in which Wyke's effete British sense of property, puzzles, games-playing and "fair play" arouses the Italian sense of vendetta inherited by Tindle from his Italian watchmaker father.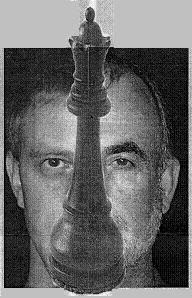 Andrew Wyke appears initially as an amiable host with a courteous, warbling manner, whose avocation is writing Agatha-Christie-type detective stories. Steve Lawson (half visible, right of the chess piece) has an appropriately off-hand, fuzzy manner as he receives the uneasy Tindle at his deserted mansion, from which the servants have been dismissed for the weekend. Andrew puts smoothly into play a lengthy, cruel and elaborate game that lures Milo Tindle with prospects of money and a clear path to romance with Andrew's wife. Todd Martin (half visible, left of the chess piece) as the hapless Milo moves from unease to companionable conspiracy to resentful anger and fear for his life. Though Andrew has control of the situation, our attention is captivated instead by Todd Martin, who plays his lines with the vigor and desperation of a tarpon hooked on the open seas.

Before Act One ends, a safe is blown with an impressive bang and flash of fire, Milo winds up in a clown costume, and three shots have been fired, the last one as a coup de grâce.

Act Two, set two days later, gives us the investigation of those events, initially by the terse, moralistic Inspector Doppler (Henry Martin). Tables are turned, with a literal vengeance, and we witness the inexorable reduction, in turn, of the smug Andrew Wyke to a lonely and ridiculous man without hope.

This act contains further surprises and about-faces; since Sleuth has twice been produced as a film, audience members may not be as surprised by them as I was. I did see the 1972 version in which Laurence Olivier as Wyke tormented Michael Caine as Milo, but all I remembered, 36 years later, was the sense of duplicity and cunning, not the details of the plot. Lockhart audiences may, on the other hand, have seen Kenneth Branaugh's filmed version from last year, with screenplay by Harold Pinter, in which Michael Caine played Wyke and Jude Law was Milo.

I followed the action intently and I was appropriately misdirected, surprised, and satisfied by this production. Congratulations to the actors and to the company for taking it on. I will continue to make that 30-mile trek down to Lockhart to see what they are doing in theatre.

Shaffer's plot remains a sizzler. Time and changes in custom have altered two key aspects of it, however, and these are dimensions that we as Americans probably have never entirely understood.

The confrontation between the two men is fueled by class, and it is relentlessly reinforced by accent.

Class distinctions were real and always present in Britain in 1972. Shaffer parodied Wyke the aristocrat by tying him to the unreal world of mannered whodunnits, and Wyke inevitably dismissed and despised Milo as a penniless, hopeless son of immigrants. In turn, the viciousness of Milo's reply embodied the deep anger of the working class and of the struggling middle class. Those were pre-Thatcher days; they were, certainly, well previous to the successes of, for example, Sir Richard Branson.
Those deep class differences were telegraphed by accent. The upper-class or "U" accent marked superiority, to the extent that middle class families paid enormous tuition bills to send children to boarding schools where their most striking acquisition was the "U" accent to replace their maternal "non-U" manner of speech. The wonderful variety of expression in the United Kingdom – stemming both from region and from class – was systematically suppressed. For example, not until the late 1980's did the British Broadcasting Corporation begin to allow "non-U" newscasters or reporters onto the air. Even today, "non-U" accents can be wielded as political clubs in British discourse.

Cockney Michael Caine as Milo Tindle was perfect casting. Caine as Wyke? (Note to self: rent that 2007 version from Netflix!)

Only the best-voice-coached and most adaptive non-British actors can mine those particular fields. We Americans are not classless, but the class differences of Sleuth are fundamentally alien to us. And our accents are mostly regional or ethnic.

Gaslight Baker's lead actors Steve Lawson and Todd Martin employ sort-of-mid-Atlantic UK accents, but theirs don't have the meaning or bite of those in a British production.

And in that connection, I was initially appalled by the Irish-leprechan-begorrah accent used by Inspector Doppler (played by Henry Martin). Wilshire, the locale of Sleuth, is closer to London or Bristol or Cardiff than to Dublin or Cork. But a plot twist appeased me on that score.

The good inspector may well have been pulling someone's leg.

Internet Movie Database on Sleuth (1972) and Sleuth (2007) (note: Spoilers!)

---
Sleuth
by Peter Shaffer
Gaslight Baker Theatre
October 23 - November 08, 2008