Review: Sacred Space by Exchange Artists
by David Glen Robinson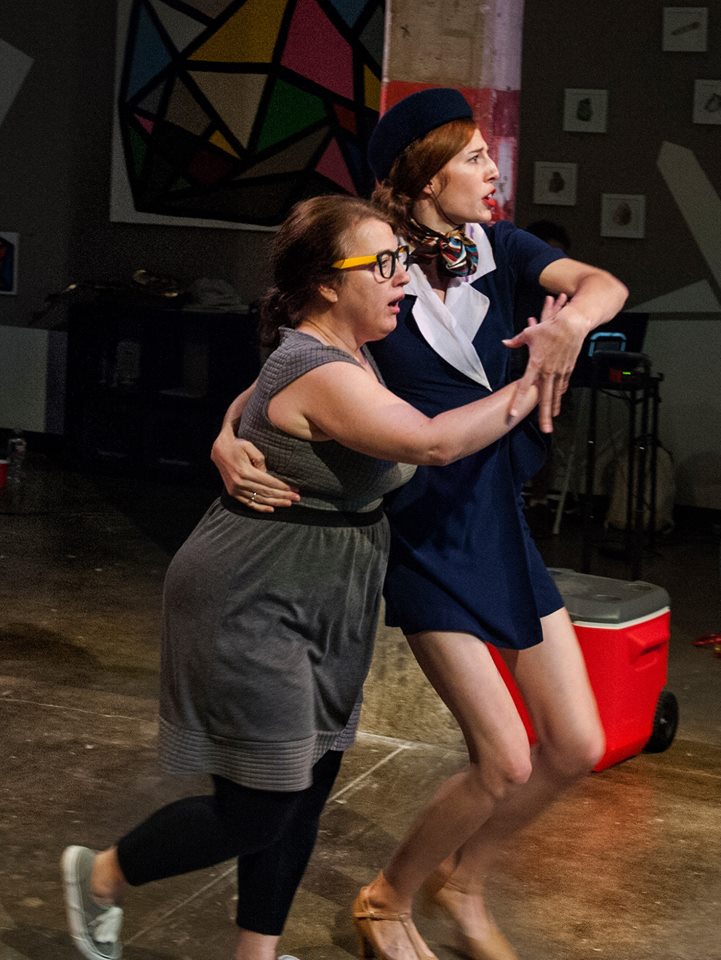 Exchange Artists have brought another highly creative, original production to Austin. Sacred Space has just finished up its single weekend in performance at the Little Pink Monster Gallery in the Canopy arts complex in East Austin. The show, very much under the radar, offers a showcase for devised and improvised work. At the same time, the show is partly scripted, the credit going to Rachel Weise and Katherine Craft, the co-artistic directors of the company.
Sacred Space is, for Weise and Craft, a form-bending departure from earlier work, such as the award-winning "The Man Who Planted Trees." Much of this change has been effected by the addition of musical collaborator Allyson Lipkin, a multi-instrumental composer seemingly always discovering new musical territories. After Sacred Space, one hopes there will be many more collaborations between Lipkin and Exchange Artists.
The actors performed in dance as the base of the show, with acting and dialogue sections showcased within it. This structure is a reversal of the usual multi-form drama/dance presentation. The actors stretched so willingly this way under Rachel Weise's choreography/direction are Zac Crofford, Karina Dominguez, Bridget Farr, Anne Hulsman, Vanessa Marie O'Brian, and Zac Thomas.
Karina Dominguez was an immediate standout, seemingly liberated in this shuffling of forms. She was, as ever, deft in her movements and clear in her dialogues. She shows a strong transition from her equally strong narrative character in Exchange Artists' "Circle the Wagons" (Awards. Awards).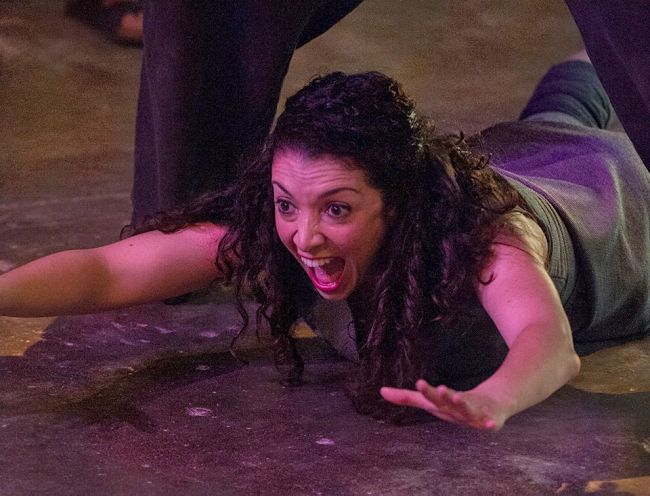 The cast danced and shared ideas on the prospects of an afterlife, and then the Flight Attendant appeared, played by Bridget Farr. She dragged away the focal pilgrim, Anne Hulsman, on magical realist travels around the world, including cross-country skiing over the Himalayas and bare-knuckle rock climbing across the windows outside the gallery. If life is a journey, go now. The brief show notes call it "the journey of human development from infancy to death, and all of the many ways and places wonder can find you."
The cast showed us a lot of ways and places, and Lighting Designer Stephen Pruitt creatively transformed the space with his lighting sets, particularly the underwater temple.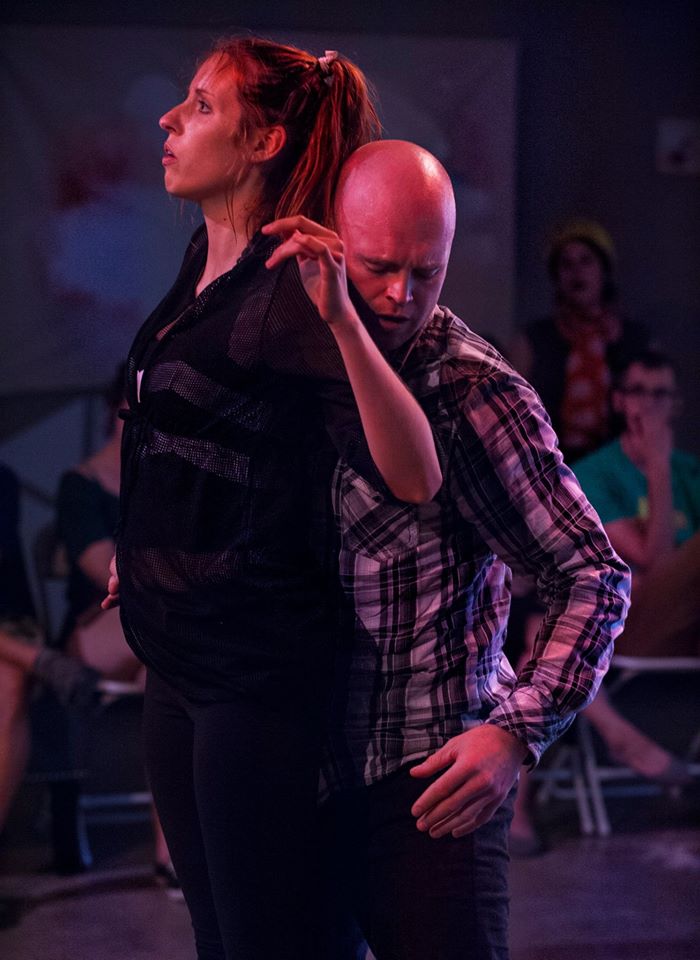 Bridget Farr was especially skilled as the multiply refracted Flight Attendant/corporate robot/avatar of Hermes/avatar of Ganesh. Farr holds character in an unbreakable but relaxed grip. Her flight attendant's 100-watt smile never dimmed, but at times a flicker of eyelashes revealed an internal shift to a furious rage—or something else—usually followed by the meting out of various passive-aggressive punishments well-known to airline travelers.
The luminous fish that granted wishes in the underwater temple swam in our imaginations as an image created in narrative text. But when we actually arrived in the temple, lo, Vanessa Marie O'Brian swam out as that very fish, goggle-eyed, luminous, and mouthing the letter O silently. Our Pilgrim raced to formulate the most profound wish request of all time. How the fish grants the wish has to be seen to be believed. Aaah. Sorry, it's gone.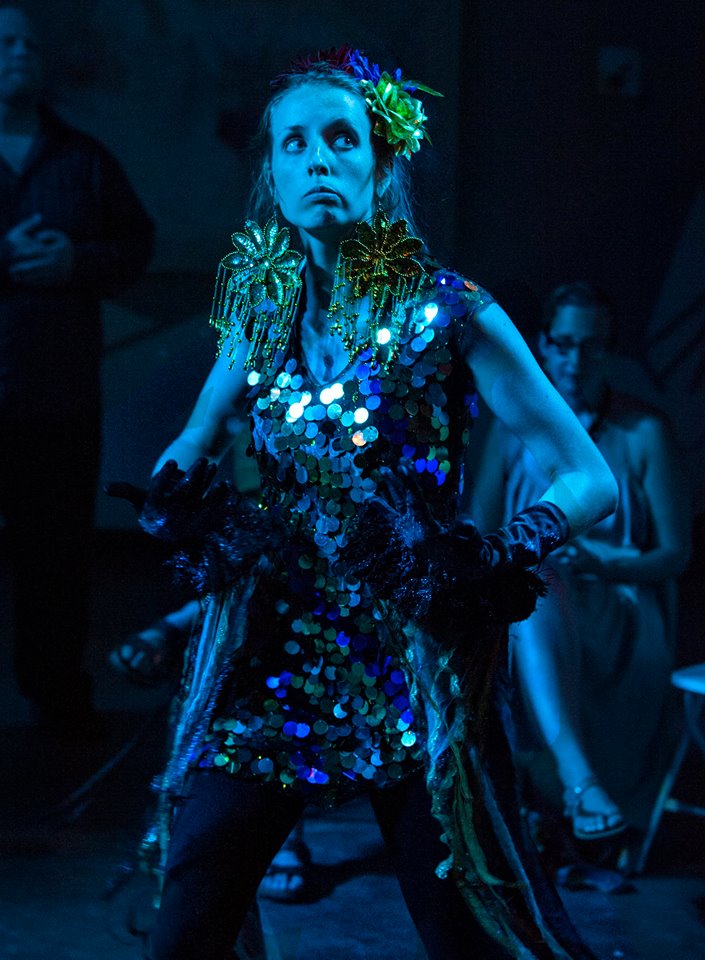 Theatre-goers must, for greatest satisfaction, keep the somewhat elusive but immensely rewarding Exchange Artists on their radar. Exchange Artists posts its upcoming shows (1-2 per year) on its website, exchangeartists.org.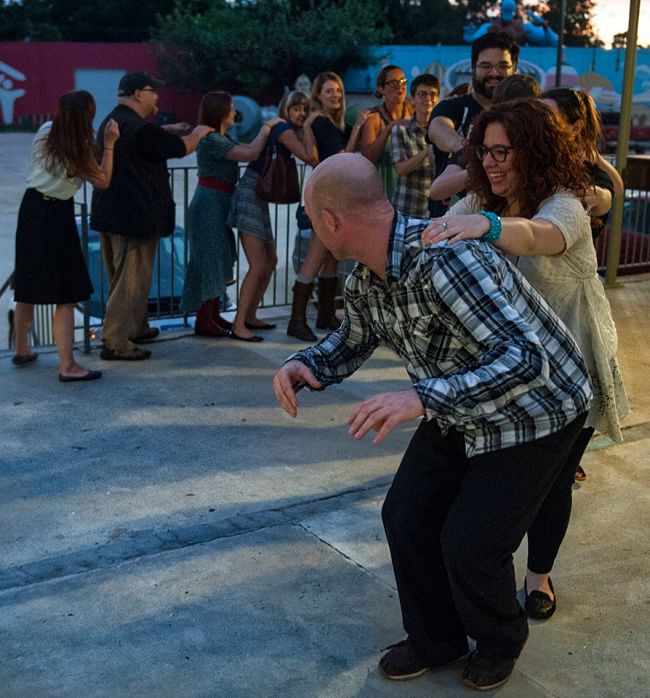 [Cover image on CTXLiveTheatre front page: Zac Crofford and Karina Dominguez, by Jerry Milton Photography)
---
Sacred Space
by Allyson Lipkin and the Exchange Artists
Exchange Artists
Friday-Sunday,
June 26 - June 29, 2015
The Exchange Artists and Allyson Lipkin, aka DD Dagger, bring you Sacred Space, an original performance of theatre, movement, and music running Friday through Sunday, June 26 – 28.
Dates:
Friday, June 26. Performances at 8:00 and 10:00 pm
Saturday, June 27. Performances at 8:00 and 10:00 pm
Sunday, June 28. Performances at 6:00 and 8:00 pm
Location: Little Pink Monster Gallery at The Canopy: 916 Springdale Road, Building 2, Gallery 103, Austin, TX 78702. The performance will take place surrounded by the gallery's show, Superprism Phenomena, featuring drawings and paintings by local and international artists.
Tickets: Buy tickets online at www.exchangeartists.org, or reserve tickets by calling (508) 733-3001. Tickets are $10 plus fees, for a total of $11.34 via