Review: Orestes by Cambiare Productions
by Michael Meigs
Hidden Treasures from Afghanistan's National Museum are now on exhibition at New York's Metropolitan Museum of Art, the last of several stops in a 15-month tour of the United States. I caught the exhibit in Washington DC last year, but you may have seen it this spring in Houston.

A haunting diorama of a barren Afghan plain shows how the unimaginable golden treasures were preserved in hidden subterranean vaults for thousands of years, even as the fabulous palaces of antiquity above them were torn down for re-use as construction material.

I had hoped that Will Hollis Snider's Orestes would offer us reworked antique treasures, but he provides instead an empty, echoing structure constructed from the pulled-down palaces of Greek myth.

The structure is not entirely barren. One clever touch is to convert the ravaging Erinyes or Furies from avenging spirits to fantasms of Orestes' mind, embodying the murdered -- his sister Iphigenia, sacrificed at Aulis by their father Agamemnon; Agamemnon himself, murdered by his wife, their mother Clytemnestra, upon his return from Troy; and Clytemnestra, whom Orestes has just killed, on instructions from the god Apollo.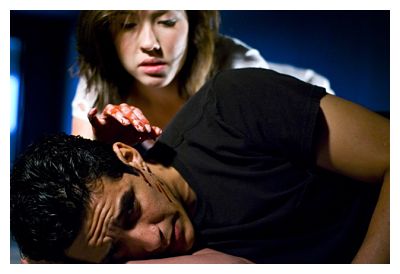 Gabriel Luna as Orestes spends most of this play raging at the very absent Apollo and trying to figure out how he got into the mess. Snider has shuffled the scenes like cards in a short deck, so his story emerges piecewise. Molly McKee as Sister Electra has a fine stage presence but gets little to do other than to stand by, urging Orestes to get a grip and to flee. We learn that an assembly of the people has condemned him to death by stoning, conveniently giving him until daybreak the next day so that he can get his affairs and the play in order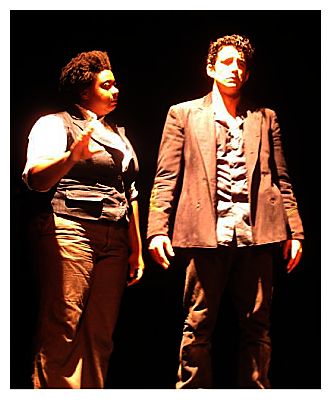 LaTasha Stephens is minted as The Voice of The People, authenticating their indignation and quite replacing the judgment of mythology in which godly intervention broke a tied verdict and set Orestes free.
Some elements from the classic background are represented in good dramatic form. Derek Kolluri as Agamemnon and Steffanie Ngo-Hatchie as daughter Iphigenia enact the father-daughter date at Aulis about to go wrong, much to the father's distress and to I's dismay. Luna as Orestes confronts Karina Dominguez as his mother Clytemnestra with the hot debate about the moral dilemmas of his intention of avenging Dad's murder, effectively examining the deep and irrevocable choices of the ancient plays: is one ever licensed to murder the woman who gave one birth? Is a wife ever justified in killing her husband? What authority can sanction the breach of such deep taboos? What reprisal awaits those who transgress?

Snider is more interested in the earth-bound issues of choice, failure to challenge conventional wisdom, and the denial of responsibility, all firmly in a world without gods or shared ethics. There's not a hero in sight. Orestes is in a froth throughout, calling for Apollo or for his Uncle Menelaus or by all the heavens anybody at all to give him escape. Though he asserts that his murder of Clytemnestra was done on Apollo's authority, we get scant detail on how he got that message, a fact that invites us to conclude that he was just following an impulse. Innocent by reason of temporary insanity?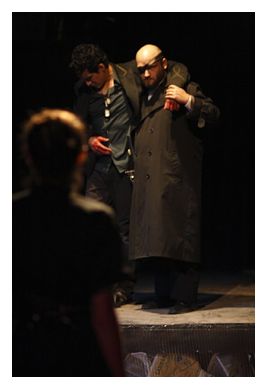 The language is 21st century colloquial, and what poetry survives is that inherent in the terrible events of the original plot. Sister Electra repeatedly asks her brother, "Are you okay? Are you all right?" and in response to their appeal for intervention, wicked aunt Helen says, "I'll see what I can do." Arguing for Uncle Menelaus's help in saving his skin, Orestes points to sis and says, "I'm all the family she has left!" And when Orestes apologizes for getting too upset with Uncle, the tight-lipped Travis Bedard as Menelaus turns his back with a curt, "No harm done."

The director has pushed Gabriel Luna as Orestes to such energy and desperate volume that the character becomes tiresome well before he resorts to the expedient of kidnapping Aunt Helen and holding her hostage (no, this does not occur in the myths or in the Greek dramas -- and there are further nontraditional surprises to follow). Smaranda Ciceu as Helen is cool and courageous.
Relatively late in the action we are given a respite from Orestes' pleading with a flashback to the brothers Atreus at Aulis. This lower-pitched but emphatic scene may be magicked up by the still and eternally absent Apollo, because we see Orestes take a role initially as a warrior-messenger to his father Agamemnon, accepting a parchment from the leader, and then as an unseen witness to a confrontation. There is a believable bond and credible tension between the two brothers. Menelaus has that letter in hand and with granite conviction argues his elder brother into tearing it up and buckling under to the necessity of sacrificing his daughter. No oracular authority is cited as justifying the sacrifice. "You have no choice!" is Menelaus's remonstrance. He warns that the army and people, having swallowed the necessity for the expedition to Troy, are capable of revolt and violence at the leaders' least sign of a lack of resolve.

Playing the Dick Cheney of the piece, Travis Bedard as Menelaus is determined, convincing and without remorse. The plot would have been better served if Snider had brought him on much earlier in the action, for Menelaus is the grown up here and his bloody response to his hysterical nephew directly shapes the ending of the play.
This is a gifted cast. I especially admired Gabriel Luna's concentration and his insane energy.
The program promises "a talk-back with the writer/director and the cast" immediately following the performance, but this promise was not reinforced in person either before or after the production. Part of the Friday crowd hesitated politely, willing to engage, but the stage stood dark, so we filed away into the evening.
Review by Claire Canavan on the Statesman's Austin360 "Seeing Things" blog, August 4
Review by Avimaan Syam in the Austin Chronicle, August 13
Review by Ryan E. Johnson at examiner.com, August 14
Review by Dan Solomon at austinist.com, August 14
Jacob Coakley of Theatre Directions magazines summarizes discussion with Travis Bedard and Will Hollis Schneider about rehearsal process, November 4
Travis Bedard on theatre critics and critiques: "Take Your Lumps -- and LEARN," August 20
Travis Bedard on actor benefit night: "Good Ideas and Good Beginnings," August 3
Insite magazine interview by Brian Paul Scipione of adapter/director Will Hollis Schneider, August 2009 edition
Robert Faires of the Austin Chronicle interviews adapter/director Will Hollis Schneider, July 30
Statesman's Jeanne Claire van Ryzin interviews adapter/director Will Hollis Schneider, July 30
KUT-FM's John Aielli interviews Orestes cast, July 14
EXTRAS
Video clip from Orestes (Copyright © 2009 Will Hollis Snider)
Orestes from Cambiare Productions on Vimeo.
Click to view program from Orestes by Cambiare Productions
Hits as of 2015 03 01: 1444
---
Orestes
by adapted by Will Hollis Snider
Cambiare Productions
July 31 - August 15, 2009
Off Center
2211-A Hidalgo Street
near Robert Martinez and E. 7th Street, behind Joe's Bakery
Austin, TX, 78702