Review: Body Awareness by Hyde Park Theatre
by Michael Meigs
Annie Baker's Body Awareness is a well crafted, attractive little comedy with lots of heart. I hadn't really expected that, for the Hyde Park style is more often sardonic, grimly humorous or menacing. After all, director Ken Webster had been using a publicity shot of the cast in which they looked as if they'd been arrested by the Austin Police Department at a wild party.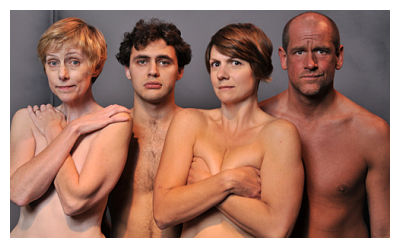 Because of a trip out of town, my first chance to attend was the Thursday night of week three. That's usually a quiet night at any theatre here, but Body Awarenessboarded like an airliner, accommodating wait-listed passengers. Word had gotten around.
The theatre's promo video sets the characters vividly, so I knew that Stephen Mercantel as Jared was an in-your-face young man frustrated with the world, not in small part because everyone insists that he has Asperger's syndrome -- an inability to empathize or adapt to social conventions, so that he's always asking difficult questions and making observations that come across as unfeeling or cruel. The video captures some of Baker's cleverest turns exploiting that social inability, when Jared is trying to get information about sex and sexuality from adults who are acutely uncomfortable with his questions.
But Baker's play doesn get stuck there, as a TV situation comedy might get stuck exploiting a single character trait or situation. Instead, she succeeds in giving Jared an unlikely appeal and depth. He's enchanted with words and their etymologies; he is reading the Oxford English Dictionary line by line in hopes that someday, despite his lack of formal education, he might become a lexicographer. His unkind, probing questions about human relations and sex arise not from indifferent observation but because he has a deep need to be liked and appreciated.
The real joke, and the one that makes this such an appealing play, is that the adults around Jarred don't have very clear answers to any of his questions. His mom Joyce (Katherine Catmull) is a high school teacher, survivor of a disastrous marriage. We don't get much of that background, but we do learn that Joyce is tentative about herself, her appearance, and her current relationship. Her partner Phyllis (Emily Erington) clings to identity as an "academic" even though that means a minor position at a community college, where she's the uncomfortable organizer and emcee for "Body Awareness Week." Phyllis admits to the public, with an involuntary grimace, that "body awareness" is an effort to provide greater scope to what was previously anti-bulemia week.
Invited to the college doings is itinerant photographer-artist Frank (Kenneth Wayne Bradley), whose vocation is assembling a collection of photographs of very ordinary women of all ages who have agreed to pose nude for him. Jared's mom has offered Frank a room in their house for the festival week. Phyllis, not consulted, is offended, especially when she learns of Frank's photographic inclinations. And she's even more cheesed off when she thinks that meek Joyce is starting to fall for this guy.
As for Frank, here's a Ken Bradley I've never seen before: a bland, agreeable, new-age non-macho sort of fellow, an urban Buddhist from a Christian protestant background, with a syllable-perfect knowledge of the prayers for Shabbat. ("I was married for a long time to a Jew.") Phyllis, who's anything but a tough guy, conducts tart guerrilla warfare against this feel-good attitude. Joyce and Jared, in contrast, turn to him for counsel, and in both cases Frank provides them with gentle mush.
Who are our friends? Who are our lovers? How do we find them and what arrangements do we negotiate with them so as to stay safe and warm? Jared is eventually prompted to venture out beyond the cocoon of the house and the dictionary; Phyllis and Joyce explore, perhaps for the first time, themes of pique and imagined betrayal. Frank floats through with reflective questions ("well, what do you think about that?") and a kind aspect. And, inevitably, there's the opportunity and the threat of Frank's camera, mutely inviting self-revelation.
Baker brings the comedy from the characters and their dilemmas, and we develop concern and sympathy for each of them -- except, perhaps, for Frank, whose role is that of involuntary catalyst. The concluding scene is one of quiet magic, summing up our feelings for all of them and illuminated at the very last instant with a strobe flutter that mimics the flash on Frank's camera.
Lovely. I'm really looking forward to HPT's staging in July of Baker's Circle, Mirror Transformation.
Review by Spike Gillespie at her blog, April 9: "You MUST go see Body Awareness"
Review by Jeane Claire van Ryzin on Statesman's Austin360 "Seeing Things" blog, April 12
Audio with Mike Lee on KUT's "Arts Eclectic," April 12
Review by Ryan E. Johnson at examiner.com, April 13
Mention by San Francisco playwright Tim Bauer in his blog "Direct Address," April 22
Review by Avimaan Syam for the Austin Chronicle, May 6
Review by Bastion Carboni for Austinist.com, May 6
Spike Gillespie interview Katherine Catmull for the JetBlue travel blog, May 5
EXTRA
Click to view Hyde Park Theatre's program for Body Awareness by Annie Baker
Hits as of 2015 03 01: 3431
---
Body Awareness
by Annie Baker
Hyde Park Theatre