Review: Blackbird, by Hyde Park Theatre
by Michael Meigs
I am beginning to see the pattern now, and you'll just have to excuse me, as a newcomer, if the obvious has fallen upon my head.

The Hyde Park Theatre is an actor's theatre, intensely dedicated to the craft and to the challenge of the actor's art.

How else could one explain the production, back to back, of The Brass Ring and Blackbird?

This 75-minute one-act piece by the relatively young British playwright David Harrower brings together in a claustrophobic factory office two individuals with the scars of a suppressed history.

Ray (Ken Webster) spent 3½ years in prison more than a decade ago. He has been doggedly rebuilding his life since then, with a change of name and hard-won, underpaid management responsibilities at the plant. .

Una (Xochitl Romero) shows up unannounced, late in the day as the factory is shutting down, arriving to reawaken memories and turn over emotional compost in search of – something, we don't know what, and neither do they.

This is a duet that starts in amazement and panic for Ray.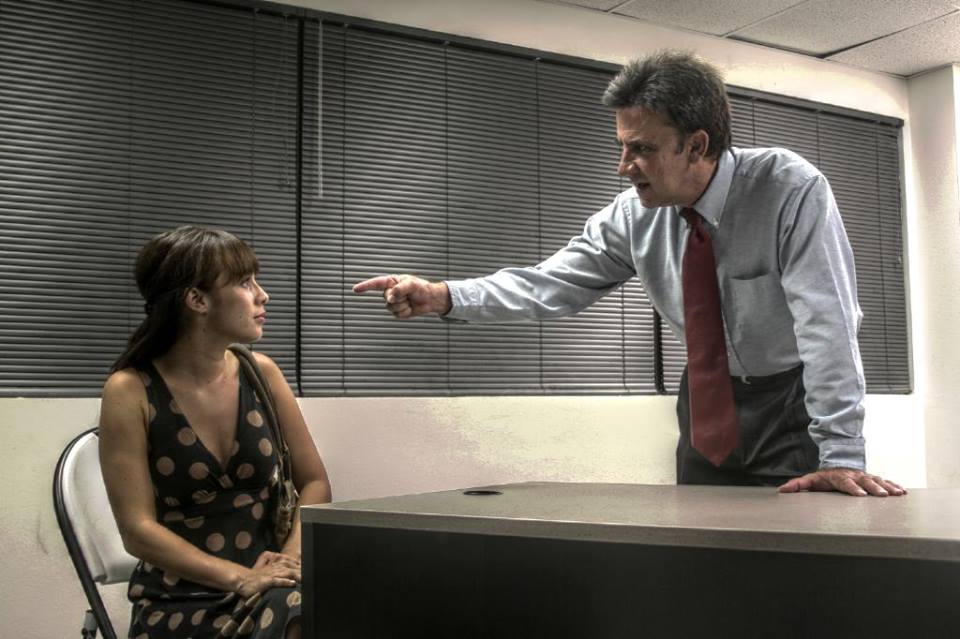 Harrower's dialogue crackles, and the two actors capture the disbelief, the distraction, and the surging emotion of it. We are led both into their present lives and into the tangled feelings that resulted in a crime.

The image above is a fine emblem of Ray's dilemma – clutching, desiring, and yet fixed upon the outside spectators to his dilemma.

It is less good for Una. This image suggests that she is a temptress, intent on sexual closeness. In fact, the young woman who disembarks at that grimy factory is plainer, intentionally so. We believe we can read her initial defensive-aggressive approach and her questioning. Having discovered Ray's whereabouts by accident, she is driving to understand events and feelings that shaped her life before she was of an age and understanding to do so, herself.

There is a virtually musical rhythm to this dialogue. Clash, stacatto, cacophony and speaking past one another, listening, interrupted thoughts, a sharp dig of angry humor, acknowledgment, intrusions from unseen shop workers, a frightening moment when the office is plunged in darkness and Ray leaves Una alone in the dim red glare of the emergency exit sign (pause – wait for it – a single syllable: "Ray?!?" – steps are heard outside – the lamps light once more. . . .yes, Ray has returned, he has not gone away).

Fragments of recollection and exchanged information about the present create the framework. And then Romero as Una has a long, long speech, a solo compounded of memory, desire, and childish confusion that stumbles, weaves, and crests as Ray sits at the table, motionless, with those same rigid features trying not to hear.

Mutual recriminations lead to small, focused revelations, and the rhythm builds once again. A last interruption, in the final minutes, snaps us and the dueling, courting duo out of their hermetic world.

Blackbird is a powerful piece of writing. Romero and Webster use every nuance and every syllable of it. They keep us so concentrated in the intimate space of this oddly shaped 60-seat theatre that we have trouble shaking ourselves free of them afterwards.

We do not particularly like the characters but we feel in them our own sense of fragile humanity.

Only two very gifted actors working with their equally gifted director Mark Pickell could have established that hold on us.

Arts Eclectic, KUT - - audio piece on Blackbird

Ryan Johnson's review on Austin.com

Spike Gillespie's review on Austinist.com

Joey Siler's review on Austin Statesman's arts blog, September 15

Elizabeth Cobb's review in the Austin Chronicle, October 3
---
Blackbird
by David Harrower
Hyde Park Theatre
Thursdays-Saturdays,
September 11 - October 11, 2008