Review: Atlantis, A Puppet Opera by Chad Salvata, Directed for Ethos by Bonnie Cullum, September 3 - 24, 2016 at the Vortex
by David Glen Robinson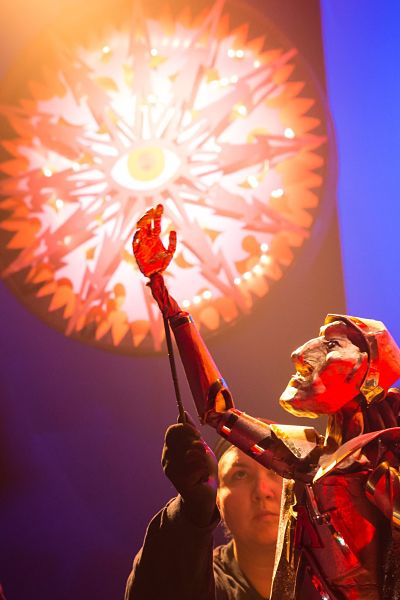 Atlantis: A Puppet Opera is without doubt the best musical theatre, or opera, or cyber-opera currently playing in Austin. Now is not the time to quibble over genres. Now is the time to throw down everything and rush to the Vortex to buy tickets, or online if you're not afraid of being hacked.
Ethos, embodied by Chad Salvata, the writer, composer and production designer of Atlantis: A Puppet Opera, specializes in original high fantasies set to music. This show may be the first Ethos production with action carried out by puppets. The opera singers voicing the puppets are also the puppeteers. And the story they sing is Earth's mythic ancient history, the tale of Atlantis and its long-rumored war with Lemuria.Hubris, anger, love, and loss collide in bursts of color and light and electronic music on the Vortex stage. This is an Ethos show, after all.
Chad Salvata has been composing electronic music for Ethos for many years. His music for Atlantis: A Puppet Opera strikes a heroic tone throughout, as we demand of high opera. In this show particularly, rhythm seems to carry more of the burden in giving variety and diversity to each succeeding scene, rather than the more traditional modulation via melody and other instruments. The show gives us sixteen songs, each very clear and distinct. The detailed synopsis of Atlantis: A Puppet Opera gives the song titles, and the penultimate number, "Annihilation Surge," has singularly memorable qualities.
The multiscale puppets of Atlantis are sumptuously garbed and full of surprises. These are qualities we associate with some other puppet companies in town, and, sure enough, Connor Hopkins of Trouble Puppet Theatre Co. receives a credit for puppet consulting as does Caroline Reck of Glass Half Full Theatre. Hopkins is also awarded a nod for puppet engineering. The other puppet engineer is Melissa Vogt of the Vortex, who is also the lead puppet constructor. Vogt's entry into puppetry is virtuosic, as is her singing. The puppets are multiscale -- the crowd puppets and ship crew puppets are less than half the size of the principals. This smaller scale opens up the space to make possible the naval and air battles called for in the libretto. The smoothness of presentation of each scene eases the mental "flip" required to tie the scales together. The more fascinated will find that seats in the forward rows allow them to catch and enjoy more more of the details of the puppets and vessels.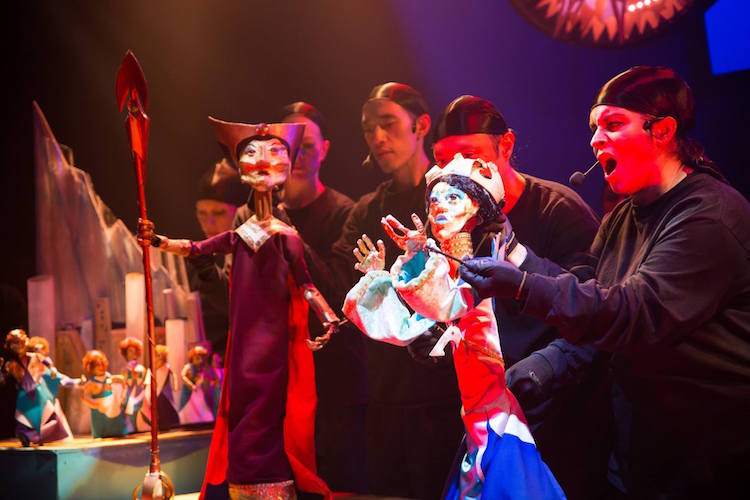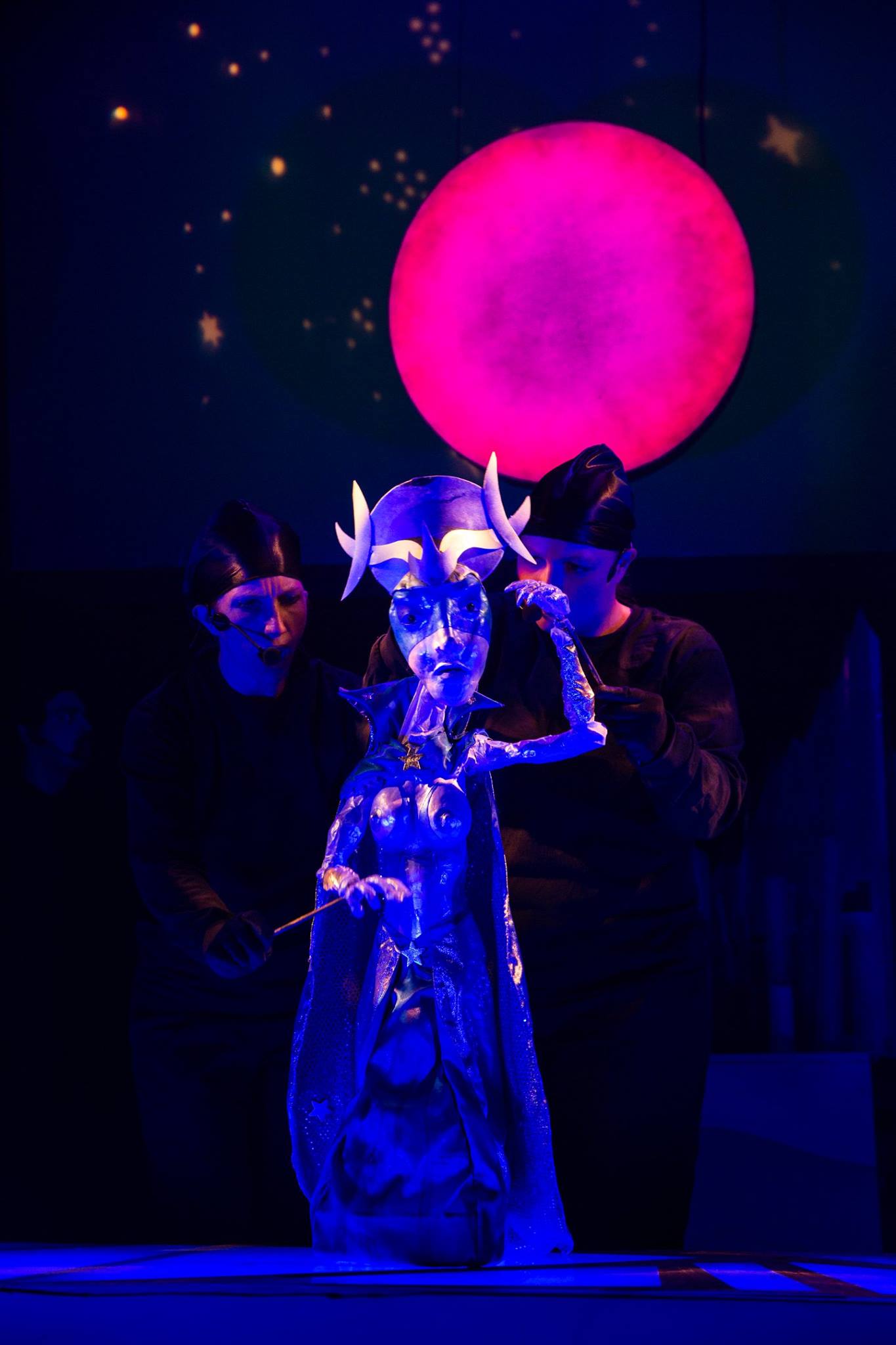 This show is strengthened by the very large number in the cast This is the best assembly of operatic voices in Austin since the Gilbert and Sullivan Society's The Gondoliers earlier this summer, and Atlantis includes Michelle Hache, who directed that show. She sings—marvelously—the voice of Solstra, Queen of Atlantis. Otherwise, it is the long-time Ethos crew singing the songs and manipulating the puppets, save for Betsy McCann and a few others. The group includes Jonathan Itchon, Eryn Gettys, Gabriel Maldonado, Justin LaVergne, Anderson Dear, and Melissa Vogt.Tenor Jeremy Moran is the newbie in the show, and he does a spectacular job singing Sun God, God of the Atlantians, and Kracken, Colossus Cyclops of Mermaidia. They all have operatic voices well applied and—who knew?—they can manipulate bunraku puppets with skill.

Great credit goes to Director Bonnie Cullum for directing this multimedia, original-verging-on-unique production.Cullum adds puppet direction to her long list of theatrical skills. She deserves yet another a lifetime achievement award for sharing her immense creative visions so extravagantly with the world. Atlantis: A Puppet Opera is one of her best; we hope there are many more.
Enabling theatrical design fields to tackle a work of high fantasy requires close coordination of diverse art forms; this coordination was achieved in Atlantis: A Puppet Opera. Production Designer Salvata brought together scenic designer Ann Marie Gordon with Jason Amato returning as a special guest lighting designer to create an intricately complex modular set of puppet tables, interactive backdrops, and props. The lighting not only had to direct the attention of the audience through the scenes; it had to achieve the fantasy effects called for in Salvata's libretto. Patrick Anthony supported all the design work as assistant lighting designer and master electrician. The designers realize the work beautifully.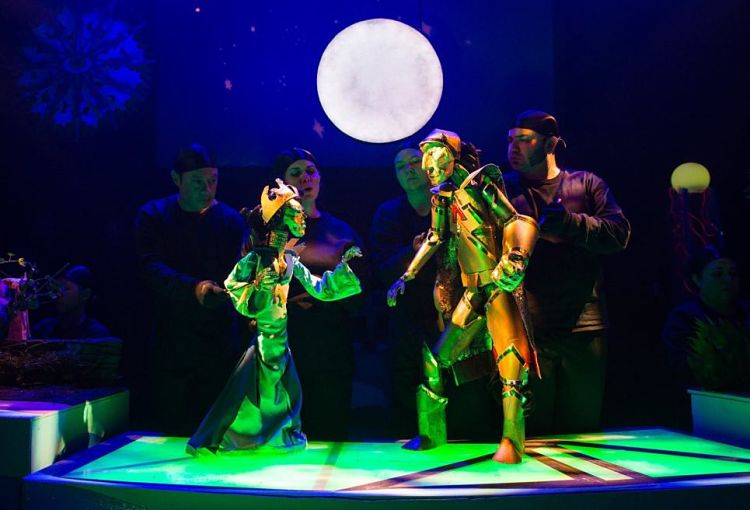 Against mature judgement, even today many in the United States persist in dismissing puppetry as childrens' arts and crafts. Adult puppet performance has proved itself over and over in our time and place. In Atlantis: A Puppet Opera, anyone with a grain of imagination will be launched on an absorbing imaginative voyage from the very first scene. The singing, lights, music, and monumental imagery merge and start swirling together, falling into a true vortex of art, imagination, color, and heart.
Ethos and Vortex Repertory Theatre deserve huge credit for their production of Atlantis: A Puppet Opera. They soar well ahead of the curve in two areas: (1) the linkage of puppetry and haute cyber-opera, in which they excel; and (2) their subject matter. The Western world's idea of Atlantis goes back to Plato. New documentary research in a field often derided as fringe science has brought forward facts indicating that Plato was being historical, not poetic, and that his information came from Solon, the lawgiver, one of the Seven Sages of ancient Greece.Solon received the story of Atlantis during his visit to the priests of the ancient Temple of Neith in Egyptian Sais, the Biblical On, the modern Heliopolis. The priests thought enough of that ancient story to engrave it on tablets on a pillar in the temple. They translated it for Solon.When they themselves may have received the story is anyone's guess. Research is ongoing. At the very least, the discovery of new facts about the Atlantis story is likely to renew it as a trend in pop science.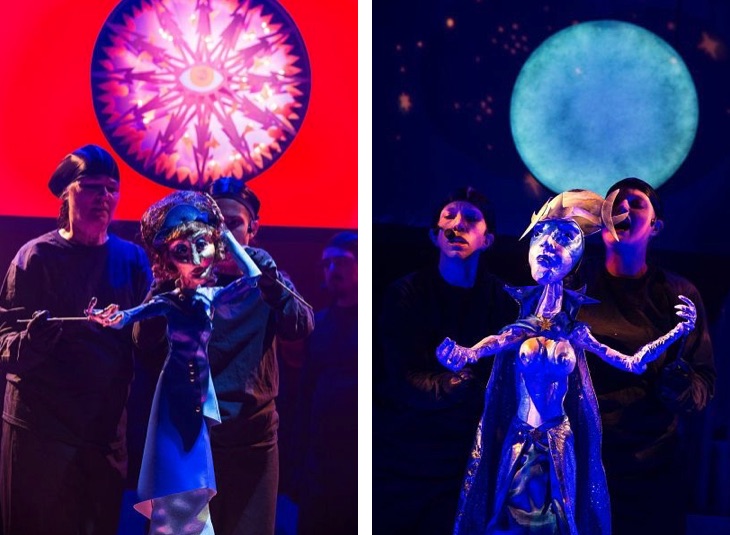 Ethos and Vortex Repertory Theatre have never missed a beat in their dance along the high road of fantastic myth and over the bridge to theatrical reality. Atlantis: A Puppet Opera shows their ever-closer approach to perfection of technique in presenting dauntingly complex and imaginatively satisfying theatre. This show is a must-see, highest recommendation for ages twelve and up, and you might want to see it twice in order to take it all in and follow all the nuances of the story. It's that good. Plus it has another world-class lighting design by Jason Amato, and he doesn't live here anymore.
Atlantis: A Puppet Opera runs from September 3 to 24, 2016 at The Vortex, on Manor Road in east Austin.
---
Atlantis, a puppet opera
by Chad Salvata
Ethos
Thursdays-Sundays,
September 03 - September 24, 2016
September 3 - 24, 2016 8 pm
Live Streaming on Howlround.com/tv Friday, September 16
American Sign Language (ASL) Interpreted Performance TBA
Where: The VORTEX, 2307 Manor Rd. Austin, TX 78722
Free Parking. Bus Route.
The Butterfly Bar @ The VORTEX opens nightly at 5pm with full bar and hand-crafted cocktails.
Patrizi's @ The VORTEX opens nightly at 5pm with delicious homemade Italian food.
Tickets: $10-$30
$30 Priority (Seated first)
$20 General
$10 Discount (Seated last)
While Atlantis is intended for adults and contains some puppet violence, older children may attend. Limited Seating. Advance Reservations Strongly Recommended.
www.vortexrep.org or 512-478-5282
Radical Rush Free Tickets:
Limited free tickets for each performance in the spirit of sustainability, accessibility, and the gift economy. Radical Rush tickets released at 7pm each night--in-person only.
2-for-1 admission Thursday and Sunday with donation of 2 cans for SafePlace