Two CTXLT Reviews: DEATHTRAP by Ira Levine, Jarrott Productions
by David Glen Robinson
Death Trap is well-regarded as a model murder/thriller potboiler with plot twists and reversals presented to the audience at every peak of its impressive dramatic action. Of great enjoyment is the fact that in all the excitement, the play takes its time. Contrast that pacing to stand-up comedy's effort to deliver a punchline every six seconds. Still, the stage is strewn with many bodies after just two and a half hours playing time. What's less obvious is the revelation of who is the monster out of the Connecticut forests and who is not.
Ira Levin is justly famed for Rosemary's Baby, and Jarrott Productions' staging of his Deathtrap stays true to the spirit of dark comedy, making many, including this reviewer, embarrassed at their own laughter at the drolleries conjured amid death, murder, and brutality. Not enough schadenfreude, one supposes. Many of the audience's responses and laughs were of the nervous, chirpy kind.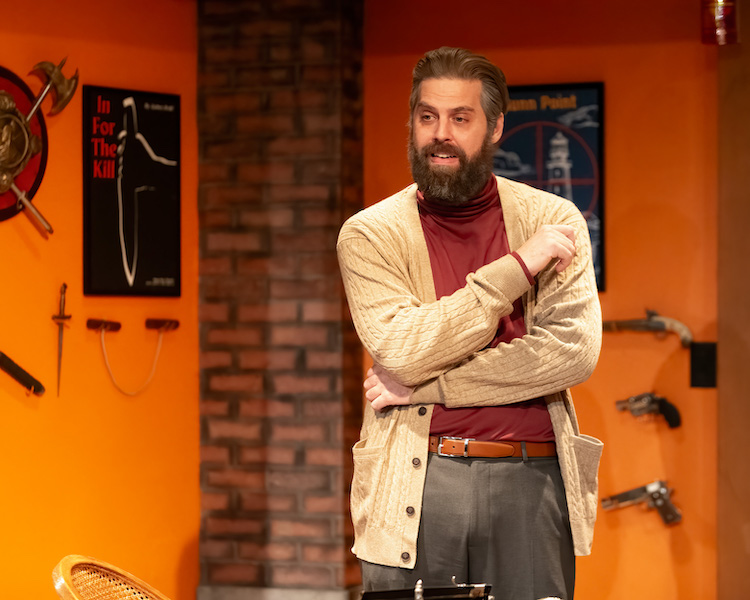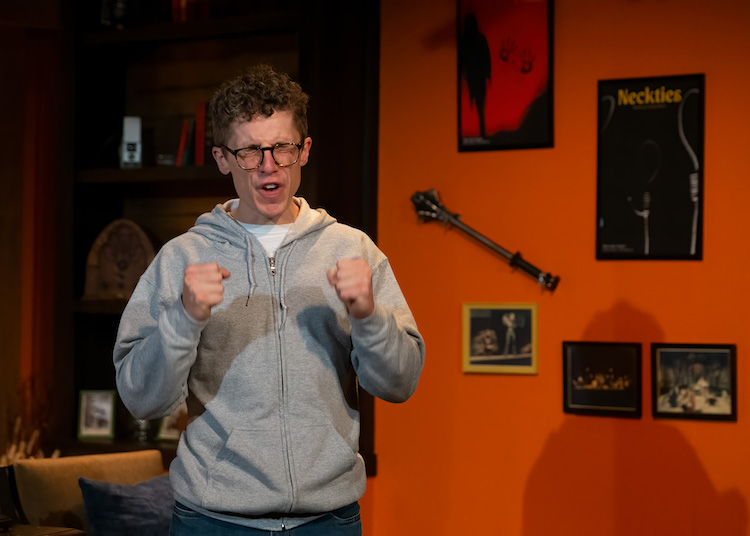 And what of the play? It takes place in high-dollar Westport, Connecticut, on a single set, the writer's den of playwright Sidney Bruhl (Devin Finn). He writes murder-thrillers, but inspiration has fled. Royalties from his successes have dwindled, and all that's left is his supportive, submissive wife, Myra (Natalie D. Garcia). Revealed in Levin's brilliant writing is the subtext of Bruhl's plot to steal a very good play entitled Deathtrap. The author is Clifford Anderson (Kyle Irion), Bruhl's talented protégé. Bruhl intends to kill him and bury him as a coverup. Direct dialogue on the ability and motivation to commit murder is thoughtfully abundant between the Bruhls. Visits by the psychic Helga Ten Dorp (Janelle Buchanan), new resident of the cottage down the road, never address the topic of murder, only her sensing of great pain and violence in the room. The dialogue and the murder weapon collection displayed all around the walls of the den set this kettle of murder a'boiling.
The play-within-the-play-about-the-play is a metatheatrical subtheme of shining bravura and quite possibly a display of Ira Levin's hubris. The playwright seems to sneer in Ivy League hauture: I can do this, can you? Several characters refer to protégé Anderson's Deathtrap manuscript—"brilliant," "an impressive effort," "sure to be a bestseller"— and hint that it's valuable enough to warrant theft and murder. Was this an extended act of writing magic?
Premiered in 1978, Deathtrap, the real play, ran for four years on Broadway and three years in London. It was turned into a movie and has been produced under license in North America ever since. This is the seventh staging recorded by CTXLiveTheatre, and another's scheduled at the Point Theatre in Ingram this coming March. Apparently, Levin didn't have to murder anyone to gain that level of success. Or perhaps his coverup was the perfect crime?
The self-reflexive quality of Deathtrap turns into a strong sequence of frame bending. In Act I, two characters discuss the conflict and fight between two characters in Act II of the Deathtrap manuscript. In Act II of Deathtrap they engage in that very conflict and that violent struggle. This sort of literary reality-making, time- and space-warping absorption has been rarely witnessed by this reviewer since John Fowles' The French Lieutenant's Woman (1969). In that novel, Fowles pulls a character model out of Dante Gabriel Rossetti's Pre-Raphaelite paintings and seats her on a train. As she takes the train ride, she looks up suddenly, seemingly into the eyes of the reader. She asks why we are looking at her and then makes a few comments about her motivations and direction. As that point in the novel we know something of her character and aims, but not everything. She travels on; we read on. In Deathtrap, the mirror turned inside out reveals nothing about character that hasn't already been revealed, though a few surprises remain.
The play captures a certain essence in the character of Sidney Bruhl. It's not that Bruhl is a vain Ivy League asshole. That is too apparent. The essence is that the peak of Ivy League snobbery is being able to mock oneself viciously without losing one's condescending superiority over all around one. Even when one is a murdering beast. And that is the essence of Devin Finn's characterization of Sidney Bruhl. Kudos.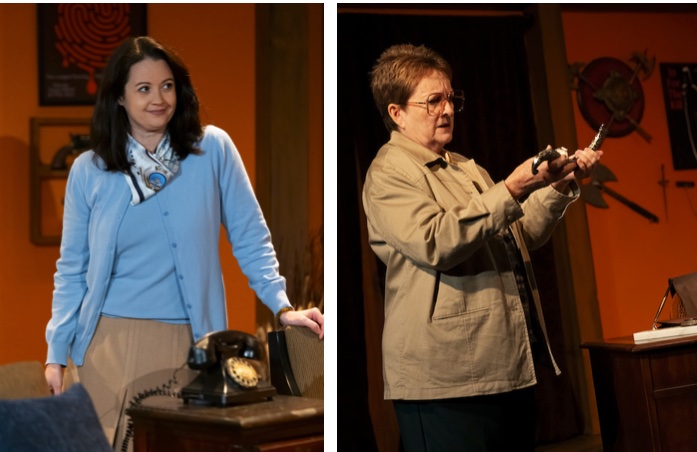 Janelle Buchanan plays Helga Ten Dorp, the out-of-control Dutch psychic. She writes the action on the wall of the paranormal, keeping the characters on edge even when she gets many of her portents wrong. The character is brilliantly written by Levin, and Buchanan never falls out of her bent Dutch accent. As always, Buchanan builds the interest and color of her characters with understated talent and stagecraft. In Deathtrap she creates delicious moments by standing downstage center, eyes closed, finger in the air as the rest of the cast stares at her, trembling. Kudos to Buchanan and to director Dave Jarrott.
Natalie D. Garcia as Myra the supportive wife supports the entire play. She's a model of the passive, intimidated wife who wants only to ride to prosperity on her husband's successes. She is full of encouragement. Garcia doesn't under-do her passivity; she speaks out forcefully from her well of fear at a time of extremity. She is largely responsible for evoking the atmosphere of dread and impending predation. Garcia has created perhaps the most contrastive character of her career to date, standing strongly apart from such characters as the neo-goth queen of Significant Other and the rebellious, gum-chomping daughter of The Pact. We know she ain't done yet and look forward to the next.
Kyle Irion's Clifford Anderson is a model of shapeshifting. We don't quite know how he does it with his raw-boned All-American-boy looks but we appreciate the results. His physical performance, achieved by intricate collaboration with director Jarrott and fight director Tobie Minor, is especially impressive.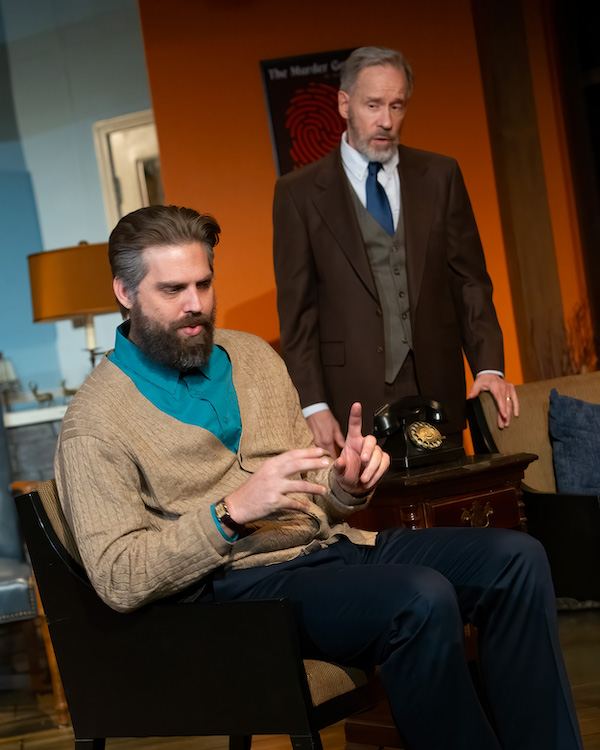 David Kroll is lawyer Porter Milgrim, tasked with explaining the show-and-tell of obscure corners of the plot. He does this quite clearly. Although it's vaguely alluded to earlier in text, Milgrim eventuallnforms us that the property is in Myra's name and there's a high-value insurance policy. At last we learn that Myra isn't sucking on Sidney's teat for her existence; rather Sidney has actually been sucking on Myra's teat for his. Later, Sidney Bruhl lies to Clifford Anderson that the property and policy were of low value. This clue could be a harbinger of the end of the play or might be a red herring.
David Jarrott performs yeoman work in his directorial work. The blocking has to be very clear throughout, especially in the strong action scenes. Whenever the violence became physical, making it the purview of fight director Tobie Minor, the actors were always in the proper marks to fight it out in the restricted space without knocking over bookshelves or wall flats. There's great skill in that, and the action was well prepared and performed on opening night . To this reviewer's perceptions, there was only a single distracting miscue, at the beginning of Act II.
The deep set designed by Steve Williams was richly adorned with the wealth of Connecticut suburban gentry, not to mention the bizarre weaponry and torture devices on the walls. The set was well-functional for the high-action play.
Deathtrap is perhaps an early exemplar of the dramaturgical cliché, increasingly typical of the 70s and 80s, of the one-set, two-act, five-character piece. The imaginary playwrights in Deathtrap boast of writing flawed, shallow versions using that model. And of course, that is what Deathtrap is, though it's of significantly higher quality. Levin displays his arrogance by mocking his own cliché-loaded genre in approved Ivy League haute-snobbery while still entertaining and frightening audiences. Here is the real monster out of the Connecticut forests—Deathtrap itself.
Go see Deathtrap or die unfulfilled. It runs until November 12, 2023 at Trinity Street Playhouse.
Review by Ritika Bhattacharjee
DeathTrap – Jarrot Productions
Deathtrap, the long-running Broadway play by Ira Levin, leads us to reflect on how one's dreams can lead us to one's own demise. The Jarrott Productions staging runs at Trinity Street Playhouse in downtown Austin until November 12. This five-character play, comprised of two acts, six scenes, and numerous murders, is a scintillating thriller.
Through the course of two and a half hours (including a fifteen-minute intermission), we follow the intertwined lives of experienced playwright Sidney Bruhl (Devin Finn) and budding young writer Clifford Anderson (Kyle Irion). Even if you've cheated by reading the Wikipedia synopsis, you won't be prepared for the moment when a character thought murdered creeps back through the balcony door to murderous revenge. Layer upon layer of menace tease and tantalize an audience that holds its breath in anticipation of threat to a sympathetic character.
Structured as a play about a playscript of the same name, Deathtrap is self-aware and self-reflective. Both Sidney and Clifford explore the possibilities of the Deathtrap playscript. Their discussion of stage directions foreshadows action onstage in Act II. Audience perceptions are repeatedly challenged as the second half unfolds. Though given dialogue that might seem clichéd, both Finn and Irion pull us into the story with careful, calculated delivery.
The motives behind murders included jealousy, fear, spite, and misplaced passion. It's unfortunate that a play that dealt so well with nuanced emotions associated with artistic success failed spectacularly in creating relatable storylines for the female characters. Sidney's wife Myra existed initially only as an obstacle for Sidney to move past to further his career. Later she mirrored his moral failings and offered an example of the lengths to which a person may be willing to go to secure fiscal success. Natalie Garcia overcomes this abysmal character writing with her impressive scope and emotional range. Psychic Helga Ten Dorp (Janelle Buchanan) served as a deus ex machina to further the plot. Levine's lazy character treatment peaked in the final scene when the foil, lawyer Porter Milgrim (David Kroll), was brought to elucidate the plot.
Still, numerous details added depth and credibility. Set designer Steve Williams did an exceptional job of adding levels to the set. Depth that couldn't be added in height was furnished at the back of the stage. Costume coordinator Susan Branch Towne added to the storytelling by inverting the colors worn by Sidney and Clifford as the play progressed (reflecting shifting treacherous intent). Her nuanced choices allowed us to visualize character development that would have otherwise been muted. Sound designer Craig Brock has exquisite taste: the songs between scenes were timely hits from the 1970's, while the music played during a critical point of murderous tension was the second movement agitato of Alfred Schnittke's String Quartet No. 3.
The real Houdini moment, however, comes at the finale , as we see what happens when people destroy their lives in misguided pursuit of fame and glory. Viewed through this construct of intense desire, truth is much like beauty: it exists solely in the eye of the beholder.
---
Deathtrap
by Ira Levin
Jarrott Productions
October 27 - November 12, 2023
Trinity Street Players
Black Box Theatre, 4th floor, First Baptist Church
901 Trinity Street
Austin, TX, 78701
October 27 - November 13, 2023
Trinity Street Playhouse, 4th floor, First Austin, 701 Trinity Street
More forthcoming. (July 18, 2023)