Review: Twelfth Night, or What You Will by The Baron's Men
by Michael Meigs
For those of you who weren't aware of it, the Baron's Men (BM) is a Big Deal and their Twelfth Night, winding up a three-week run at the Elizabeth-style outdoor stage The Curtain Theatre, is an equally big deal. Twenty-four years ago, enthusiasts associated with the video gaming industry grabbed the opportunity to occupy Richard Garriott's folly, a quarter-size replica of a sixteenth-century London theatre on the north bank of the Colorado just west of the 360 Pennybacker Bridge—a mere ten-minute drive from north Austin. They've run the place ever since, with style, dedication to the original stagecraft and to the beautifully elaborate court costuming of more than four centuries ago.
This is a theatre-goer's opportunity to time travel. Forget the electronics; these people know how to project their voices to fill the two-tiered demicircle of the Curtain. Oh, the accents are distinctly American, and there's a clever inversion of one important stage convention, in that many male roles are played by women actors. In this Twelfth Night, Shakespeare's fanciful tale of disguises and mischief, the energetic and musically talented Jacquelyn Lies is a merry and somewhat gender-ambiguous Feste the jester, and BM veteran Jennifer Fielding appears as a ship captain, an officer, and a priest.
This one's the play with the shipwreck that separates and strands twins Viola (Renee Osborn) and Sebastian (Jimmie Bragdon) in the mythical land of Ilyria. Viola pretends to be Cesario, a young man complete with fake mustache, in order to serve Duke Orsino (Michael Pratt). He's enamored of Countess Olivia, who wants nothing to do with him. Viola/Cesario, despatched as emissary to the countess, is dismayed when the lady falls for her/him instead. Renee Osborn's patently uncomfortable responses to the countess and to Orsino (with whom she's infatuated) are subtle and amusing.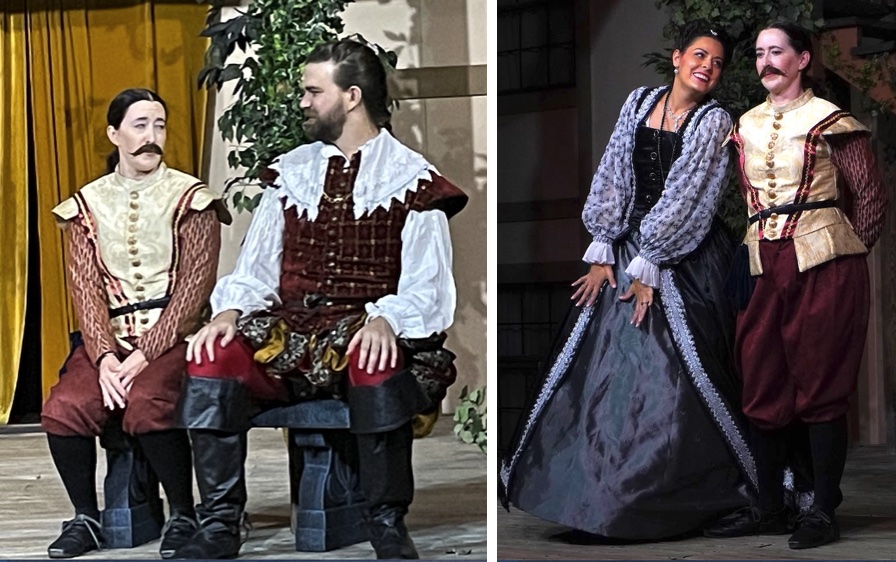 Two actors traded out the role of Countess Olivia from performance to performance. Lindsay M. Palinsky had that role last Saturday night; Stephanie Crugnola was the alternate. Palinsky was elegantly comic throughout, particularly when reprimanding herself for overstepping the bounds of propriety.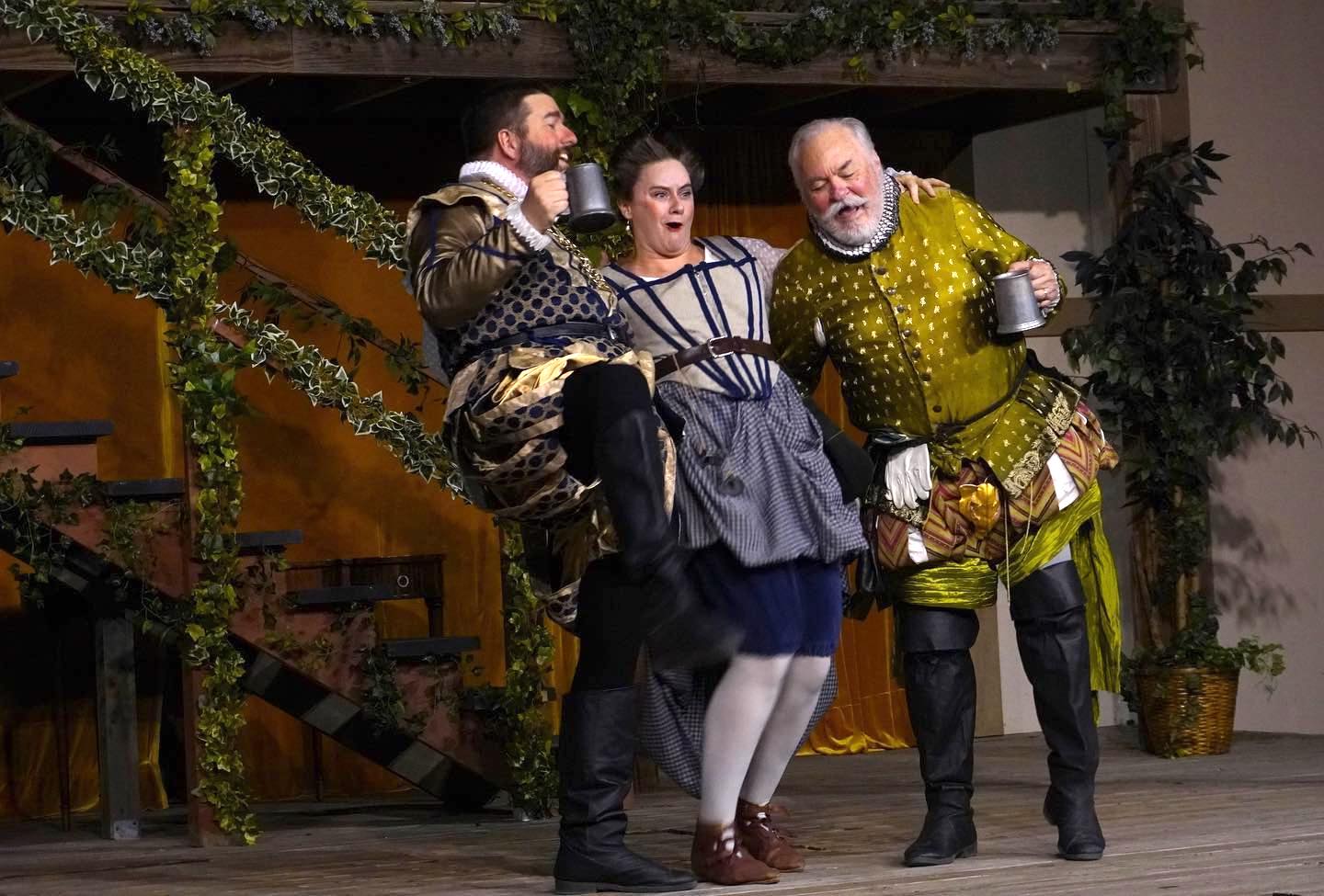 The courting intrigue is matched by the vigorous partying of the countess's cousin Sir Toby Belch, as dissipated as the more famous Sir John Falstaff but a lighter and somewhat more lovable rascal. Chris Casey is a fine boaster and reveler, neatly paired with Gene Storie as mild-mannered Sir Andrew Aguecheek, a timorous and somewhat dim longtime vistor whom Belch is teasing, mocking, and gullling of his fast-diminishing purse.
Jacquelkyn Lies in the role of Feste ties the two plots. She cuts a caper better than Sir Andrew, cheerfully stings all comers with her wit, and entertains with song. Feste takes particular delight in mocking authority. Director Shannon Gibson provides some fine slapstack direction for he clowns' wicked duping of stuffy steward Malvolio (Michael Osborn). Even so, the tricks played on Malvolio are unthinkingly cruel.
Malvolio is a caricature of the puritan ethic. His parting threat in the final scene ("I'll be revenged on the lot of you!") is not resolved in the play. The English Civil War of 1642-1651, forty years after Twelfth Night was staged, was rife with similar adversity between courtiers and the "Roundhead" puritans who supported the Parliament.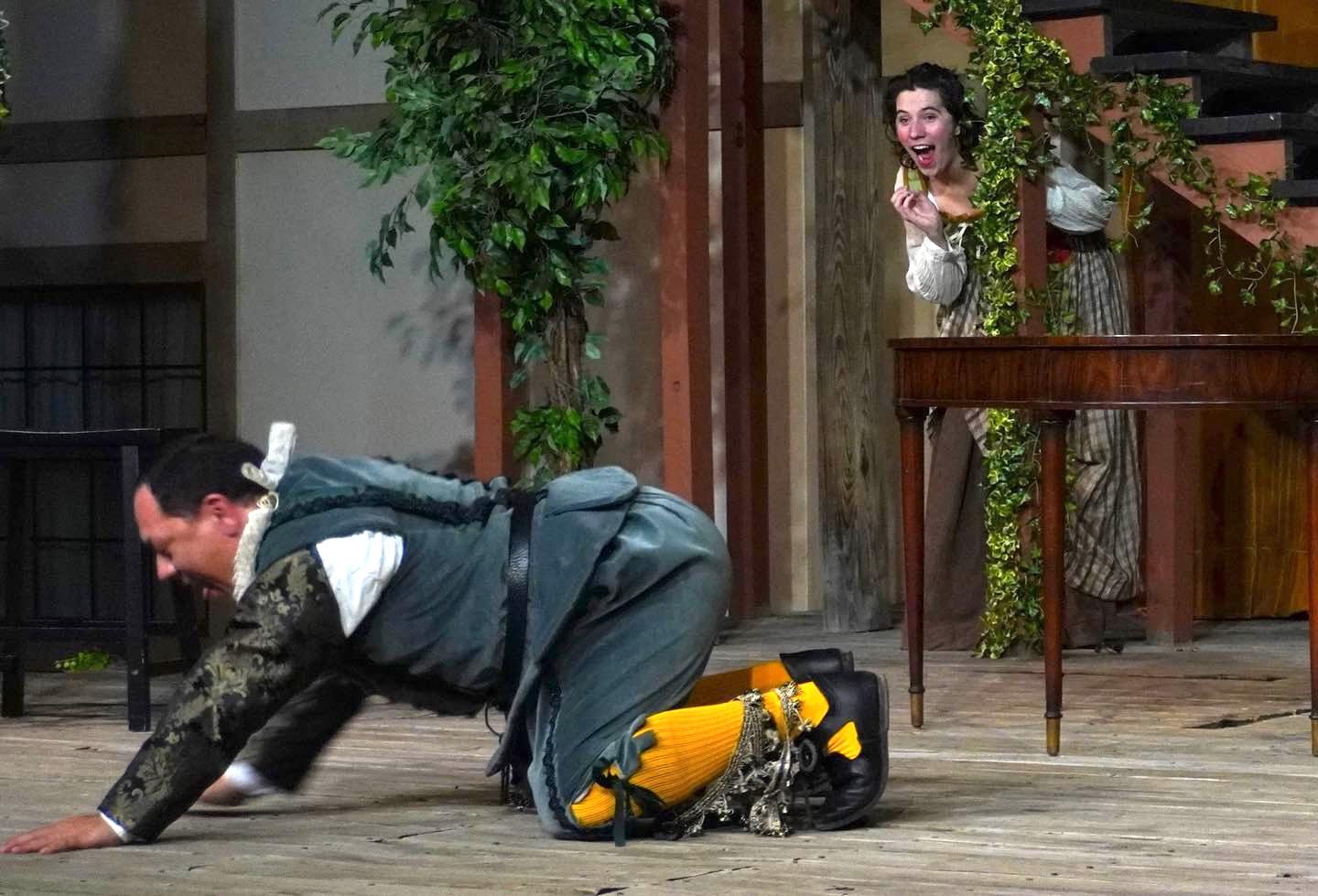 The house was full at last Saturday's performance, and the audience was particularly responsive. Had the house been salted with enthusiasts? The final bows brought a moment that may have explained their lively attention during the performance. A man bounded up the front stairs to the stage, took a knee, and held out a ring to one of the female leads; the house and the cast went wild as she also knelt, visibly overcome.
How do you top that? By inspiration: "GROUP HUG!" cried someone, and in a rush the cast were all about the two new principals. And someone had the presence of mind after a moment to announce, "Show's over!"
It was a night of comedy and courting we won't soon forget.
EXTRA
Click to view the program for the Baron's Men's Twelfth Night.
---
Twelfth Night, or What You Will
by William Shakespeare
The Baron's Men
Thursdays-Saturdays,
September 28 - October 21, 2023
September 28 - October 21, 2023
Show dates are Friday & Saturday Sept 29th and 30th, and Thursday, Friday, Saturdays Oct 5-7, Oct 12-14, and Oct 19-21.
Curtain Theatre, Austin
Ticket Prices
Thursday Regular tickets $20 / Student & Senior $17 | The Box up to 4 people $160 / 5-6 people $240
Friday/Saturday Regular tickets $25 / Student & Senior $22 | The Box up to 4 people $200 / 5-6 people $300
GROUP RATES AVAILABLE! Contact info@thebaronsmen.org for details.
Note: We will open up the second row of Groundling seats as needed for overflow.
Seatback Rentals
The Curtain Theatre is an outdoor venue with hard wooden bench seating. For the comfort of our patrons we offer complimentary seatback cushions at the Front of House. Patrons may also choose to bring their own seatbacks, blankets, or camp chairs for the groundling area if they so wish.
Concessions
We offer light concessions at the Front of House (water, sodas, chips, candy, other light snacks). We do not sell alcohol. You are allowed to bring whatever food and beverages you desire.
Rain Check Policy
Rain Check tickets are only valid for the show in which they are issued, unless otherwise specified.
Waivers
Due to the nature of some of our events, you may be required to sign a waiver on site to attend a given event.
The Baron's Men reserves the right to refuse service to anyone.
If you are having difficulty viewing the ticketing widget you can access our online box office with this secure direct link: https://thebaronsmen.thundertix.com/