Review: The Mountaintop by Paradox Players
by David Glen Robinson
The Mountaintop is an incredibly beautiful play by Katori Hall, and Austin is blessed by a production of it with two fantastically talented actors who arrive by convergent paths at Paradox Players of Austin's First Unitarian Universalist Church. The premise, simply, is the last night of Dr. Martin Luther King, Jr.'s life at room 306 in the Lorraine Motel in Memphis. The only other character in the play is the motel maid, Camae, played by Jasmin Garlic. John R. Christopher plays King. The play is co-directed by Rachelle Chery and Chelsea Manasseri.
A two-hour, two-act play with two characters and two directors somehow manages to condense MLK's life and career into approximately six hours of elapsed story time in a motel room. Much of the credit goes to playwright Hall (The Mountaintop won the Olivier Award for Best New Play in 2010), but there's plenty of brilliance here to spread around. There is no doubt that the play and its production are an homage to Martin Luther King, but the play avoids saintly mythologization in favor of a more personal look at his final hours. King enters his room at the Lorraine, where his team regularly stays, exhausted after a march and his Mountaintop speech. He checks the bed, lamp, and writing table for listening bugs. Just trying to relax while working on a new speech, King takes off his shoes and is offended by his own foot odor. He calls out of the door for Ralph Abernathy to bring him a pack of Pall Malls, "not those Winstons you smoke." Abernathy never arrives. King gives a stream-of-consciousness monologue on his discontents, and tries out snippets of his new speech, "America is Going to Hell." The speech does not come easily despite the clear evidence for the theme readily at hand. At last, King calls the front desk to reopen room service at the post-midnight hour and bring him a cup of coffee. Tea won't do.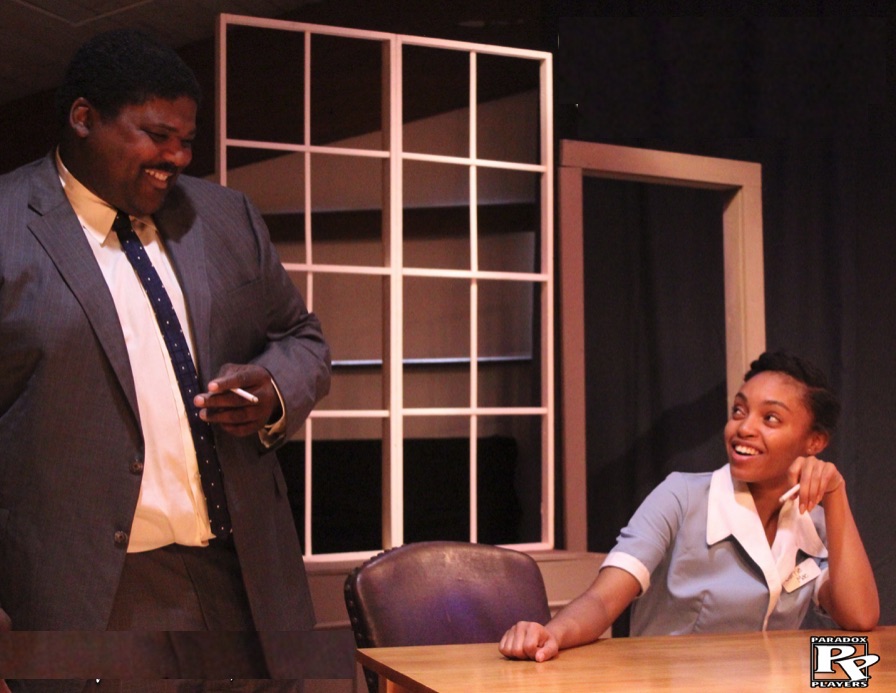 Soon King opens the door and Camae, in her powder-blue-and-white maid's uniform, enters with King's coffee. King asks her for a cigarette, and Camae magically produces a Pall Mall.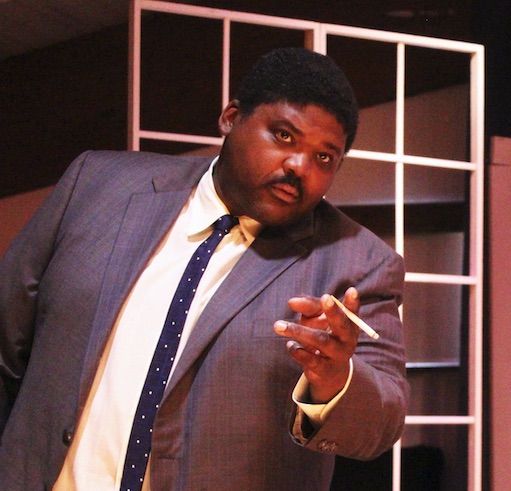 Directors Chery and Manasseri maintain a rapid pace through the dialogue-heavy scenes. Their staging is efficient and active, and it makes good use of the Paradox Players' home base, the community hall of the Unitarian-Universalist Church on Grover Avenue. The design fields support the production smoothly, but this is an actor's vehicle, and the directors' casting is superb. John R. Christopher, a native Austinite, pursued his education in California and began his acting career there. He returned to Austin a few years back to appear in impressive productions such as The Brothers Size and It Is Magic. He conveys MLK's sadness and the oppressive foreboding he suffered from the continual snarling death threats against him and his family. At the same time, MLK never lost his love of life and his visionary commitment to his movement. Conveying antonyms of character is an acting talent John Christopher seems to accomplish with little effort while playing MLK; such rare ability treads the pathway to memorable performances, and it showcases high talent. Kudos to John Christopher.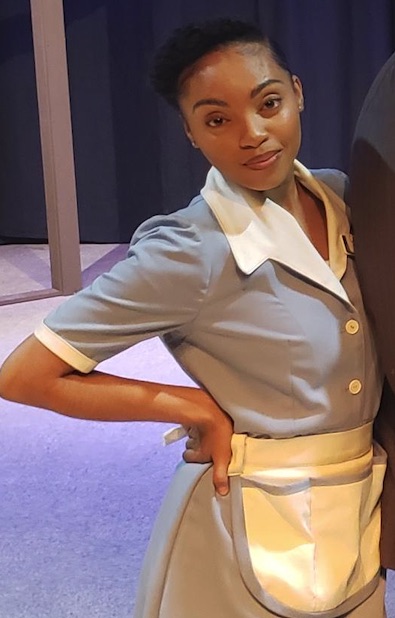 Jasmin Garlic has recently moved to Austin from the University of Houston by way of Blinn College in Brenham. Her relocations signal a very recent career shift from fine arts dance to acting. Her initial achievements are most auspicious. The character of Camae is an undereducated streetwise, Memphis street urchin full of good humor and fluid physicality whose foul language slips out thoughtlessly in front of "Preacher King," leading to much backing and filling of humorous sorts. Garlic subtly reveals the foreshadowings of her character's tragic backstory and spiritual destiny. Kudos to Garlic and playwright Hall.
The Mountaintop is well updated, its theology in keeping with the woke generation. God is a black female who checks in and insists that all use her pronoun "she." MLK labors to adapt to the change. That is the least of the surprises late in the play. Just as King configured himself in the metaphoric robes of Moses in his Mountaintop speech, so King now looks over into Canaan's land, a land flowing with milk and honey. It is a vision we can all share and attain. It is a vision we can all make real. The play's lasting insight, however, is that the Death Angel is a spirit of transcendent beauty who knows us better than we ever knew ourselves. Who wouldn't want to go?
A minor flaw worth noting: the video montage is projected on a curtain with folds as on window drapes. The folds break up the imagery so it passes too fast to capture visually. The video is also accompanied by a rap. Words and images mesh but rarely.
One would like to recommend The Mountaintop to all, but the foul language is off-putting. It would be embarrassing to sit near a child twelve years of age or younger. Of course, modern playwrights rejoin that foul cursing adds realism to any scene; that it is how people speak in the modern era. This reviewer rebuts that claim by saying that there was a world of Billingsgate in London and southern England in the nineteenth century, but Dickens, Jane Austen, the Bronte sisters, George Bernard Shaw and others refrained from elevating it to their pages; yet they captured the ideas, culture, sounds, and flavors of their times for all time.
The Mountaintop runs until March 8, 2020 at First Unitarian Universalist Church of Austin, 4700 Grover Avenue, central Austin, 78756.
---
The Mountaintop
by Katori Hall
Paradox Players
Fridays-Sundays,
February 21 - March 08, 2020
The Mountaintop opens Friday, February 21, 2020 and runs Fridays, & Saturdays at 8 PM and Sundays at 3 PM through March 8 at The First Unitarian Universalist Church at 4700 Grover St.
February 22 will be a fundraiser for Youth Rise Austin.