Review: Hello, Dolly! by touring company
by David Glen Robinson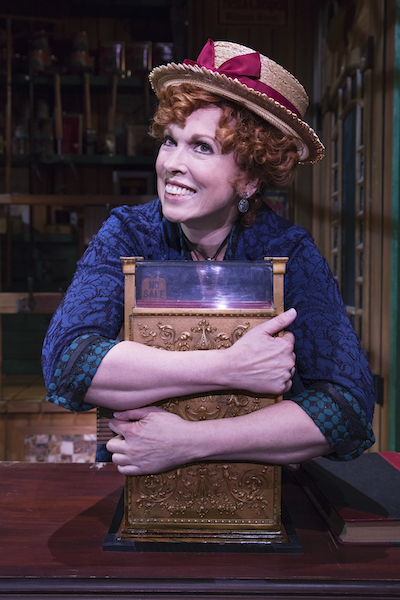 Broadway has remounted Hello, Dolly!, the Broadway beast of the 1960s, creating a new, upgraded show fit for touring the provinces. And we provincials receive it with enthusiasm.
The show, guarantor of the career of Carol Channing, is about nothing more than feelings of the shallow romantic kind. Featuring three full-out arrangements of the title song, it certainly doesn't forget where it came from, and I'm not talking about Yonkers. The comedic story covers the period from the latter portion of the widowhood of Dolly Galloway-Levi (played by Carolee Carmello) to her commitment to return to domestic bliss, the goal of all women in 1885 New York. The object, or more properly target, of her affections is "half-millionaire" Horace Vandergelder (played by John Bolton), a successful merchant in Yonkers, New York. Dolly survives as an entreneurial self-help and dating advisor, dance instructor, and you-name-it busybody.
Between production numbers with a large ensemble, Hello, Dolly! gives us slapstick humor and ancient mossy gag routines. Extend a purse of money to a sucker and then draw it back. Repeat three times. Then when the money changes directions, do it again. The crowd roars. Simply mugging to the audience without a joke line, to jerk a laugh, is called ham acting. One thought it had been beaten out of all actors in the twentieth century. John Bolton sets us straight on that score. While eating, Dolly drinks from the spout of the gravy boat and gargles it. Hey, it reconditions the pipes.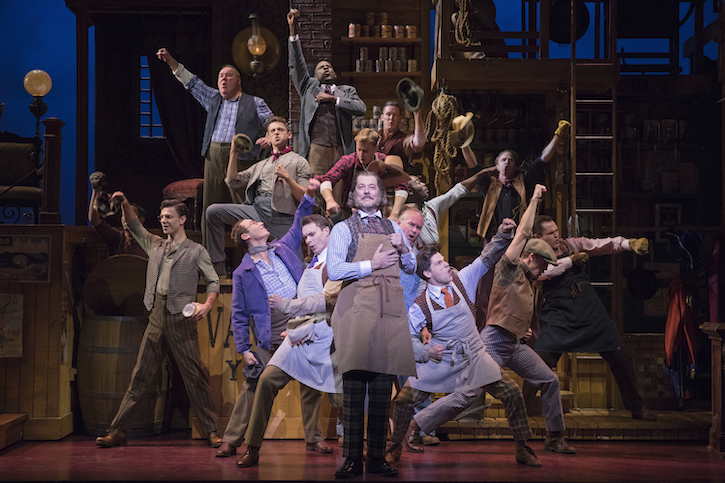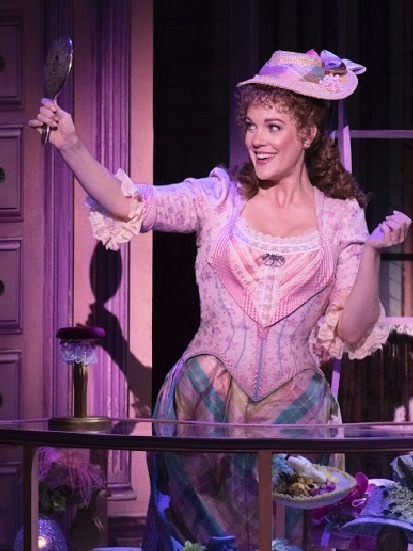 And what pipes Carolee Carmello has as Dolly! The veteran Broadway singer has a wide and expressive range and always seems joyous. She is almost matched for singing by Analisa Leaming as Irene Mulloy, the millinery storeowner. Seemingly very young, Leaming has impressive credits on Broadway, Off-Broadway, and touring shows. Her training was at the Eastman School of Music. Physically impressive as well, Leaming seems to tower over her colleagues in the millinery shop scene, especially when wearing her stylishly extreme women's hats, á la mode in the 1880s.
And costumes and set were worth the price of admission to Hello, Dolly! The principals and ensemble all had several sets of period garb, most of it representative of the upper classes and gentry. The costume designers launched into fantasy, however, with the large production number at the Yonkers train station. All on stage wore bright, high saturation and fluorescent suits and formal dresses in contrasting hues of everyone's "Sunday best." But nobody ever wore a glowing yellow suit with matching top hat and shoes to church. The number was glorious for the costumes and their almost overwhelming impact. It was a rare moment in costume design. The scene was almost matched by the parade scene, with its various characters, most notably the opera association's valkyries, costumed in shiny gold medieval armor including shiny gold winged helmets. Truly, nineteenth-century opera was a peak in Western civilization.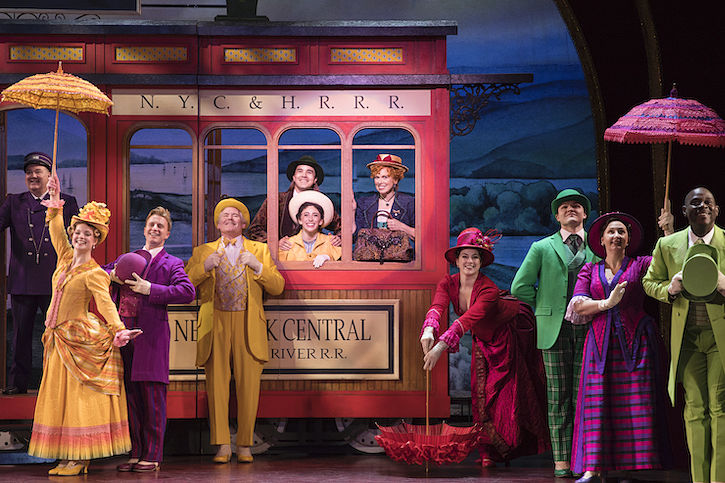 The sets took full advantage of the Bass Concert Hall's top-rank facility. Drops and scrims flew away to change scenes magically. The painted drops revealed scenes of 1880s New York, including the Flatiron Building in the far distance. But ah-ha! As Wikipedia is my witness, the Flatiron Building was not completed until 1902, at least fifteen years after the fictional setting of Hello, Dolly! The courtroom scene has a highly imaginative interior monumental architectural backdrop of bent and abstracted perspective (hard to describe and not the same as forced perspective). The Harmonia Gardens restaurant set seemed twenty feet high with palm trees even higher; dancing waiters vaulted all over it in the best dance number of the show.
If you are seeking serious messages of help in negotiating modern life, The Niceties is playing across town at the Trinity Street Playhouse. It rips apart race relations in America and sets fire to a lot else as well. If you want laughs and respite from all that, Hello, Dolly! is your ticket. One final, somewhat darker note -- the security at the PAC, including metal detector walk-throughs, is almost worthy of the airport. Remember that purses and backpacks have to be of transparent material. At least you'll be safe.
Hello, Dolly!, the touring show, runs January 21 to January 26, 2020 at Bass Concert Hall performing arts center, UT-Austin.
---
January 21 - January 26, 2020
Tickets available via Texas Performing Arts (CLICK to find tickets)