Review: Sweat by Southwest Theatre Productions
by Michael Meigs
Southwest Theatre Productions in Austin has staged a dozen contemporary American dramas since its inception in 2015.
Maybe you hadn't noticed?
The company is itinerant though not homeless, for they're inhabiting a very specific field of the art. SWTP looks for scripts, preferably recent ones, that use realistic styling to examine closely the flaws and frustrations of contemporary society. The company has shown a special sensibility for outsiders, the disadvantaged, people of color, and women. They often give their audiences a look into loneliness and hard times. A survey of those dozen titles will confirm that comment.
SWTP has performed at the Dougherty Arts Center, at Trinity Street Players' black box in First Baptist Church, at the Salvage Vanguard before the landlord closed it down, at the Blanton Museum, and at the tiny gem that's the Boyd Vance Theatre at the Carver Center. But they've gravitated more and more often to the Santa Cruz Center for culture on 7th Street, across the street from Huston-Tillotson University and adjacent to Planned Parenthood. Formerly the locale of Aztlán Dance Company, Ryan Salinas's Santa Cruz is dimly lit, a bit shabby and a bit strange. Its L-shaped stage, wide and shallow, challenges designers, directors and actors alike. The venue's more than symbolic location is East Austin, where rising rents and land prices are elements remorselessly gentrifying what was once a neighborhood.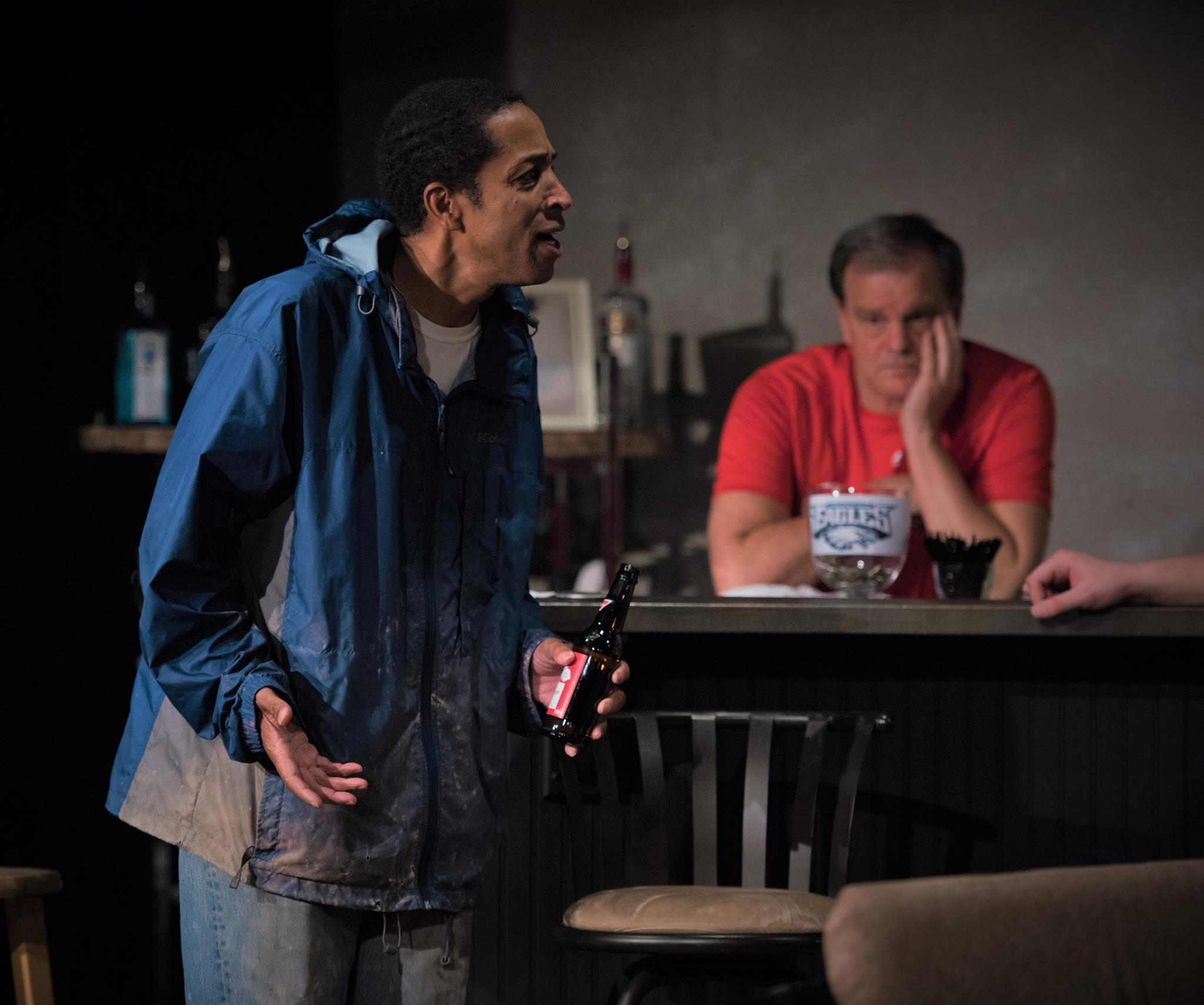 Lynn Nottage's Sweat fits precisely into the Santa Cruz, for the principal setting is a blue-collar bar in a mixed-race Pennsylvania town with a single important employer, a factory where generations of locals have worked. There's little joy in the town other than the occasional birthday party celebrated by women friends at the bar. Unseen and far from Pennsylvania, the pressures of trade and globalization are on their way to making the town's way of life obsolete.
Economics theory clearly describes the benefits of trade, especially international trade, through which producers benefit by taking advantage of comparative advantage. The curves and tradeoffs are elegantly laid out, showing that lowered costs benefit society generally, an advantage dispersed across the consuming public (think of lower costs at Walmart, think iPhones designed in California and produced in China, think textiles produced in Vietnam, Thailand, the Dominican Republic and elsewhere). There's always a proviso: society should compensate or retrain or relocate the workers whose jobs disappear as a result.
But real life is stickier than that. Compensation is rare, retraining is awkward and sometimes impossible, and workers who have spent their lives in a town just damn don't feel like going to Texas. Or California. Or anywhere at all. Americans have always been relatively more mobile than citizens of many other nations, but when your life has been laid down in a deep groove and your people are around you, what are you going to do?
Nottage wrote Sweat in 2015 and it won the 2017 Pulitzer Prize for drama. It's set mostly in the year 2000 but laced with eerie flash-forwards to 2008. This can be confusing at first. The 2008 scenes are insufficiently differentiated from the main action in 2000, the only consistent clue -- if you can catch it -- being that 2008 action is dimly lit until the end. The sound bites that precede time shifts are almost all too short, too muffled and too low to clue the audiences.
By concentrating on the little people, working class both black and white, Nottage casts a strong, harsh light into the human consequences of global economic transformation. Not that she says so; this story is told entirely in the words of dutiful, hard-working people who thought that doing a good job on the job meant succeeding in life. That 2017 Pulitzer Prize may have been motivated as much by her contrarian stance on globalization as by the vivid characterizations and Nottage's structure, incuding her initially enigmatic choice to present a dual chronology that sets up a big reveal in the final scene.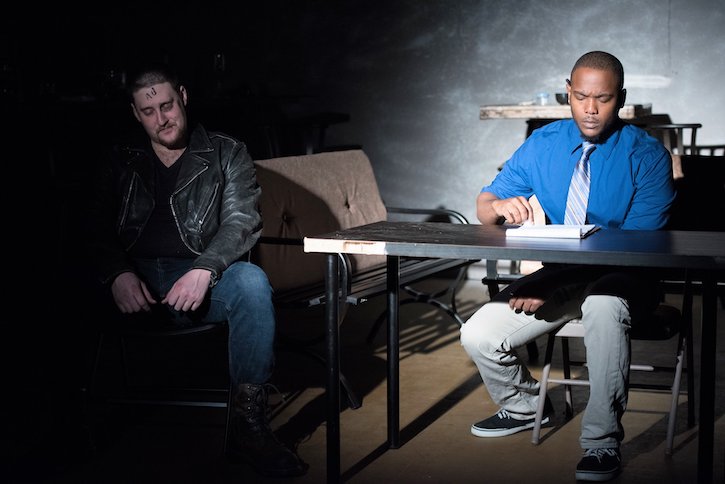 An ominous future is established in the opening scene, when parole officer Evan (Tarik Daniels) gives tough-love counsel first to a white boy with a tattooed face and then to a black boy with a stocking cap pulled low over his ears. Something happened; we don't know what. We don't know who these two are, and the audience may not realize until the second act that they're the 2008 incarnations of the young men we meet in 2000.
Director Kat Sparks recruited a talented cast. Protagonists Chris (Ryan Sterling Smith) and Jason (Graham Dickerson) are friends on the factory floor, frequenters of the bar run by amiably even-tempered Stan (Steve Wright). Wright's role as counselor, friend, and voice of reason lends him a particular paternal authority; his character Stan worked for years on the factory but was disabled in an accident. A trio of factory gals includes the boys' mothers Cynthia (Nikki Redin) and Tracey (Suzanne Balling) and their tipsy friend Jessie (Alexandra Nicole Marosis). Tracey has no husband; Cynthia recently threw out her husband Brucie (Stan McDowell), a smooth talker who struggles, not too hard, to stay off drugs. And then there's Oscar, the mostly silent janitor at the bar, scraping by on a minimum wage and feeling humiliated by the lack of opportunity for a U.S.-born Latino.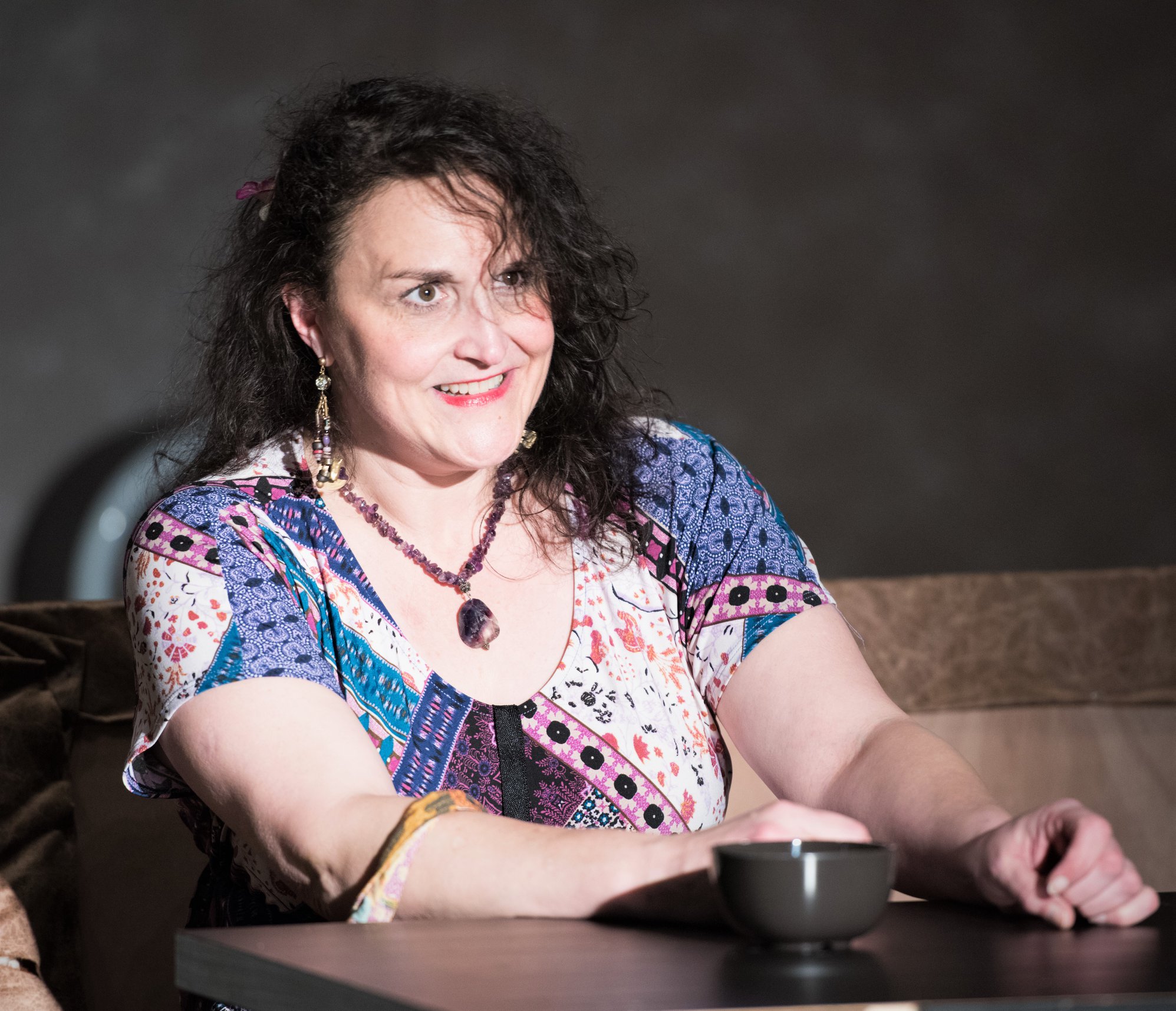 Marosis has a beautiful monologue in the second act evoking her youthful aspirations to travel to magical places in Asia, dreams cut short by the reality of factory life. The director gives her a spotlight for it, even though she's in the bar with others responding to her. This is an odd break in the play's realism, meant presumably to underline the theme of unrealized dreams. The light cue's not needed, and it may be confusing to some.
You don't need to guess at the main movement of the plot. Yes, the factory has been there forever, it seems; and yes, those jobs and the machines are going away, despite the fierce opposition of the union that has protected these little people for so long. Nottage gives us a catalog of reaction, resistance and destruction by portraying the effects on these formerly close-knit friends.
Sweat fits the pattern of SWTP productions. The script and the performances make us care about these individuals. Nottage teases us cruelly by not showing until the end the crime of angry desperation that blew them apart. That reveal in two parts is devastating, first as a vigorous and vicious brawl in 2000 and later as evidence in 2008 of the aftermath. The play's a social portrait, an implicit critique of unyielding economic realities, and a mystery that eludes the audience until the very end.
A work with a message, vivid characters, and a puzzle. How could you resist?
EXTRA
Click to view excerpt from Southwest Theatre Production's program for SWEAT.
---
Sweat
by Lynn Nottage
Southwest Theatre Productions
Thursdays-Sundays,
January 18 - February 03, 2019
Thursdays - Saturdays at 8 p.m., Sundays at 4 p.m.
Tickets $23 general admission, $20 students, plus service fees