Jun. 25 - Jun. 26, 2021
Friday-Saturday
A man attempts to better understand his tough-as-nails mother by pressing her to unravel the details of her intense, short-lived friendship with Marilyn Monroe while they were shooting the film, BUS STOP. Based on a true story.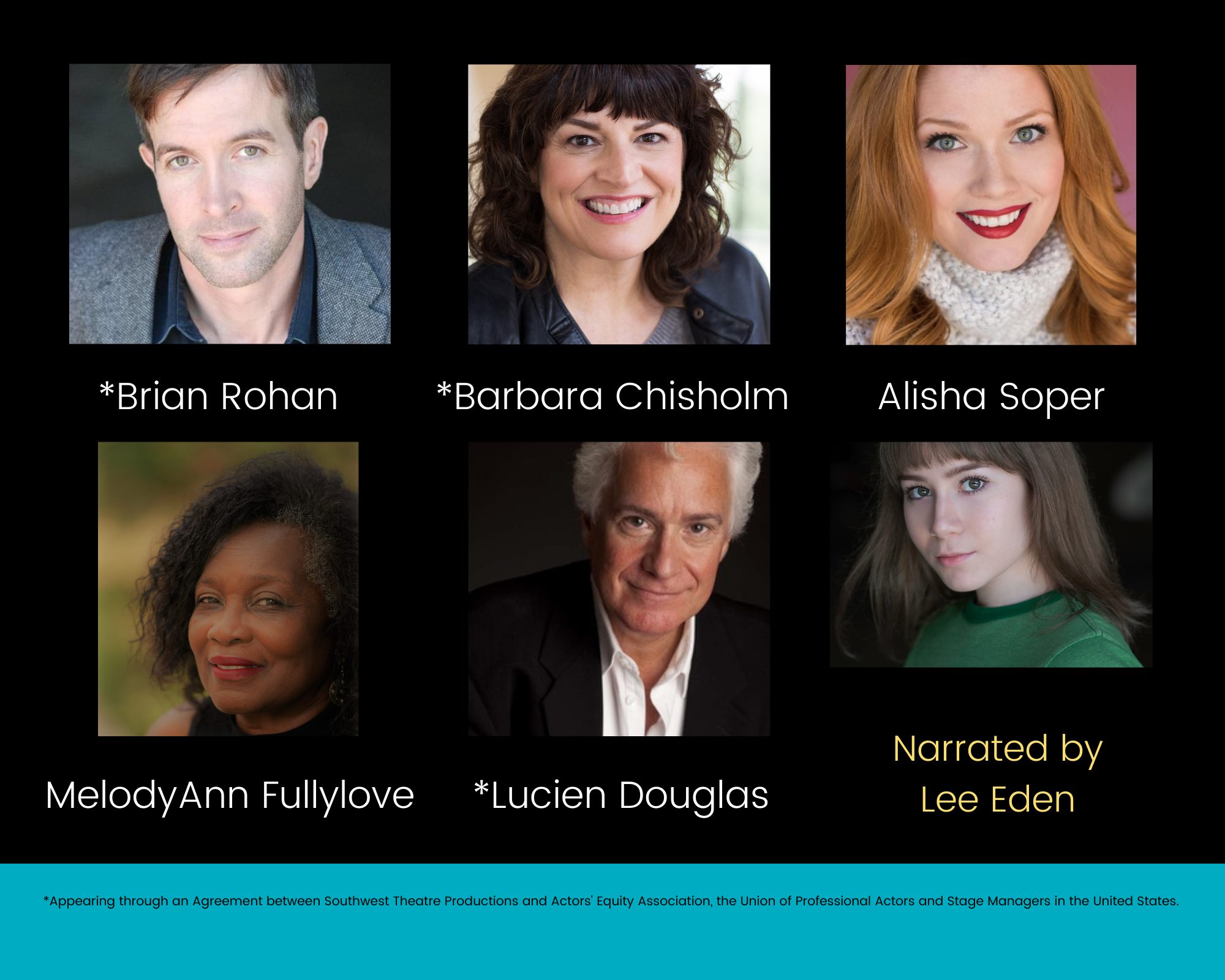 THIS PRESENTATION OF MARILYN, MOM & ME is a lively play reading about Oscar, Emmy, and Tony winner Eileen Heckart, and key relationships with Marilyn Monroe, Rosetta LeNoire, and Eileen's son Luke. Eileen and Marilyn each maneuver through their interaction with the director of Bus Stop, Joshua Logan.
Luke (*Brian Rohan)
Eileen Heckart (*Barbara Chisholm)
Marilyn Monroe (Alisha Soper)
Rosetta/Ella Fitzgerald (MelodyAnn Fullylove)
Joshua Logan, and additional roles (*Lucien Douglas)
Narrator (Lee Eden)
(*Appearing through an Agreement between Southwest Theatre Productions and Actors' Equity Association, the Union of Professional Actors and Stage Managers in the United States.)
This is a very special and talented cast directed by Luke Yankee.
PRESS QUOTES:
"Like two strangers linked by fate on a Greyhound bus, the unlikely personal and professional friendship that developed between vulnerable, lost and emotionally needy Marilyn Monroe and crusty, maternal, no-nonsense Eileen Heckart on the western rodeo set of Bus Stop has now been preserved in amber by Luke Yankee as a stirring footnote to movie history you won't want to miss. It's a funny, dark, heartbreaking and unforgettable new play that wraps you in cashmere!"
--- Rex Reed, nationally syndicated critic
"A truly wonderful piece of work which reveals the playwright's extraordinary talent at creating characters and storytelling ... I was riveted and quite moved by it ... a touching and thoughtful personal narrative that has a lot of important things to say to everyone."
--- Larry King
ABOUT LUKE YANKEE (yes, it's his real name).
Luke is a critically acclaimed author and playwright. His memoir, "Just Outside the Spotlight: Growing up with Eileen Heckart," has been called "One of the most compassionate, illuminating showbiz books ever written," and was named "One of the Ten Best Celebrity Memoirs of All Time" (Michael Musto Village Voice & PaperMag). It is published by Random House with a foreword by Mary Tyler Moore.
There will be a talkback with Luke and the cast immediately afterwards. Luke will also be signing copies of his book, "Just Outside the Spotlight," which will be available for purchase.
Please join us for a night you won't forget, before this play begins full production in a variety of theatres. The Mastrogeorge Theatre is inside Carol Hickey Acting Studio.
FREE AND AMPLE parking.
MARILYN, MOM & ME was a recent Southwest Theatre Productions Grand Prize Winner (Sponsor's Choice) in the annual Rising Artists playwriting competition.
---
Marilyn, Mom & Me
by Luke Yankee
Southwest Theatre Productions
Friday-Saturday,
June 25 - June 26, 2021
Friday and Saturday, June 25 & 26, 2021 at 8 p.m.
Mastrogeorge Theatre inside Carol Hickey Acting Studio
Tickets will be available at Brown Paper Tickets (click HERE)