Review: Polly Mermaid: Apocalypse WOW by Glass Half Full Theatre
by David Glen Robinson
Glass Half Full Theatre has gone and done it again. Caroline Reck and her team have pushed the envelope of design, materials, and concepts of puppetry toward manipulable props. Or perhaps artist-designer Indigo Rael has pushed the envelope of innovative materials for props, costumes, and sets toward puppetry. Whatever the vector, the Vortex stage comes alive with mundane plastic and unbounded imagination.
Glass Half Full Productions is perhaps the premiere Austin puppet theatre troupe (though with deference to the very closely associated Trouble Puppet Theatre Company). Polly Mermaid: Apocalypse WOW (PM:AW) enunciates a powerful environmental activist theme in puppetry and live performance.
Polly Mermaid (Indigo Rael) lives at the bottom of the ocean with her collection of plastic. Which ocean in which universe is at issue, because while Polly's realm receives all the plastic trash we produce. Human beings themselves haven't found it until an astrophysicist named Deborah Déguderè(pronounced "Dogooder"), played by Katy Taylor, stumbles into it through a wormhole of her own creation.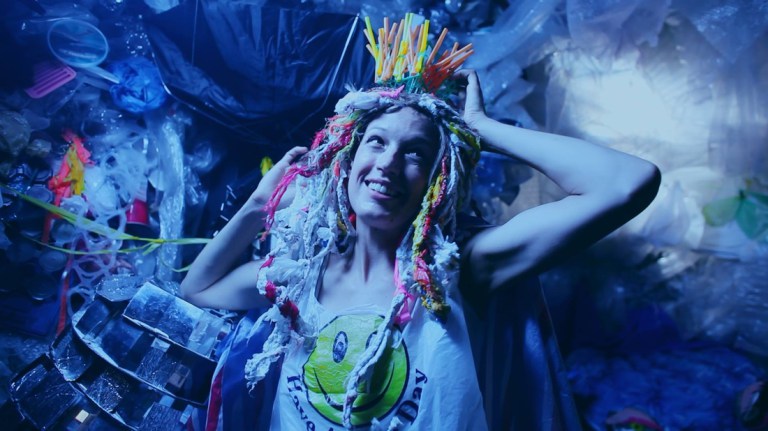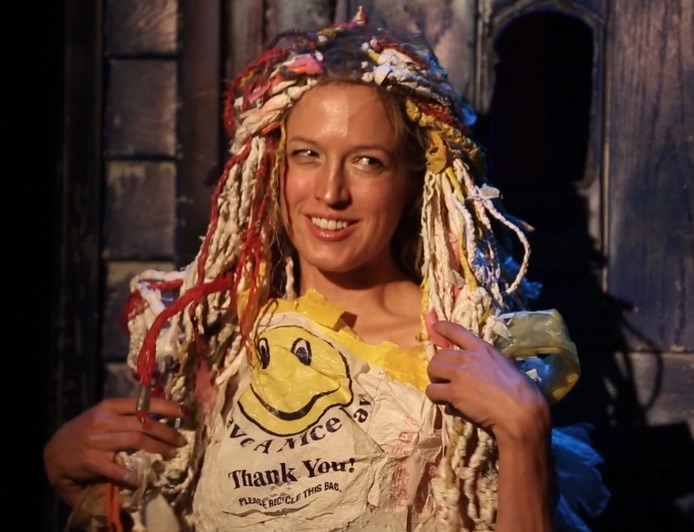 And alive it is. PM: AW shouts its theme that plastic pollution kills and "We're plastic! And plastic lasts forever," filling the stage with an abundance of plastic in many forms, along with a few metal bits and discarded computer parts. Producing Artistic Director Reck and Rael share credits for writing, scenic design, and puppetry. The collaboration is unquestionably fruitful. Indigo Rael's dialogues are rich with puns, plays on words, and references to movies and other works of popular culture going back to the 50s and 60s. Star Wars references are a favorite. All these performative domains are woven together in a well-written script.
Upstage center is a string theory boiler. In it Dr. Deborah sets bits of plastic and sends them elsewhere in the multiverse. Where? It's too dangerous and uncertain at first to send anything living, so she has to do further research. But we know where it goes: the bottom of Polly Mermaid's ocean, with an entrance through the vortex route in Polly's bright, hillbilly-qualified outhouse, just offstage center.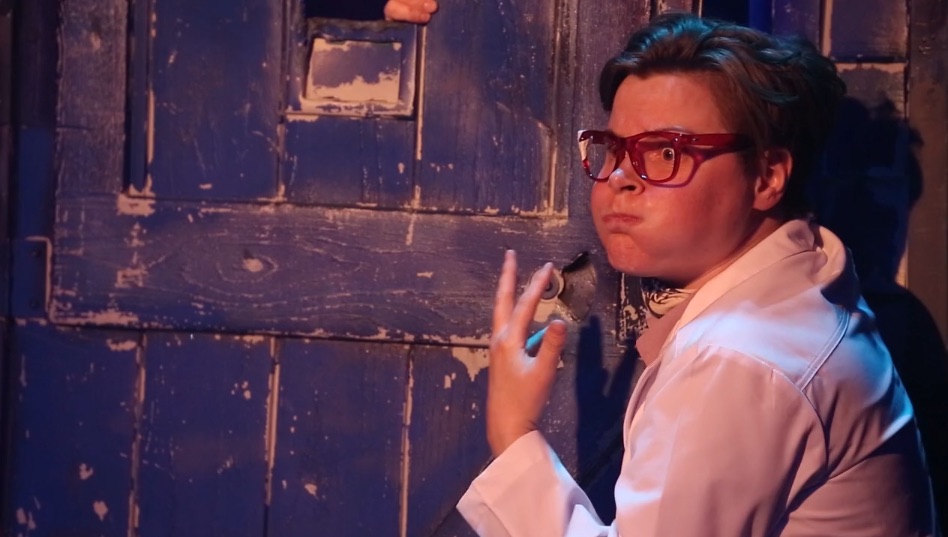 The stage fills with more than one swirling vortex of plastic, and things are about to work out when Dr. Deborah is suborned by corrupt terrestrial science. Linda, Deborah's academic advisor and lesbian lover (Reck) steals the credit for Deborah's discovery of viable wormholes by blackmail, partly by threatening to expose their relationship. This is so bizarrely ironic and real that we all want to go back to Polly Mermaid's ocean right now. Deborah refuses the extortion and is imprisoned in a scene deliberately reminiscent of Star Wars and Princess Leia."Save me, Polly Mermaid! You're my only hope," as she flushes the message on a candy wrapper down the steel cell toilet. (A vortex, get it?)
K. Eliot Haynes' sound design and Rachel Atkinson's lighting mesh perfectly to tell this story. Amy Waller receives the costume credit. Indigo Rael's costume is most likely designed by Rael herself, as she has performed in a similar fish-fin mermaid costume before. Waller's work is seen best on the Scubuki, who wear scuba gear, fins, and faceplates that make them look like the Minions in the Despicable Me movies. The effect is heightened by their routines with a yellow mop bucket puppetized to perform as a yapping terrier and a series of yellow wet floor warning columns that become puppet characters and stack themselves up to reach the ON button on the string theory boiler when our heroines are making their escape.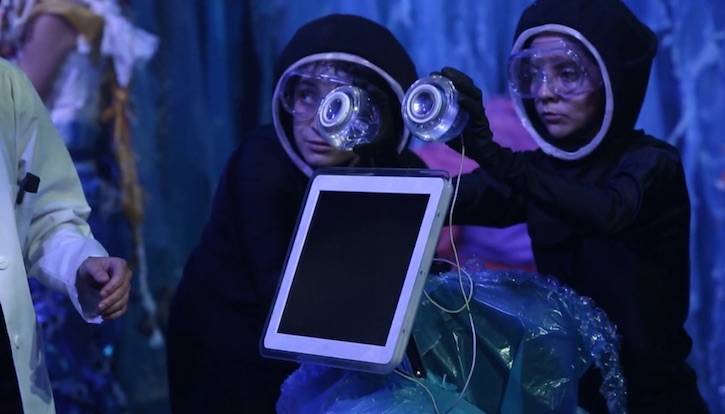 The Scubuki—may they return in future shows!—are Gricelda Silva, Marina De-Yoe Pedraza, Karina Dominguez, Kelly Hasandras, and Sarah Danko. They also provide memorable character voices, those by Hasandras and Danko being especially notable and hilarious.
Connor Hopkins' technical direction keeps it all together, and Mother Falcon puts in a laudable soundtrack for the show. Music for theatre may be an emerging direction for Mother Falcon. Stay tuned.
The lesson for all of us here is that our onrushing plastic pollution of the planet will kill us. Did you see the internet feature photo of the plastic bag 20,000 feet down in the bottom of the Marianas Trench? That is far more frightening than any earth-building Hawaiian volcano. The warnings of Polly Mermaid: Apocalypse WOW are serious but child friendly, and the show is highly recommended for all ages despite the disclaimer in the publicity. This production by Glass Half Full Theatre takes its place with other performances warning of the dangers of plastic pollution over the past several years, including Glass Half Full Theatre's Orchid Flotilla and Andrea Ariel Dance Theatre's Gyreseries of 2005-2007. In 2019, Glass Half Full Theatre will remount their environmental production Once There Were Six Seasons as an interactive display at the Dougherty Arts Center.
Polly Mermaid: Apocalypse WOW plays at the Vortex in east Austin until June 9th, 2018. Don't miss it!
EXTRA: PROMO VIDEO BY MAGIC SPOON PRODUCTIONS
---
Polly Mermaid: Apocalypse WOW
by Caroline Reck & Glass Half Full Ensemble
Glass Half Full Theatre
Wednesdays-Saturdays,
May 25 - June 09, 2018
Thursdays - Sundays at 8 p.m.
sone Wednesday performance, June 6 at 8 p.m.
Tickets $15/$25/$35 - available online at the Vortex (CLICK HERE)