Review: If I Forget by Southwest Theatre Productions
by Michael Meigs
For the second time in just a few months an Austin theatre company has scooped a powerful drama out of the big city theatre biosphere and mounted an accomplished staging that proves the script universal instead of big-city provincial. In September Hyde Park Theatre did it with Sarah DeLappe's The Wolves, and now Southwest Theatre Productions delivers Steven Levenson's powerful and closely plotted If I Forget as its seventh production since it was founded in Austin in 2014.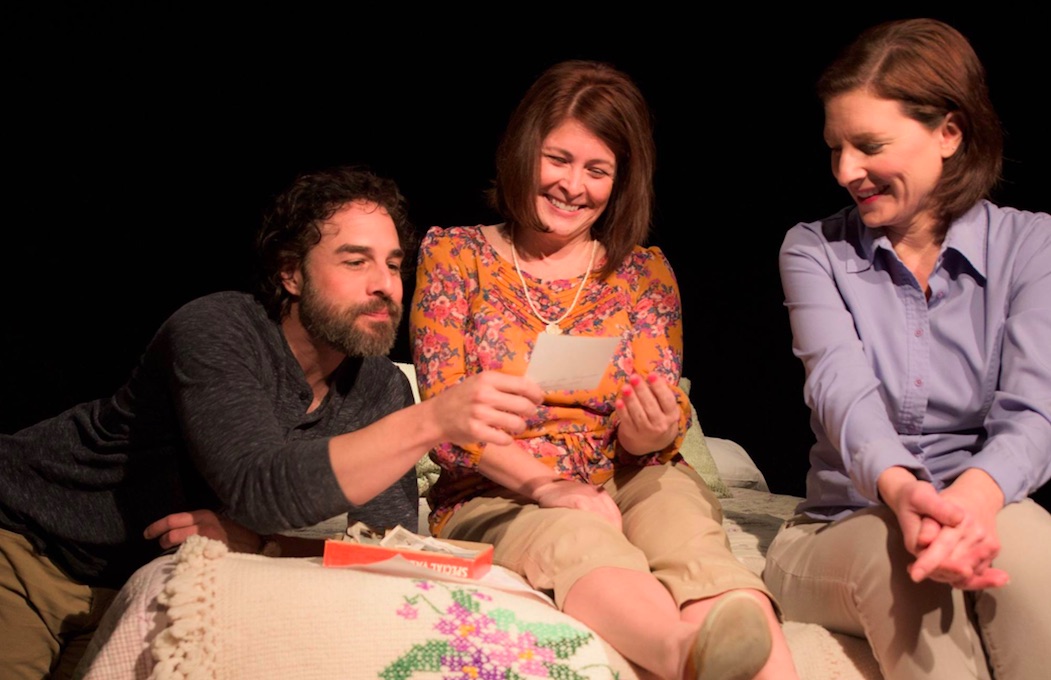 Levenson's drama premiered less than a year ago at the Roundabout Theatre on W. 46th Street in New York. It opens in 2000, replete with references to contemporary politics and dilemmas, and portrays the tightly bound Fischer family, three siblings who grew up in Washington DC. Their parents ran a clothing store in a deeply African-American neighborhood, back in the 50's and 60's before real estate entrepreneurs and banks pushed gentrification far east of the Capitol. Time has worked transformations and taken a toll on all of them. Son Michael is a moody, edgy professor of Jewish studies at an unnamed university; Holly the talkative daughter is married to real estate lawyer Howard; Sharon, unmarried and childless, is pushing 40 and looking for love. They are non-practicing Jews. Michael the professor, particularly caustic about traditional Judaism and a fierce critic of Israel, is married to non-Jewish Ellen. The Fischers' mom is gone, victim of a long, costly illness, and Lou Fischer, long retired, dour and taciturn, has reached the stage where healthcare and minding are beginning to create worries for his offspring. The third generation has its own problems. Holly's son Joey is a heedless teenager, smart but unmotivated, and the daughter of Michael and Ellen, whom we never see, suffers severe psychological problems.
So what is a Texas theatre company doing, pushing the concerns of this vividly drawn, sometimes neurotic, frequently conflicted but nevertheless devoted bunch of easterners into our faces?
The answer is clear, and I've already prepped you. These conflicts and dilemmas are eternal, universal and integral to the humanity of all of us. If I Forget shows the ravages of time on our seemingly secure existences; the pains of putting children into an uncertain world; the persistence of memory and the prayers that horrors seen not be visited upon our loves; the ache of emotion and the confusion of attachment. This impressive cast embodies the characters with energy, intensity and an authenticity of attitude and expression that is astonishing. Director Kat Sparks has achieved pacing, rhythm and focus in this story that are rare and precious in the theatrical environment. We are quickly made to care, deeply, and we foresee impending catastrophes as secrets are shared, for we know they will be emerging to devastating effect.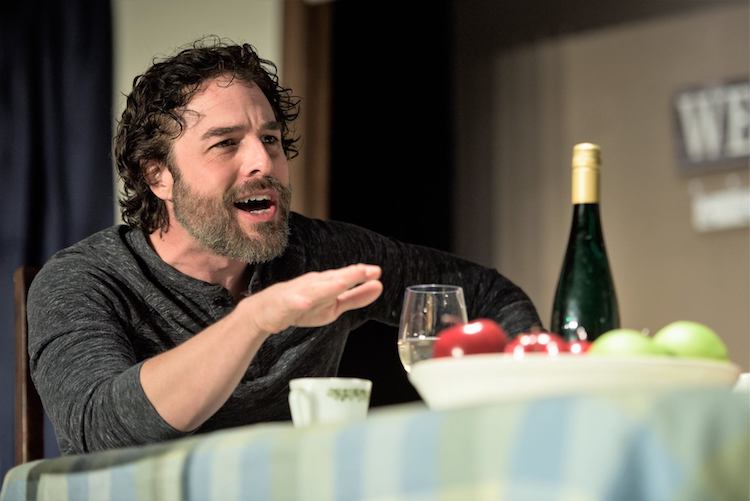 Luke Hill as Michael the almost-tenured professor creates a character simultanously casual and fiercely concentrated. One has no difficulty imagining him running a graduate seminar in Talmudic studies with erudition and contempt, but most of the time playwright Levenson gives us Michael's vulnerable side. Hill's a multi-talent, according to his program profile, and it was evident early on from his low-voiced delivery and the subtleties of his performance that he must be adept at film work. His voice was quiet, particularly in the first act before the character is goaded into emphasis, and I found myself straining at times to follow him. That gradual rise out of reticence and feigned indifference is consonant with the character but sometimes suppressed expression.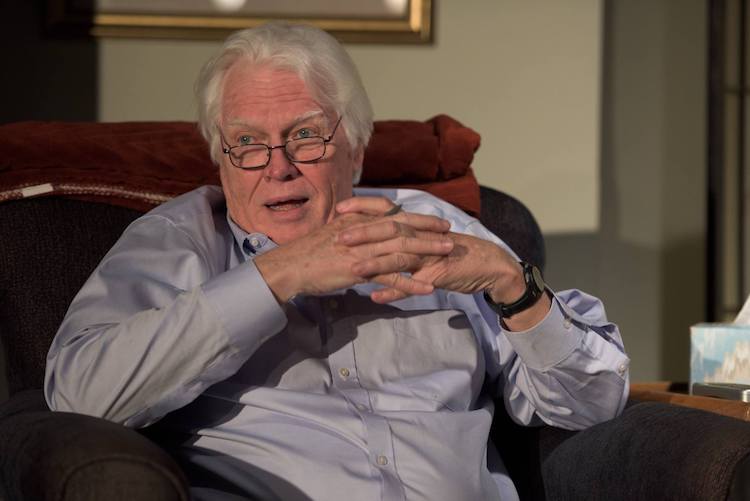 On the other end of the spectrum is our well-known and much appreciated Garry Peters as the equally reticent father, Lou Fischer. Peters has relatively few lines early on but emerges at the end of the first act with a monologue that's the keystone to the the plot and in itself a demonstration of the power of profound emotion displayed onstage. Peters grounds the rest of the cast, even as his character's health declines, becoming for all intents and purposes the embodiment of the passage of time.
Many of these faces were new to me, and all were welcome. Peters I knew, of course, and I'd had the opportunity to observe Daniel Norton closely in another role. As Howard, the semi-outsider, husband to Brandi and stepfather to Joey, Norton floats uneasily through these events until late in the action he is forced into confession, first to Michael and eventually to all, of events that shift family assumptions entirely. The two-scene between Hill and Norton is a long, tearing moment as Howard's suppressed fears push him to the edge.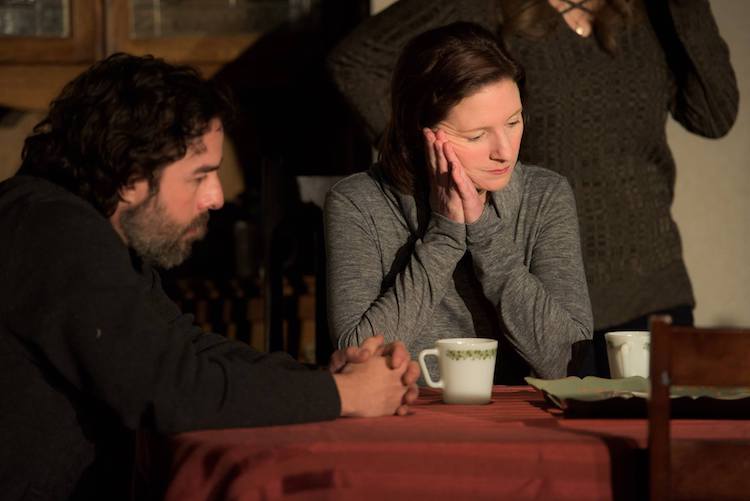 The women actors in this piece are just as phenomenal and well portrayed as the men. I applaud Lara Hollaway for her sympathetic portrayal of Ellen the worried mother and Brandi Andrade and Beth Burroughs as the often antagonistic sisters Holly and Sharon. And Jacob Bernelle, long-limbed and inquisitive, makes teenager Joey intrusive without making him sullen.
Confessions and quandries, the testing of ties that bind: siblilngs who curse one another four times over and then lapse into shared memories of better times. There's a span of three years between acts one and two, a lump of time that ages the nation and strains family relations without ever loosening the ties. Every second of If I Forget is gripping.
The company has made the best of the very awkward shape of the Santa Cruz Center, but I'd advise you to choose your seats to the far right (as you face the stage) and perhaps toward the back of the shallow house. The stage is a very wide and shallow L -- with the living room to your far left, the dining room to the center, and the bedroom tucked in the very difficult to see extreme right. You're likely to have to crane your neck and shift your position repeatedly to catch sight of characters speaking in that odd tucked-away bedroom. And while I'm allowing myself complaints: there is an extemely dead unoccupied wooden chair in the middle of the dining room table. Perhaps the thought was that the open back made sightlines easier; but removing it entirely would have followed stage convention without ruffling the feelings of anyone in the audience.
The closing scene is almost one of hallucination, for it converts the individual concerns into recitation of verse with images of scriptural power. No scholar of bible or Talmud, I could not identify those haunting lines, so I was that much more gripped by them. Speaking in turn and across scene platforms, the cast of If I Forget remind us that the glories and histories of this life are destined to drain away into the sand. The message is haunting -- particularly after we have invested ourselves in this story and these charcters.
---
If I Forget
by Steven Levenson
Southwest Theatre Productions
Fridays-Sundays,
January 19 - February 04, 2018
Fridays-Sundays, January 19 - February 04, 2018
Fridays and Saturdays at 8 p.m., Sundays at 4 p.m.
Santa Cruz Theater,
1805 E. 7th Street,
Austin, TX, 78702
One Thursday performance at 8 p.m. on January 25, 2018
Tickets $22 - $25 plus service fees, available via