Aug. 21 - Sep. 05, 2015
Fridays-Sundays
Faith, culture, and race intersect in 1929, Harrison Texas. Divorcée Myra Tolliver makes a meager and uncertain living playing piano for the silent pictures at the local cinema.
The name Horton Foote, when associated with a play, is a sure-fire element that says this speaks Texas. His screenplays and plays are legend and his indelible stamp of humor and insight are evident.
Talking Pictures is a lesser-known play by Mr. Foote, but it captures the essence of growing up and growing out of a small town during an era of hard times and the genesis of modern technology. In this case, modern technology takes the form of "talkies", injecting spoken dialogue into silent movies. If your job is playing the music that sets the tone of a silent movie, you are being replaced. If you are a grass-widow with a 14 year old son to feed and clothe, living in a rented room in a small East Texas town, then life is only going to get harder.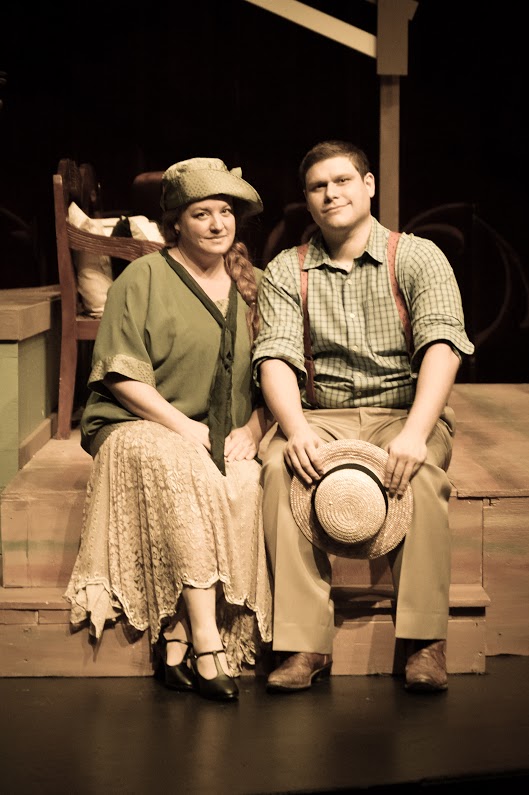 Foote's East Texas roots allows us to see what life was like during the 1920's, complete with the prejudices for anyone different by color, nationality or religious affiliation and he does so without a shred of sentimentality. Those mores carried on longer than they should have and Foote pulls no punches staying true to the times. A glimpse into the outside world of other cultures is a beacon of hope for the younger members of the cast, and the urge to applaud sneaks up on you.
Guided by the meticulous attention to detail, the deft handling of the material and the innovative stage design, Austinite Director Nina Bryant has once again brought quality to the Lockhart stage. Regardless of which side of the stage light she inhabits, a small town theater becomes a professional troupe with her participation.
Ms. Bryant's set for Talking Pictures is a departure from what you normally see in a small hometown theater. It is architecturally airy and functions quite well while not detracting from the story – rather enhancing the spartan times in which the the play is written. Each area draws your eye to the actors and lends to the dialogue. Not a word nor a prop is wasted.
This cast is loaded with local and borrowed talent from LHS high schoolers to seasoned veterans of the GBT and Wimberley stages. We meet the Jackson sisters, ably and engagingly portrayed by Maddison Waelvert (Katie Bell) and Lauren Hartwick (Vesta) in the opening act. Both of these young women bring strong performances and are a delight to watch. They are joined by a newcomer to the GBT stage, also new to LHS, Deacon Snider. "Pete" is a 14 year old caught in the middle of the complexities of his parents'divorce, which in those days, was not a widely discussed subject. LHS grad Armando Mascorro debuts on the stage as "Estacio", the young son of a Mexican Baptist preacher with whom Katie Bell Jackson has made friends.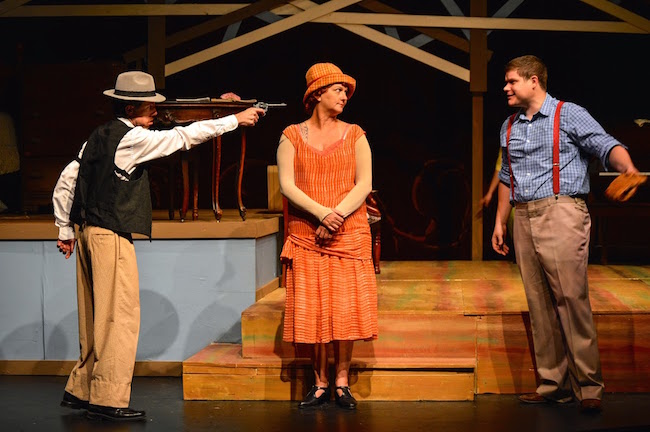 Tysha Calhoun, GBT VP and proud Sweet Briar alum, brings music to the play as she does to the silent movies as "Myra", the centerpoint of the play. Her heartfelt connections to her fellow actors is felt throughout the production. Her bright spot is a suitor, embodied in the charming person of "Willis", Matt Janke of Luling and a newcomer to the Lockhart stage. Willis is as-yet undivorced from the hilarious Robyn Gammill's "Gladys", who is bigger than life and steals whatever scene she graces and we willingly go with her. Stephen Fleming of Lockhart and a veteran of many productions, is suitably cast as Gladys' paramour and turns in a sincere glance at what life is like with the mercurial Gladys. Eric Beck, confidently plays Mr. Jackson, for whom life is the railroad and his family and is the never-changing clockwork of the cast.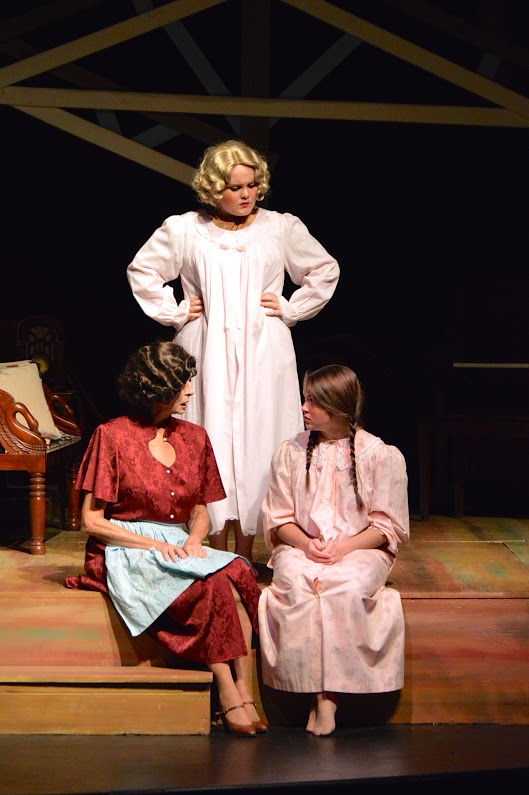 We welcome back Judith Laird of the Wimberley players, who brings life and a strong Texas character to Mrs. Jackson. Both the references and characteristics of that era and the setting are truer under her dialogue. From Austin and the Wimberley Players, we welcome the talented Will Mercer, who shows up in our town as the ex-husband of Myra, who brings a swagger to the personage of an outwardly successful, but inwardly damaged man.
Texas figures prominently in this play. We know these people if you grew up in Texas. Or wherever you grew up. Horton Foote would be proud of what the Gaslight Baker Theatre has done with his work.
---
Talking Pictures
by Horton Foote
Gaslight Baker Theatre
Fridays-Sundays,
August 21 - September 05, 2015
Fridays and Saturdays at 8 p.m., August 21st - September 5th. Matinees at 2 p.m. on Sundays, August 23 and 30 and on Saturday, September 5.
Tickets and reservations on MyGBT.org or at the Box Office (512 376-5653)
The Gaslight Baker Theatre is located at 216 S. Main St., Lockhart, Texas.
"We are an artistic organization dedicated to creating quality experiences that entertain and stimulate all who come through our doors."