My Seasons with the Houston Astros and the Montreal Expos
by Hyde Park Theatre
Apr. 01 - Apr. 02, 2016
Friday-Saturday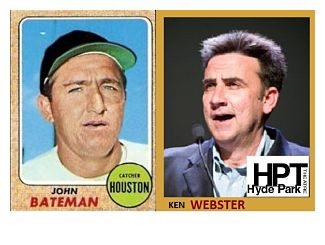 My Seasons with the Houston Astros and the the Montreal Expos
, written and performed by Ken Webster. Award-winning actor/director Ken Webster explains his strange obsession with former major league catcher John Bateman. Webster's
Twitter Feed
started as a diary of the 1966 Houston Astros season as seen through the eyes of Webster's favorite player from childhood, the late John Bateman. The diary--part fact and part fiction, part baseball and part history and popular culture--has been featured in several stories by sportswriters. Webster describes how he became an amateur historian, chronicling his favorite player and the years 1966-1971.
---
My Seasons with the Houston Astros and the Montreal Expos
by Ken Webster
Hyde Park Theatre
Friday-Saturday,
April 01 - April 02, 2016
8 pm Friday and Saturday, April 1 and 2: two fun, lively evenings with free drinks in a good cause! Tickets available now.